You will find many important navigation icons in the upper right corner of the Spoonflower site. If it is your first time to Spoonflower or you are not currently signed into your account, the icons will display like the image on the left. If you are signed into your account, the site will look like the image on the right.

While some of these icons and links are self-explanatory, you may need a bit of background for the others. Moving from left to right, you will find further details about each icon shown above in the matching section.
SHIP TO: Your Site Preferences
User Icon - Accessing Account and Site Features
SHIP TO: Your Site Preferences
Next to "SHIP TO" will be a flag showing the country associated with your network path.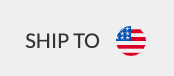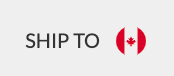 Clicking here will allow you to update the site preferences listed below. Simply select from the drop down menus or buttons, then click "Update" to save these changes.
Country - While Spoonflower can ship to most anywhere around the world, review Shipping Rates and Delivery Options if you don't see your country listed.
Language - Our basic Marketplace site can be read in Deutsch, English, Español and Français.
Currency - Available currencies for your country will be listed here.
Measurement - You are free to select between Imperial (Yards) and Metric (Meters) here. You cannot interchange units within one order, but can update your preferences at any time.
Log In and Join
These self-explanatory links will allow you to sign into your account or create your free account in a few easy steps.
"Heart" - Favorites
Favoriting designs is a great tool to use while searching through our Marketplace. Access your Favorites page by clicking the "heart" icon from the banner, or through the User drop down, as described below.

On this page you will find your favorited designs with the most recent on top, as well as a link to review your created and saved collections. Learn more about collections in Collections Overview.

User Icon - Accessing Important Account and Site Features
Perhaps the most useful icon, hovering over this small person will open up a drop down menu.

This drop down allows you to navigate to the following:
My Dashboard - All your important information in one place. Learn how to customize in My Dashboard
Orders - Review all your past and current orders. Learn more in Order Status and History
Account Settings - A catalog page of various features, including email settings, order history, tax information, privacy settings and more. Review Adjusting Account Settings
Favorites - Where all your "favorite" designs are listed
Collections - Where your collections are saved. Learn more in Collections Overview
Design Library - Link to all your personally uploaded designs here
View My Shop - The primary landing page for a seller in the Marketplace. See Setting Designs for Sale
A link to Upload New Designs
Notifications - A basic newsfeed listing incoming messages, comments, favorites and sales.
Messages - Central location read, create and send messages through the site. Learn more in Messaging, Emails, and Automated Replies
My Design Challenges - Link to your voting history for all Design Challenges
Logout -Log out from your account
Shopping Cart
Once you have selected all the products your plan to purchase, clicking the shopping cart icon will take you to the page that will allow you to complete your order.

Learn more in: