After you create a free Spoonflower account you may access a selection of helpful features. Check your personal email for a verification to make your account official and then spend some time exploring our site.
* - Only shows for PRO members
** - Only shows for verified sellers
Accessing Account Settings
To locate your Account Settings:
Log into your Spoonflower account
Hover over the user icon in the top right corner of the site:
Click

Account Settings

from the drop-down menu
You are know on the default Settings tab in My Account
Each tab in the highlighted box is described in further detail below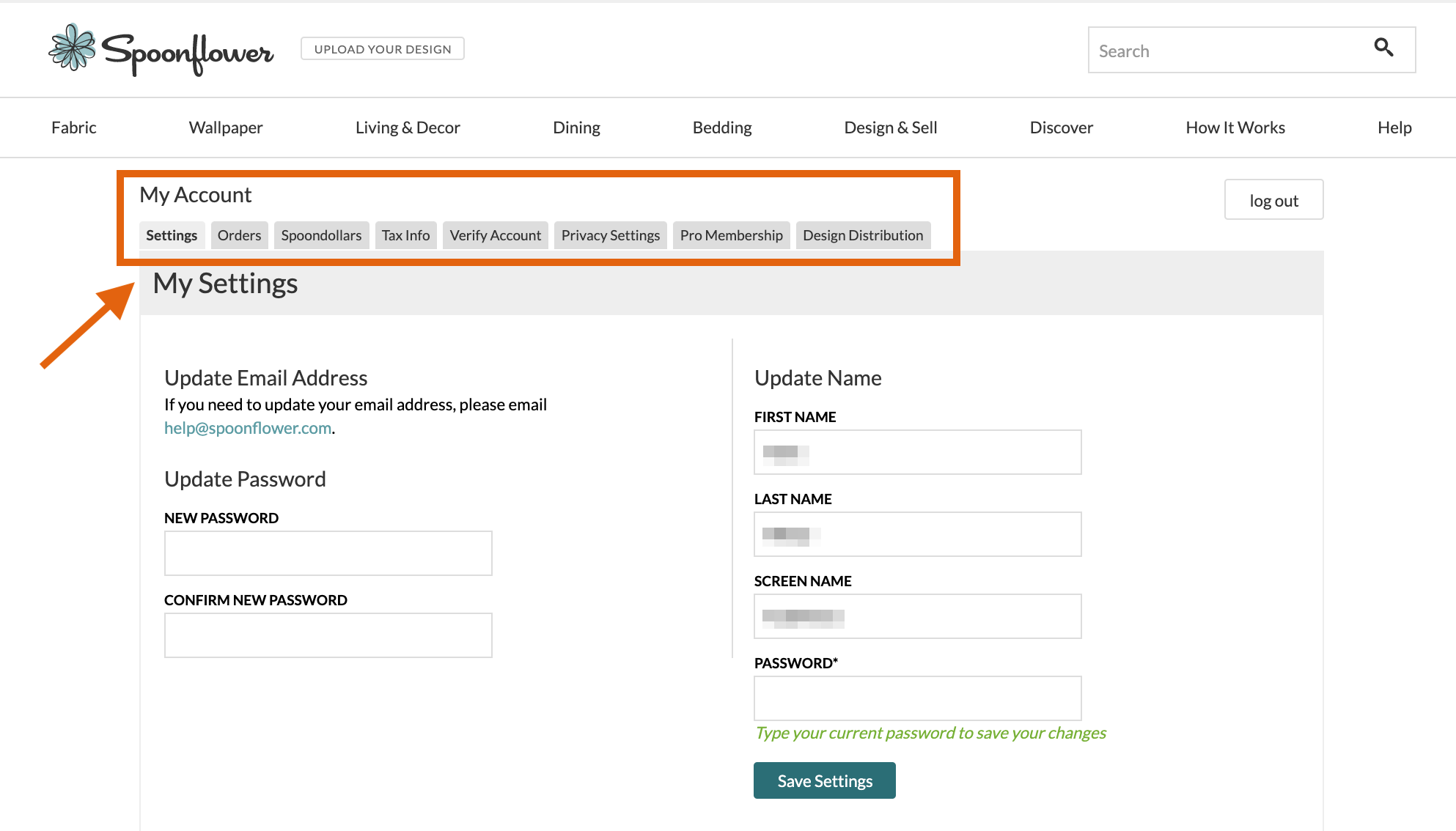 Settings
There are two sections in the Settings tab.
My Settings
In My Settings you can update your
Email address

Password

Name
Changing Your Email Address
Enter your new email address in the EMAIL field
Type your current password in PASSWORD field 
Click Save Settings
Are you a Verified Seller?
Verified Sellers and Marketplace artists must contact Spoonflower to update your email address. When possible, please email from the original email address and include the new address in your message.
Changing Your Password
Enter your new password into NEW PASSWORD
Re-enter the new password in CONFIRM NEW PASSWORD
Enter your original password in PASSWORD text box to the right
Click the Save Settings button
Updating Your Name or Screen name
Update your FIRST NAME and/or LAST NAME
Update your SCREEN NAME

You cannot use capital letters
You cannot use spaces
Use an underscore - _ - to create a visual space
Are you a Verified Seller?
Changing your screen name after becoming an established artist in the Marketplace is not recommended. It will be difficult for customers to find you again.
My Email Settings
In My Email Settings you can establish and manage your
Email notification settings
Email insider settings
Email notification settings
Verified sellers can update notification settings - "Never", "Immediately", or "Once Daily" - for a variety of Marketplace instances.
Make your selections
Click Save Notification Settings.
Email insider settings
All community members can become an email insider to receive marketing emails
Click

Join Our Creative Community

Follow the prompts.
Orders
The orders tab allows you to review important information for all past and current orders.
Review the article Order Status and History for detailed information about the following topics and more:
Currently Processing Orders
Tracking Information
Order History Details
Order Invoices
Spoondollars
Spoondollars are the internal currency of the Spoonflower website. This tab presents the various ways that both artists and customers may acquire this currency. In this section you can see current Spoondollars totals in your account, broken down from
Gift Certificates
Any credited orders
Artist payouts from sales (aka royalties) before they are cashed via PayPal
Learn more in these three related articles:
Tax Info
This password protected tab is where you can generate the necessary tax forms needed for Seller Verification. It is also where you can submit the appropriate documents for tax exemption. Learn more here:
Verify Account
Artists must complete Seller Verification before they can sell their designs in the Marketplace. This tab is where you
complete initial verification
update seller details 
Privacy Settings
IMPORTANT: To control your privacy settings, scroll to the bottom of any Marketplace page and click Manage Cookies in our Policies section to access settings in your personal browser.
After clicking the Privacy Settings tab, enter your password you will then be given the options to
Download My Data: download a machine readable file that contains all the content you have created on the site. Uploaded images will include links for reference.
Deletion: If you wish to delete your account from Spoonflower, enter your password to verify your identity a second time and then follow the prompts.

This will delete all designs and order history from our records. 
Unsubscribe
To unsubscribe from Spoonflower communications, click the unsubscribe link found at the bottom of any email. It may take up to one week for the emails to stop

To end receiving text messages, reply "STOP" to the most recent message

Read the Spoonflower Privacy Policy
Pro Membership
The Spoonflower PRO Program offers a variety of benefits for customers. This tab will appear only if you are a currently paid Pro Member.
This tab lists
the date you originally signed up for the program
when your annual membership expires
allows you to set up Auto-Renewal
Design Distribution
This tab appears after an artist has completed Seller Verification.
As a verified seller, an artist may opt-in to be considered for Spoonflower's third-party distribution programs with online vendors such as Etsy, Amazon eBay, and Wal-mart.  Learn more in Third-Party Marketplace Distribution: Artist FAQ. Verified sellers may also opt-out to having their designs available on Home Decor products on this tab.