My Dashboard is your personal resource connecting you with statistics & analytics about your designs, your messaging center, Design Challenge voting, and more.
Link to your dashboard through the user icon in the upper right corner of any Spoonflower page and learn how to customize its features below.
Dashboard Basics
The dashboard offers easy access to a variety of features relating to Your Shop, your Design Library, your Order History, and more. The list below covers everything you will find, with links to informational articles when available:
Your Stats: See your tags, sales and other analytics visually displayed
Spoondollars: Sales, credits, and commissions
New Messages: Inbox for mail and message settings
Collections: Link to page showing your personal collections
Favorites: A page where all designs you ever "favorited" are saved
Connections: List of artists and public community members you follow
Designs: Link to your Design Library
Followers: A list of artists and community members who follow you
Favorites Received: Follow the popularity of all your art
Comments Received: See comments about your public designs
Order History: Review key details about past and processing orders
News: A visual news feed showing comments, likes, sales and messages
Designers You Might Like: Find new artists based upon smart data
Design Challenge: Review your past votes or link to the current challenge
Recommended for You: New designs similar to ones you already like
Customize My Dashboard
To begin editing the information and formatting of My Dashboard, click Customize My Dashboard just under your profile picture and then review the two sections below.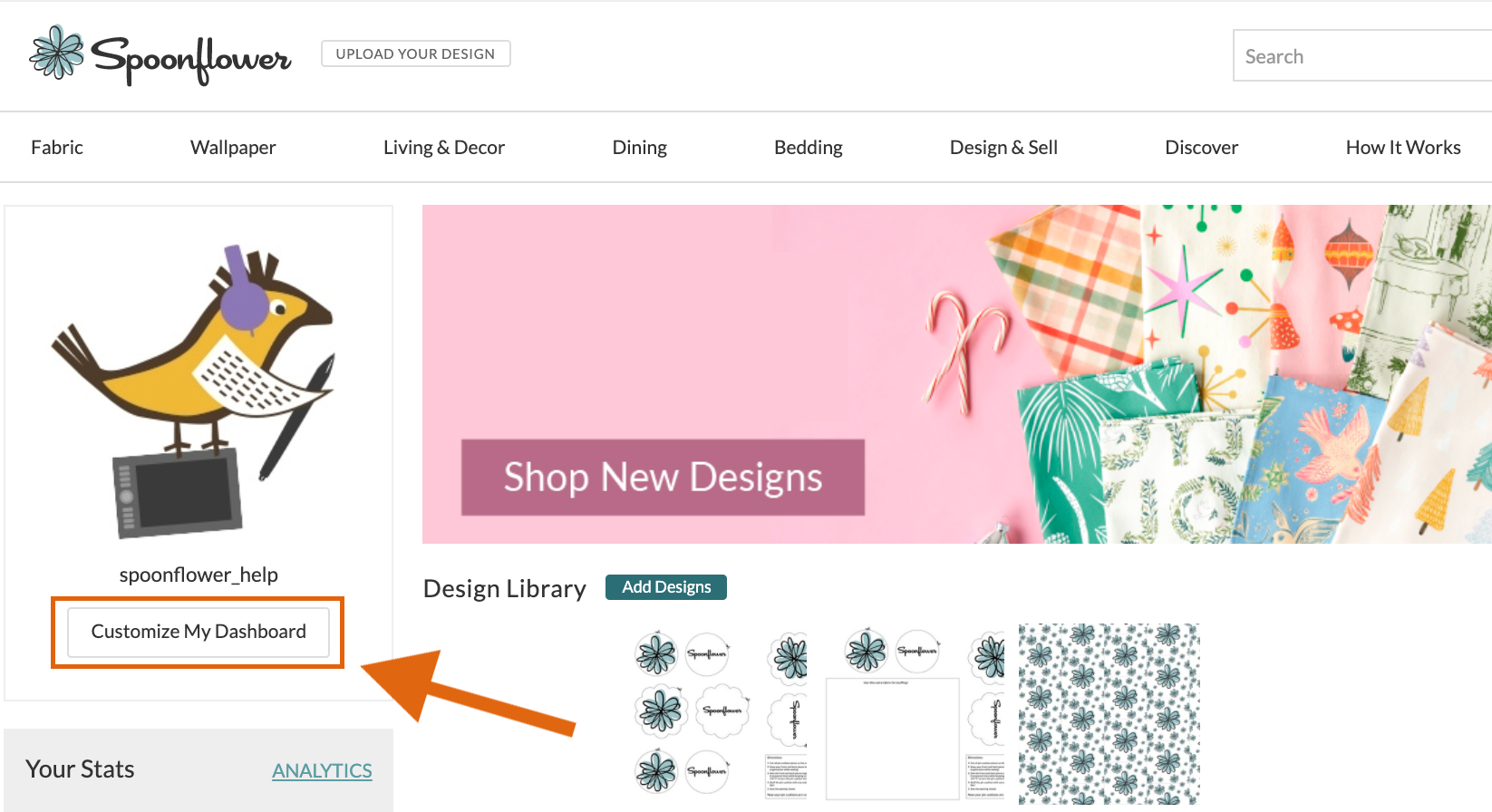 Updating Displayed Widgets
Widgets offer small glimpses and access into a variety of important account and design details. Each of the six widgets are expanded upon beneath the image.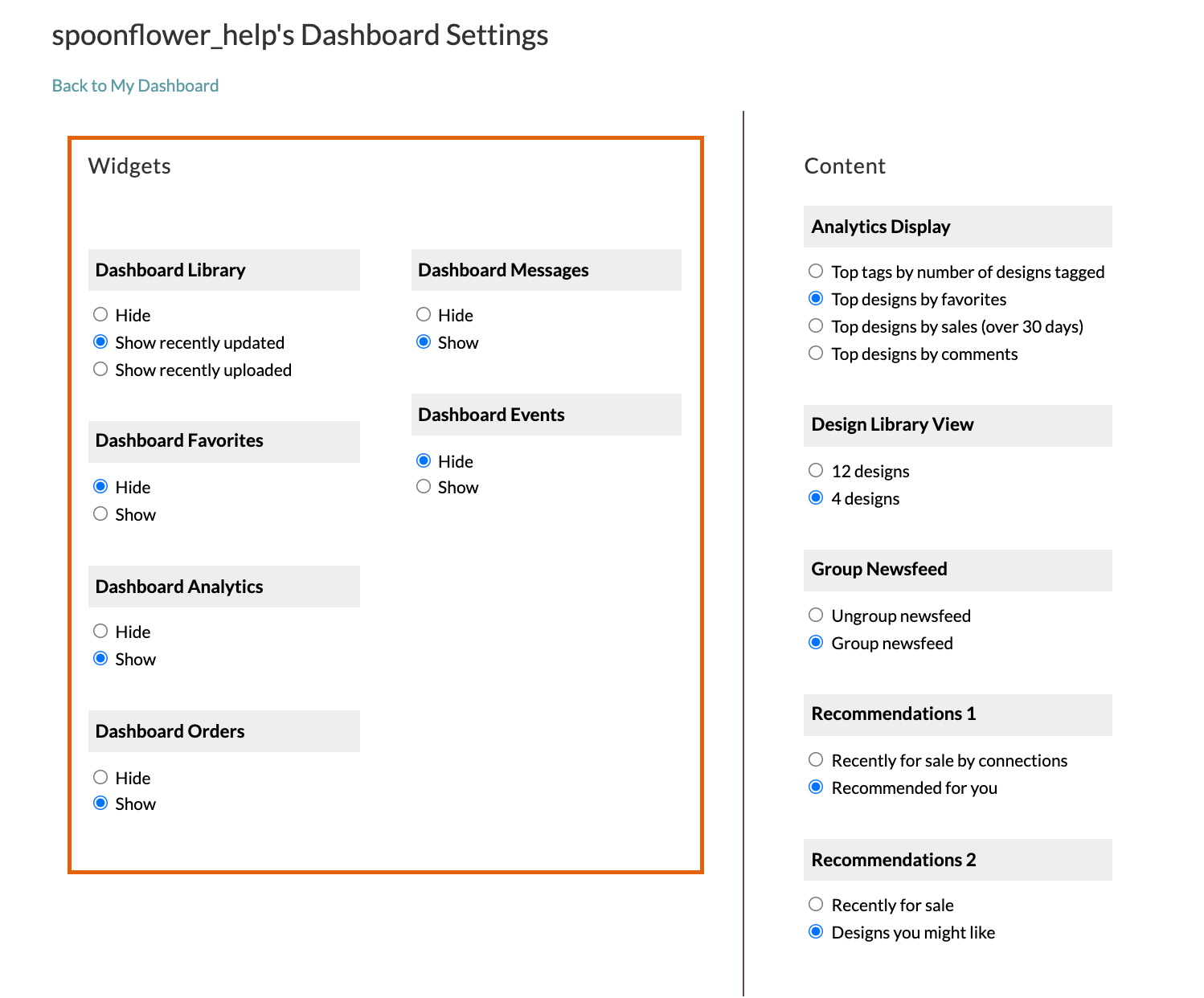 Dashboard Library
If you'd like to remove your Design Library from view, use the 'Hide' option. If you'd like your Design Library to display, you can set the display to include recently updated designs or recently uploaded designs. 

Dashboard Favorites
Displays designs you've favorited on the Spoonflower site. You can make this visible or not.

Dashboard Analytics
Dashboard Analytics refers to the dashboard that displays tags, favorites, sales, and comments related to your designs. You can decide which specific analytics display through the "Content" display explored in the next section. 

Dashboard Orders
This lists orders you have placed, beginning with the most recent.

Dashboard Messages
Any internal messages that have been seen to you by other Spoonflower users. Learn more about Messaging here: Messaging, Emails, and Automated Replies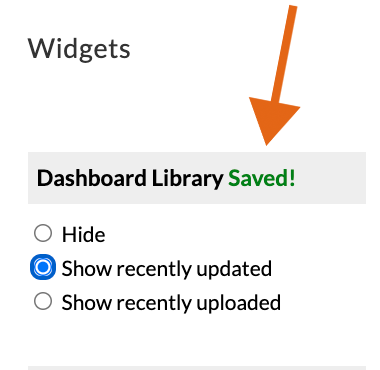 Whenever you change any of these five display settings, the word 'Saved!' will show for a moment to confirm the update has been made.

Updating Displayed Content
Displayed content allows you to control what is seen within these widgets. Additional explanation is offered beneath the image.
Analytics Display
Our design analytics tool includes four different charts:
Top tags by number of designs tagged - these are based on tags you use

Top designs by favorites - these are based on favorites, not votes in design challenges

Top designs by sales (over 30 days) - based on number of sales, not by commissions

Top designs by comments - based upon number of posted comments, not content of comments
You may select the chart that will automatically display every time you visit the 'My Dashboard' page. Please note: all 4 options are available directly from the 'My Dashboard' page, this is just an opportunity to select the one you would like to see first.
Design Library View
You can choose to display 4 or 12 of your most recent designs. Clicking on the design thumbnail will take you directly to the design's preview page.

Group Newsfeed
To see each new comment as its own update in your news feed, select Ungroup Newsfeed.  If you would like a more consolidated view of your newsfeed, select Group Newsfeed. The grouped newsfeed will automatically show the most recent comment.  After grouping, to see all comments on a particular design, click the design image and you will navigate to that design page to see the comments in context.

Recommendations 1
To see newly-available designs from designers you have interacted with, select Recently for sale by connections. To see a curated selection of designs based on your past purchases and design favorites, select Recommended for you.

Recommendations 2
To see a selection of designs that are new to the marketplace, select Recently for sale. To see a general selection of available designs, select Designs you might like.

See Also: Promoting Your Designs on Spoonflower and Social Media
See Also: Third-Party Marketplace Distribution

See Also: Adjusting Account Settings