The image you see on each design page is a digital proof of what you'll receive when you order from Spoonflower, so be sure to check it carefully before ordering. This is the best way to make sure that you have a good idea of the scale and layout for your design on any of our products.
Why does the preview look blurry?
Why should I order a proof of my design?
Why is my design cut off with a mirror-like repeat?
The rulers on the top and left side of the preview show the length and width of a design.
The width and length shown changes depending on the fabric type and fabric size selected for purchase (i.e. test swatch, fat quarter or yardage length). Try changing your order selections to see what happens!
Any white space indicates an unprinted area. Example: If an image appears small and centered in the preview, this is how it will print.
White lines within the repeat of a design may mean repeat issues. If you see this, it's best to double check the file you uploaded for any lines or gaps along the edges. Sometimes you have to zoom in on the perimeter of your image to see this!

You should see all of the design in your preview. If your image appears to be cut off in the preview, it will print cut off!
Why does the preview look blurry?
Your design may appear blurry on the design page due to the lower resolution of the design preview. This preview will not display a high resolution image in order to protect your design on our site.
As long as your original design appears clear and crisp when viewed at 100% in your design software, it should print as intended. Your design will always be printed from the original file and not from the design preview.
See below our logo design viewed at 100% in Photoshop. All edges appear to be clear and crisp, no visible pixelation.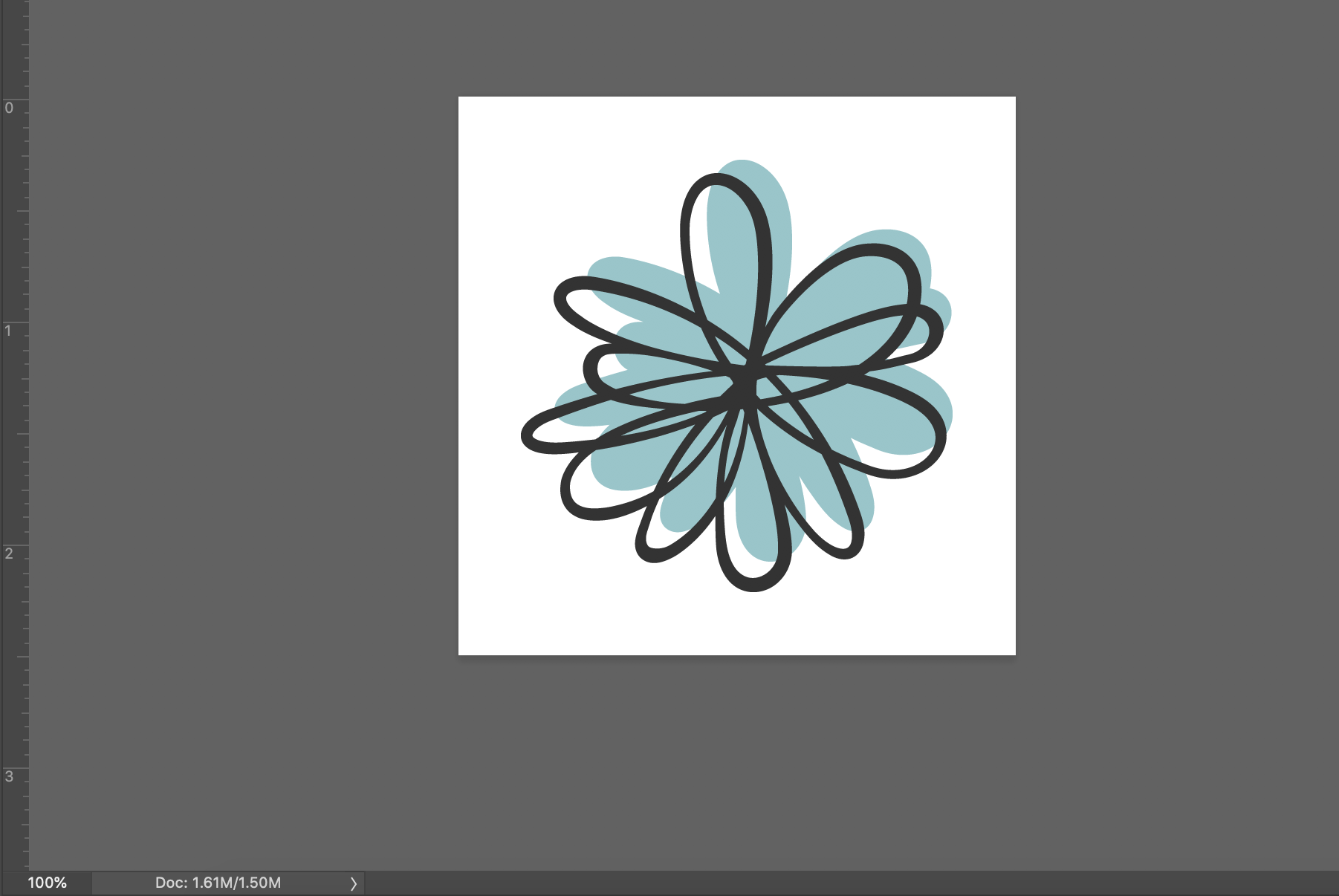 Here's how the same design appears in our design preview with the Basic repeat option applied.
​
Blurry, slightly distorted preview
Why should I order a proof of my design?
There are many variables involved when it comes to our printing process and the products we print on. There's simply no substitute for determining how a design will print than having the design printed! We always recommend keeping the following in mind:
Our natural fiber fabrics will have more of a warm white appearance similar to a natural creamy white. Our polyester fabrics are cooler in appearance and often have optic white brighteners added to the fibers. This level will vary between each fabric. Since our fabrics have different white points, colors will shift brighter or darker based on your fabric choice.

Colors can look very different on fabric and wallpaper than on your computer monitor! (Colored light comes out of a screen. Light goes through and bounces off of color on fabric. Fabric is 3-D and it folds and drapes.)

Our digital printers and pigment inks often print saturated colors and true blacks lighter than you might expect. You may need to test different saturation levels or modify your design.

Your chosen colors might "shift" to colors you weren't expecting if they are out-of-gamut for our printers.

Test swatches are cheap and fast. Proceeding with a large order without a test swatch first may result in a longer and more costly end result.
Why is my design cut off with a mirror-like repeat?
Sometimes the file name of a design can cause problems that will present your design as cut in half with a reflection of itself in the design preview window. This typically happens when the file name is too long, or as stream of numbers or letters. To correct this, we recommend re-saving your design file with a shorter name and then uploading it as a revision over the file that already exists in your design library.
How will my design print?
We include blue brackets on the top and bottom of a design to help show our print operators where one order ends and another begins. The unprinted area (selvage) around the edges of the printed design is there to help feed the fabric into our printers. We do not include any unprinted areas within the printable measurements for our fabric options. You can always see a comparison of all of our fabrics here.

See below a handy illustration for how an image will print with the preview displayed on the design page: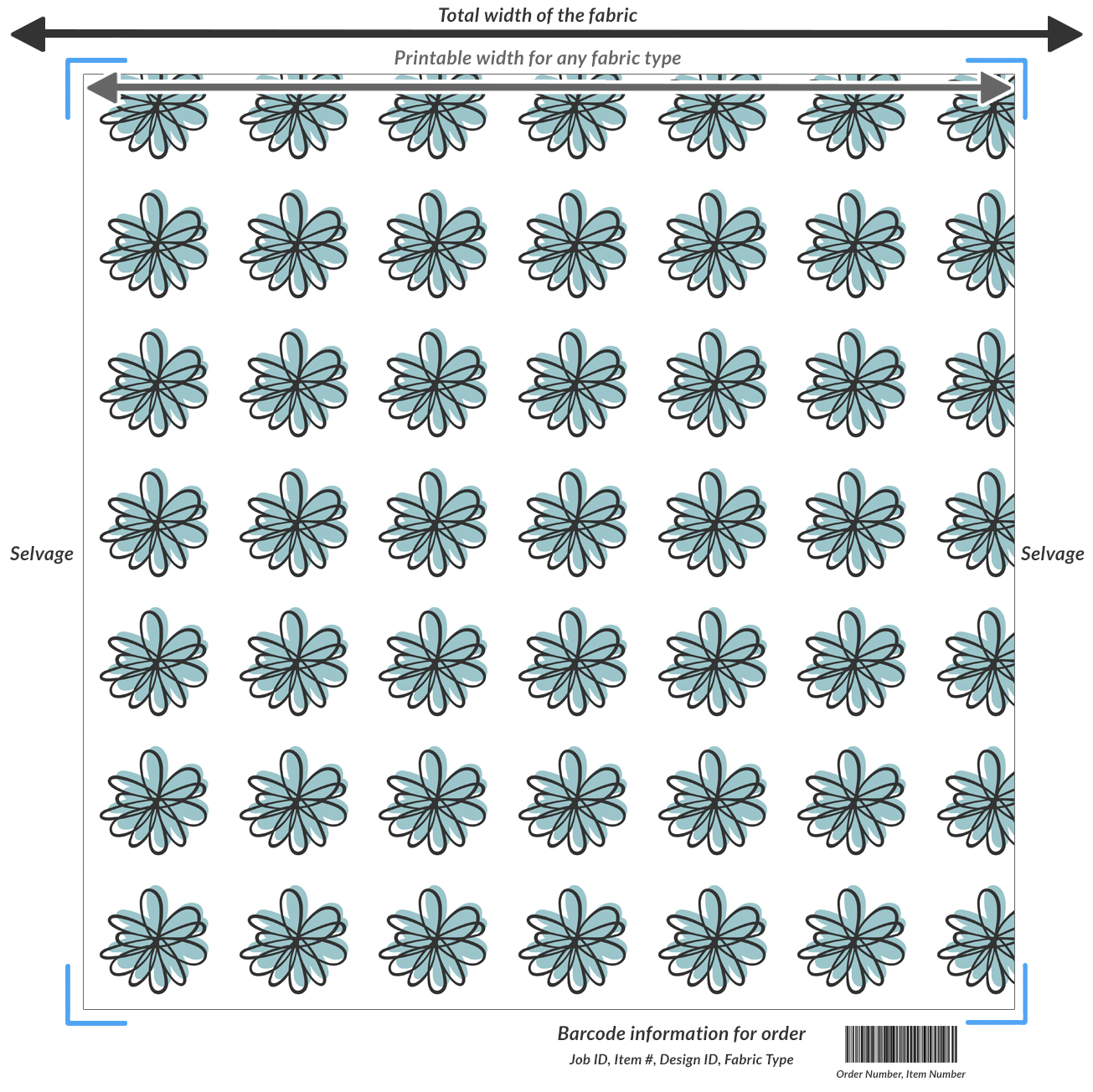 How this design prints at the Test Swatch size for Petal Signature Cotton®
: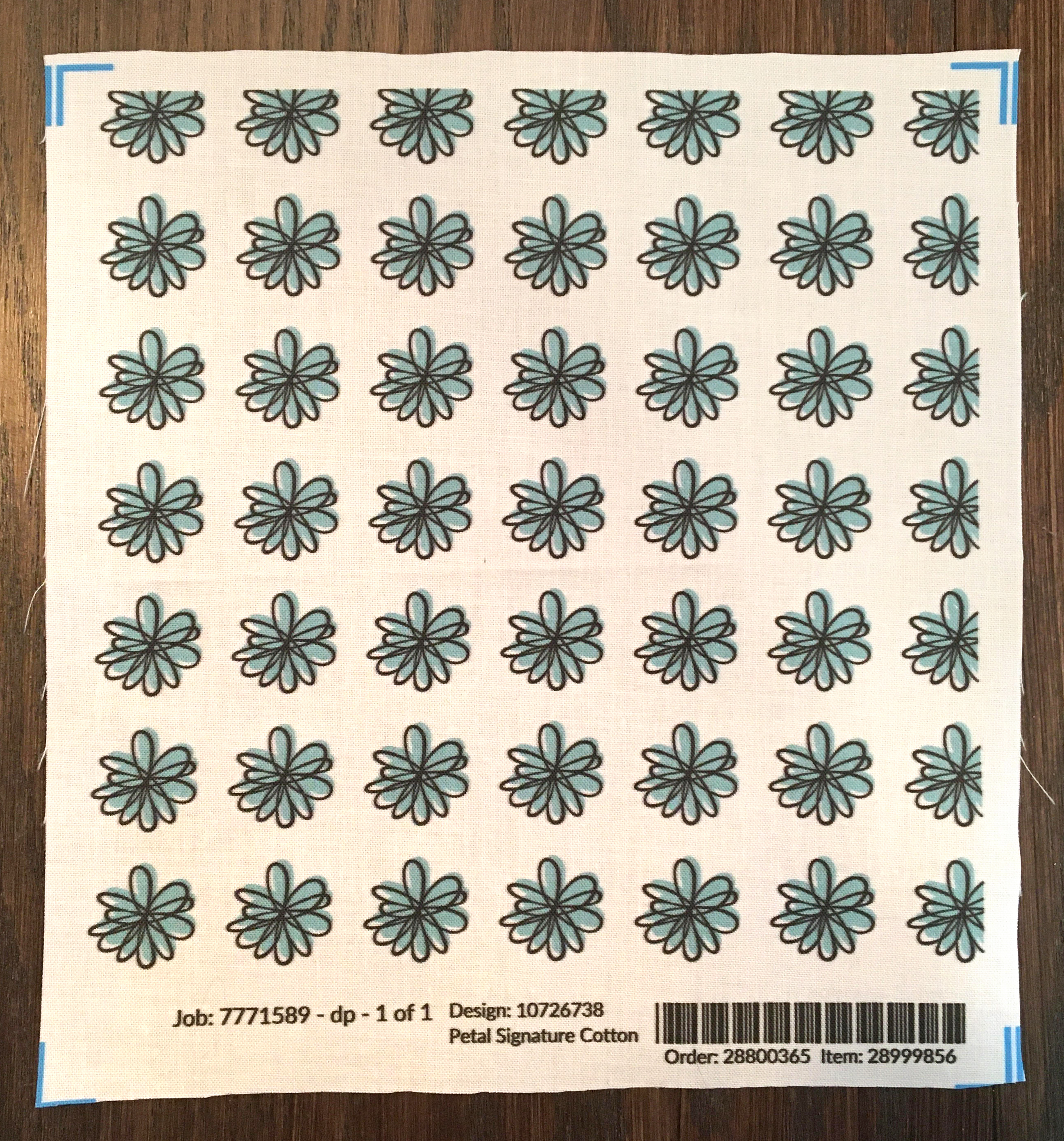 See also: Sizing Your Design
See also: What is resolution and how does it affect my image?
See also: Visualizing Size and Scale of Marketplace Designs