Ordering Fabric With Marketplace Designs
Ordering Fabric With Your Own Designs
Ordering Fabric With Marketplace Designs
Step 1: Select Fabric Type
After finding the design you would like to order, select the type of fabric you would like it to be printed on using the (1.) Fabric drop-down menu. Then, a pop-out menu will appear with all available fabric options. If you already have a fabric type in mind, you may type it into the (2.) quick-search fabric bar, or you may scroll down to view all options. When you have chosen a fabric, hit (3.) Select.
Step 2: Select Fabric Size and Amount (Imperial and Metric Options)
Now, select the fabric size you would like for the design with the (1.) Size drop down menu. We offer 3 different fabric sizes: Test Swatch, Fat Quarter or Yard(s)/Meter(s). Dimensions of each fabric type will be displayed for each size option depending on the fabric type selected.
Keep in mind, we do not offer partial sizes like 1/2 yard or 1/2 meter.
Need help understanding the scale of the design? Be sure to check out our Visualizing Size and Scale of Marketplace Designs article.
Please see examples below for size using the Petal Signature Cotton® fabric with the Yard 42" x 36" size and the Meter 106cm x 100cm size. Options displayed will depend on site preferences and location.
Imperial Options:
Metric Options:
Enter your desired quantity in the (2.) Amount box after selecting the size, keeping in mind:
All Fat Quarters are printed individually (4 Fat Quarters will print as 4 separate Fat Quarters). For more information about this fabric size option, please look here: Fat-Quarters-101
For continuous yards/meters enter the total Amount then Add to Cart (4 yards/meters will print as 1 piece of fabric 4 yards/meters long when you have entered "4" into the Amount box then added to your cart)
For individual yard(s)/meter(s), add the yards/meters to your cart separately (4 yards will print as 4 individual yards when you have entered "1" into the Amount box then added to your cart 4 times)
Imperial Options:
Metric Options:
Step 3: Reviewing the Design Preview
It's important to note that our design preview is accurate and true to scale once you have selected a fabric type and size. If a design appears to be cutoff or if there appears to be white space in the design preview, this will be true of your printed item as well. You can select different fabric sizes to see the change in the amount of the design printed for each option.
Imperial Options:

Meter Options:
Once you've added a fabric item to your cart, you can then continue shopping or complete your purchase.
Ordering Fabric With Your Own Designs
When working with your own design on a desktop computer, the preview image will update to illustrate how the design will print for the fabric type and size you have selected — up to 5 continuous yards can be displayed.
For more information about changing the scale of your design, go here: Sizing Your Design. Keep in mind, your design will preview at a lower resolution on our site. The preview image is an accurate portrayal of both scale and layout.
To start changing your design, select the (1.) Repeat you would like to use and use the options below (2.) Design Size to change the scale of the design. Once your design is displayed as you would like in the preview window to print, click (3.) Save This Layout before (4.) Add to Cart to save your selections for any future use. You can then continue shopping or complete your purchase.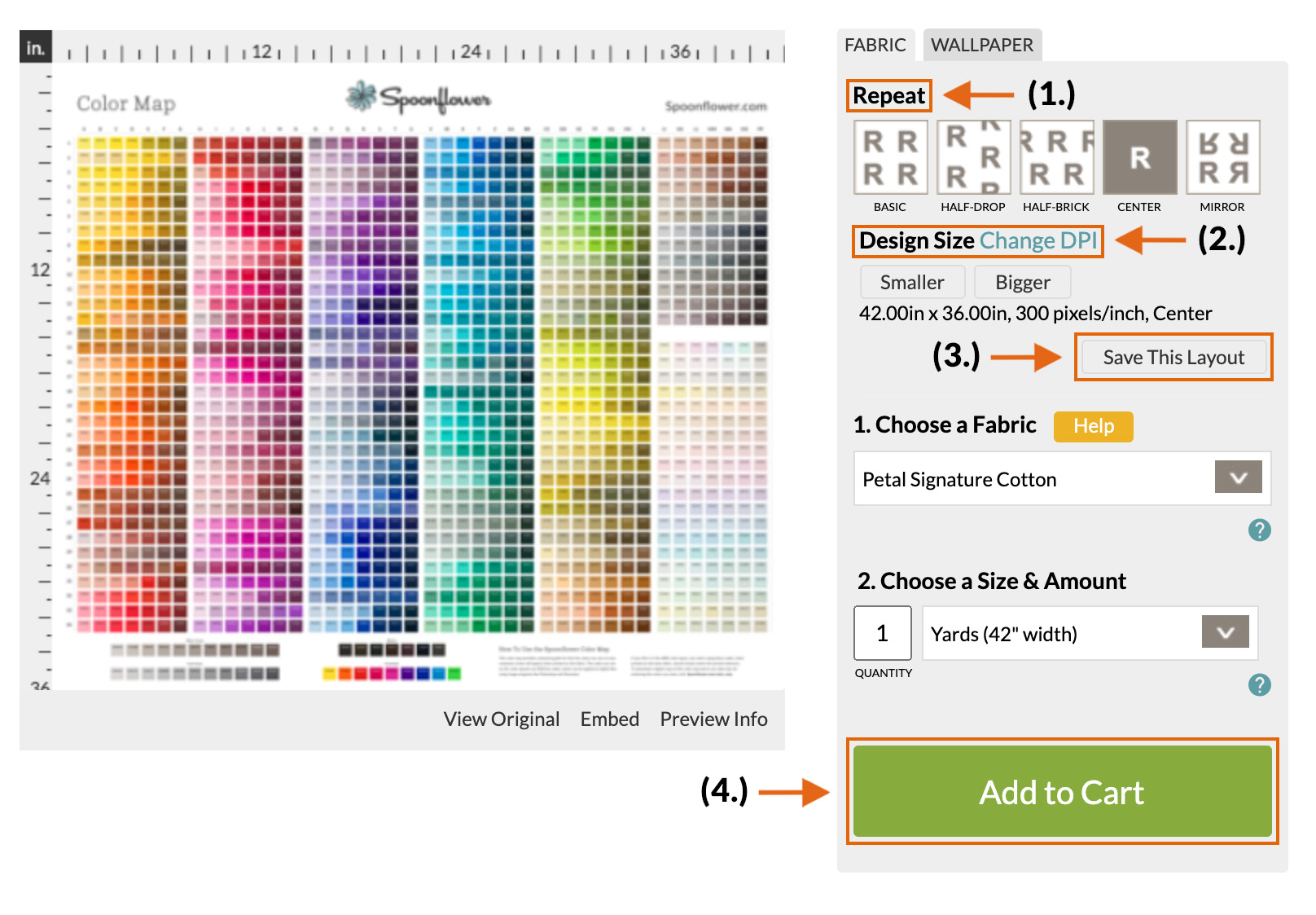 See also: Shipping Rates and Delivery Options
See also: Order Status and History
See also: How long will it take to get my order?