With over one millions designs in the Spoonflower Marketplace, it can be a challenge to find the perfect design, and dropping a word or two into the search box at the top of every page is just the beginning. There are a few additional ways to filter for designs for better search returns.
Searching by Categories or Color
Search Returns and Collections
Starting a Search
The search bar can be found along the top of most pages of our site.

As you enter search terms into this field, a drop down automatically appears to help you zero in on the products you want. Choose from:
Fabric
Wallpaper
Bedding
Dining
Living & Decor
Artist (when you know the artist screenname
Collections (for curated themes by community members
PRO TIP: Check out Spoonflower's curated themes for another quick way to refine your search goals.
Search Term Basics
Our search engine will offer basic returns, using the words you enter and matching them to titles, descriptions and tags entered by the artist when they first saved their designs to the Marketplace. The system is not case sensitive so you don't have to worry about capitalization. However, there are some variables that sometimes influence your initial returns. See the Filtering Search Results section below to learn more.
A search for a single word, blue, will display all designs with blue in the title, description, or tag. This will return a lot of designs!
A search for two or more words like blue china will typically display designs containing both words in their saved descriptions first. Once all those have been shown, designs that only contain either word individually will appear. This still will likely return over 100 pages, and the results may be influenced by default filters such as "best selling".
NOTE: It is possible an artist may attach unexpected descriptors or labels to a certain design, which is why sometimes a seemingly unrelated design may show up in your search results.
Filtering Search Results
Once you run a search using your terms, you can refine your results by using the filters listed along the left side of the returned designs. Our site offers the following filters: Sort By, Products, Colors, Style, Topic and Availability.
Filters are shaped by algorithms, meaning they won't just search for the specific filter terms, but are also intuitive. For example, if you select the filter "Nature", your returns will include tags and terms related to nature, as well. If you search by "gray", returns will also include "grey".
Sort by - allows you to sort the search results by Best Selling, Most Relevant, Most Favorited, Trending, or Newest designs.

'Best Selling' is our default filter and shows the most popular designs from the past 6 months first.
'Most Relevant'

shows the most relevant designs to your search terms first. (

Pro Tip

: If you are looking for a very specific design with many tags, this is the filter for you!)
'Most Favorited' emphasizes designs that have been favorited by the most community members, and then shares returns include less popular designs with the same tags.
'Trending' are newer designs, with those proving to be increasingly popular over the past 7 days returned first.
'Newest'

are just that, the newest designs on Spoonflower!

Products - allows you to see designs available on fabric, wallpaper, or home decor specifically, as some artists choose to specialize their designs.
Colors - allows you to see designs with specific colors within your search parameters, when labeled by the artists. Our system is not yet able to scan for colors automatically. You can select multiple color filters.
Style - allows you to search for designs within any of nine design styles. Within each style section, there are a variety of sub-styles to choose from. You can only filter one style, or sub-style at a time.
Topic - allows you to search for designs within any of seven design topics. With each topic section there are a variety of sub-topics to choose from. You can only filter one topic, or sub-topic at a time.
Availability - allows you to toggle between only designs that are for sale in the

Marketplace, or to include designs that are public but that haven't been made for sale just yet.
As you choose to click on these filters you will see them line up along the top left of your search returns in grey boxes. In the image below, we have refined the blue china quote search to only include images of designs labeled as 'Traditional' in Style and "All Novelty' in Topic, and to be printed on 'Fabric'. Aside from 'BEST SELLING' (which is default), you will see that each arrow along the left matches a filter along the top. As you play with these various filters, you can click "x" in the grey box at any time to remove this filter from the search.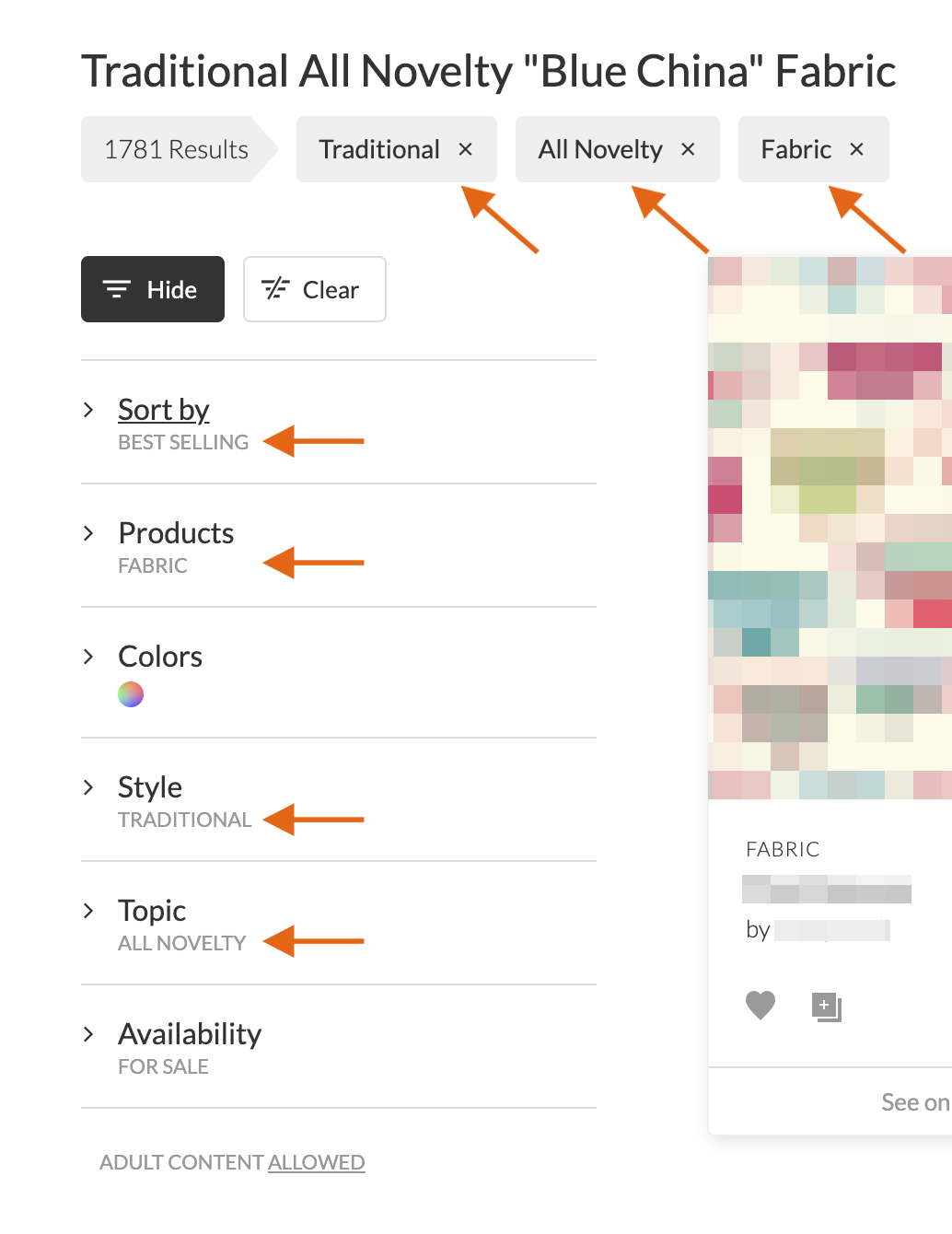 Adult Content
Spoonflower is used by a wide variety of people from all around the world, and while we do not censor or limit the work of others, some designs may not suit the tastes of all people. Therefore, you can "BLOCK" adult content.
In the image above you will see 'ADULT CONTENT ALLOWED'. In this setting, all designs will be returned, regardless of their content. However, if you hope to search our site for fabrics without potentially objectionable content, click 'ALLOWED' and it will change to 'BLOCKED'. The search will then filter designs that have been effectively moderated.
Note: The Spoonflower Marketplace is dynamic and ever changing. While we endeavor to filter as many adult designs as possible, every so often an unsavory design may return in your search results or be shown as a suggested design. This is often due to other tags saved by the artist when they uploaded the design. Please accept our apologies with understanding as we work to improve our systems.
If you have any questions about moderation and how we handle the various designs of our Marketplace, please review our Terms of Service.
Searching by Category or by Color
If entering search terms isn't how you visualize and seek out designs, another option is to search by using the Categories and Color drop down from the fabric tab along the top of the Spoonflower site. When you hover over 'Fabric' and then 'By Categories' or 'By Colors' a series of options will appear that will allow you to refine to a very specific return, such as a particular color or animal.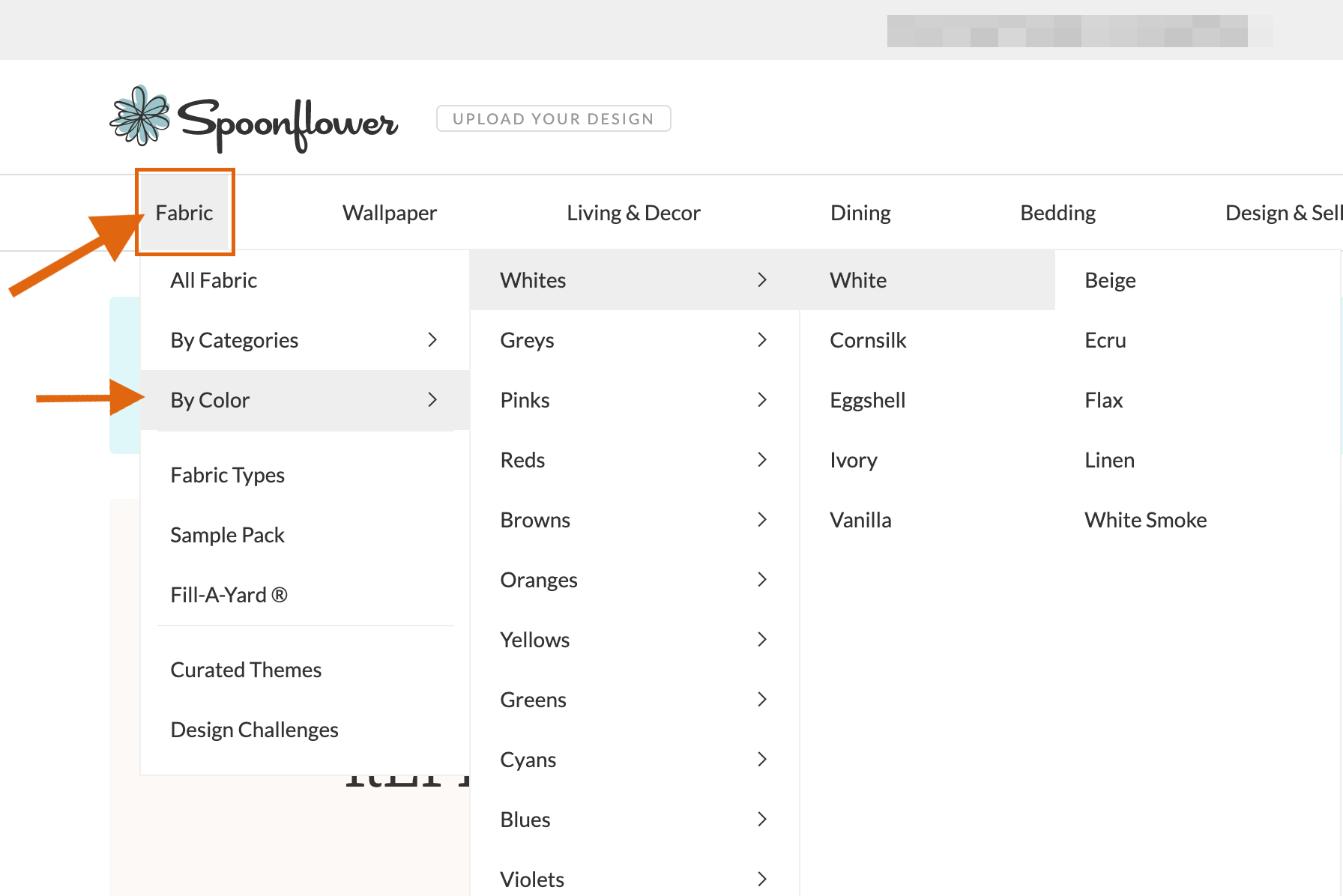 Search Returns and Collections
As you find designs that you like it can be easy to click around and lose some of your favorites. This is why we recommend favoriting designs by clicking the heart icon, or by saving them into any of your personal collections. You must have an account and be signed in to make this happen. Learn more about these helpful site tools in the article Collections Overview.