At Spoonflower you can print your favorite design on almost any type of fabric in our Marketplace. However, be on the look out for artist notes on the product page. Some designs need to print on wider fabrics so they are not cut off.
Explore: Searching the Spoonflower Marketplace
Learn: Visualizing Size and Scale of Marketplace Designs
Shop: Checking Out
Ordering Fabric from the Marketplace
You are responsible for selecting the fabric type, the fabric size, and the quantity of pieces or length of overall of continuous fabric. Once you have made these choices, you can drop your item into your cart.
Step 1: Choosing Fabric Type
After locating your Marketplace design, you will select the fabric type for your order. There will always be a default fabric listed, and sometimes it changes from one design to the next, so pay close attention to be sure it is the fabric you want!
Click the small arrow in the FABRIC field to open Select a Fabric menu
Type the fabric into Quick-search fabrics field or scroll to view your options
Click Select next to the fabric you want and return to the product page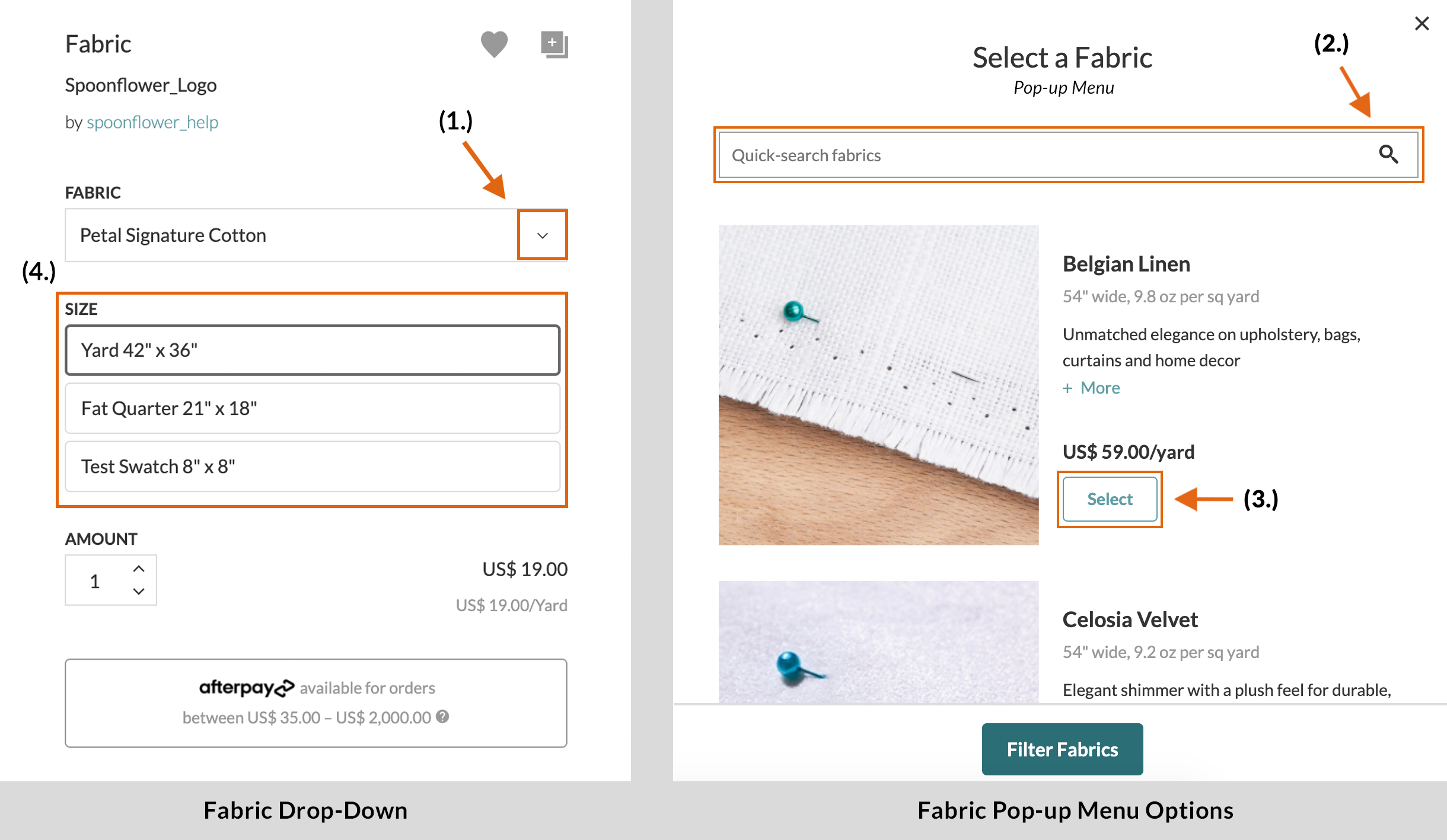 Step 2: Fabric Size and the Image Preview
Spoonflower prints onto 3 fabric sizes:
Test Swatch (8" x 8", 20 cm x 20 cm)

Fat Quarter (1/2 fabric width x 18" or 50 cm)

Yard/Meter (one yard/meter, or whole number increments)
The width of each fabric type will vary and the printed dimensions for each size are published in the (4.) SIZE section on the product page (see image above). When you change the size of the fabric, the scale of the design in the image preview window will change as well. Pay close attention to the units of the rulers in the images below.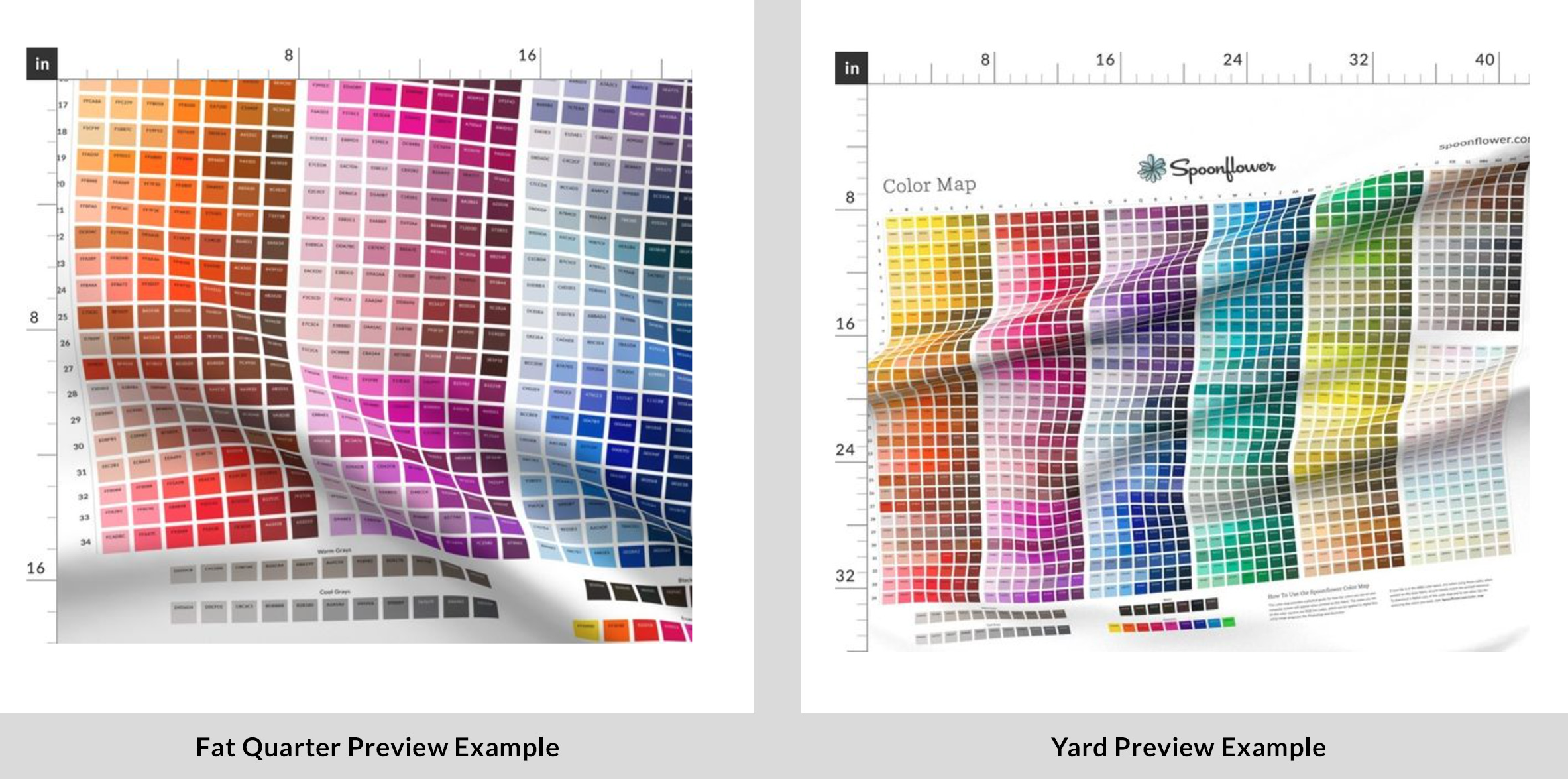 These two images accurately present the scale of the Spoonflower color map on two sizes of fabric. The left shows how much of the design will be cut off when printed on a Fat Quarter. The right shows that the entire design will print on a yard.
When a design appears to be cutoff or shows white space in the image preview, this is how it will print!
This means we will not adjust or rescale designs to fit changing sizes of fabric. The slight waves are strictly for visual suggestion and protect the artist copyright.
NOTE:We are not able to print partial yards, but you can create a Fill-A-Yard® project if you need partial amounts.
Step 3: Selecting Fabric Size and Amount
After confirming the image preview layout, follow the hints below to pick the right item for purchase.
Select your desired SIZE while noting if there are (1b.) artist recommendations. If the width isn't enough, search for another fabric type
Enter the quantity in AMOUNT *
Click Add to Cart
* - The meaning of AMOUNT varies by fabric size. Review Keep in Mind below.
Keep in Mind:
Fat Quarters are printed and cut individually. If you select Fat Quarter and enter "4" in AMOUNT, you will receive four separate, identically printed Fat Quarters. Learn more here: Fat-Quarters-101
For

continuous yards/meters

, select Yard/Meter and enter the continuous desired length into AMOUNT. For example, entering "4" into this field will print 4 continuous yards/meters.
For

individual yards/meters

, select Yard/Meter and enter the desired fabric length into AMOUNT. Then click Add to Cart as many times as you need pieces at that length. For example, if you want four 1-meter pieces, enter "1" for AMOUNT, click "Add to Cart", then repeat this step three more times.
Review the image below to show you how your shopping cart will display these two examples.
See also: Shipping Rates and Delivery Options
See also: Order Status and History
See also: How long will it take to get my order?