Gift certificates are an excellent choice for a creative friend, a custom crafter, or as a last-minute gift! Spoonflower offers gift certificates in the amounts of $25, $50, $75 or $100, which can be used to order anything on the site.
To purchase a gift certificate:
Go to the Gift Certificate page and select the amount for the gift certificate.
Enter the giftee name, nickname, or term of endearment.
Enter your name, so they know you care.
If you'd like to buy a gift certificate for yourself, tick the box to select it. The credit will show up in your account immediately as Spoondollars!
Click the "Order a Gift Certificate" button.
Complete the checkout process.
Print the gift certificate or save it as a PDF.
Email or give it to the lucky person!
---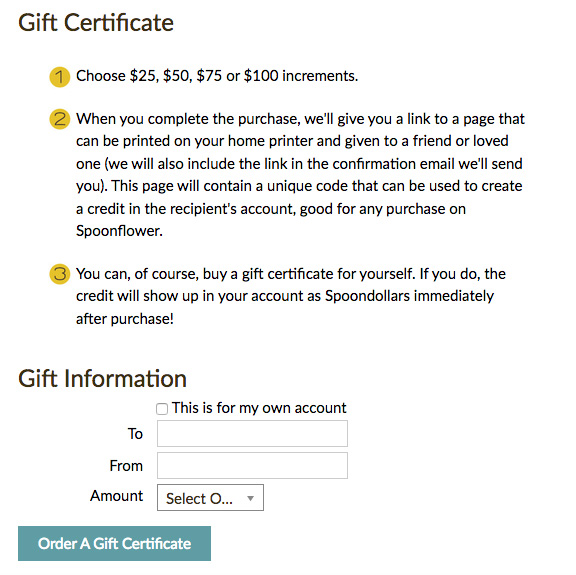 *We do not send the recipient any email notifications or a copy of the gift certificate. We like to leave the surprise up to you!
To redeem a gift certificate:
Enter the activation code from your gift certificate into the empty field.
When necessary, you may also be asked to enter the email address from your account.*


Click the Redeem My Gift button.
A banner will let you know if the money has been added to your account.




If it hasn't, double check the activation code and email address (if entered). If you still have trouble, please contact us by using the Help button on the bottom right hand side of the site.
Once redeemed, your gift certificate will be stored in your account as a Spoondollar credit, an in-house currency that can be applied to your next order. Spoondollars also never expire!
*If you have a Spoonflower account under a different email address, please contact us by using the Help button on the bottom right hand side of the site.
Using your Spoondollar credit
1. Add the items you want to your cart and be sure you are logged into your account.
2. Once you're in your shopping cart and ready to check out, proceed through the checkout process.
3. On the "Payment" page of the checkout process, click on the "+" button next to "Spoondollars" at the top of the Payment page.
4. Then click on "Apply $ Spoondollars" and the amount will automatically deduct from your total cost.
See Also: How to Place an Order
See Also: Payment Methods
See Also: Checking Out