The three wallpaper types at Spoonflower are Prepasted Removable Smooth, Peel and Stick Removable Woven, and Non-Pasted Traditional Pebble. Before determining which of these are best for your space, it's helpful to understand the terms mentioned in all of our related wallpaper content. This will make sure your decision is an informed one.
Below you'll find definitions for the most common terms from each wallpaper article linked above, as well as some helpful tips when working with each substrate.
Non-Pasted (Traditional)
No adhesive has been pre-applied to this paper. To install this wallpaper, you will need to use adhesive that is typically applied with a brush. There are many glues and pastes in the marketplace. It is always good to consult with an expert when using this paper, or even hire a professional installer to complete the project for you.
Prepasted
A paste has been pre-applied and dried to the back of this wallpaper. This paste is water activated as it is absorbed by the paper. You will find methods about how to activate this paste in the Booking section below. The Prepasted installation article is a great source, too. This is a good DIY paper.
Peel and Stick
This DIY option installs like a giant sticker. A backing paper has been applied that can be removed during the installation process. This wallpaper can be repositioned during installation, but make sure the wall is smooth and clean to maintain the adhesive properties.
Booking
Booking relates to how long a paper should rest once fully saturated with paste. Booking properly ensures your paper is ready to install.
For prepasted paper, this process begins once you activate the adhesive with water. Once wet, the paper expands as it absorbs the water and will become - to use a scientific term - a bit goopy. Once you are confident the entire panel is saturated, our Prepasted Smooth Wallpaper needs 3-5 minutes to be properly booked before installation. This is important because the entire wall must be covered in glue. This absorption process is also because as the water evaporates and paper shrinks back to normal over the next 3 hours, the paper will return to its normal finish for a more professional look.
For non-pasted paper, follow the instructions with your preferred paste or adhesive.
Straight-Drop
Most of our wallpapers are printed with a straight-drop, meaning you will not need to offset rolls when hanging the paper. With straight-drop paper, you will hang each roll right next to each other in order to create a seamless repeat with the pattern. To help match this pattern as you install, we also include about 3/4in (1.9cm) of overlap down the right side of each roll. This aids in aligning the design when hanging.
Half-Drop
With a Half-Drop repeat, the design would need to be manually offset when hanging (much like commercial wallpaper), meaning every other roll would need to be a bit longer and hung a bit lower to ensure the repeat aligns properly.
We recommend ordering alternating roll lengths with a Half-Drop repeat, so for 4 rolls needing to cover a 96in (243.84cm) roll width, it would be best to order 2 - 9' roll lengths and 2 - 12' roll lengths to align seamlessly. To see the repeat size of any design in our marketplace, be sure to scroll down to the Wallpaper Details and About the Design section of any design page.
Here's an example! For the image below, this particular design has a 24" (60.96cm) vertical repeat. For a vertical repeat of this size, you'll want to account for 12 extra inches (30.48cm) every other roll.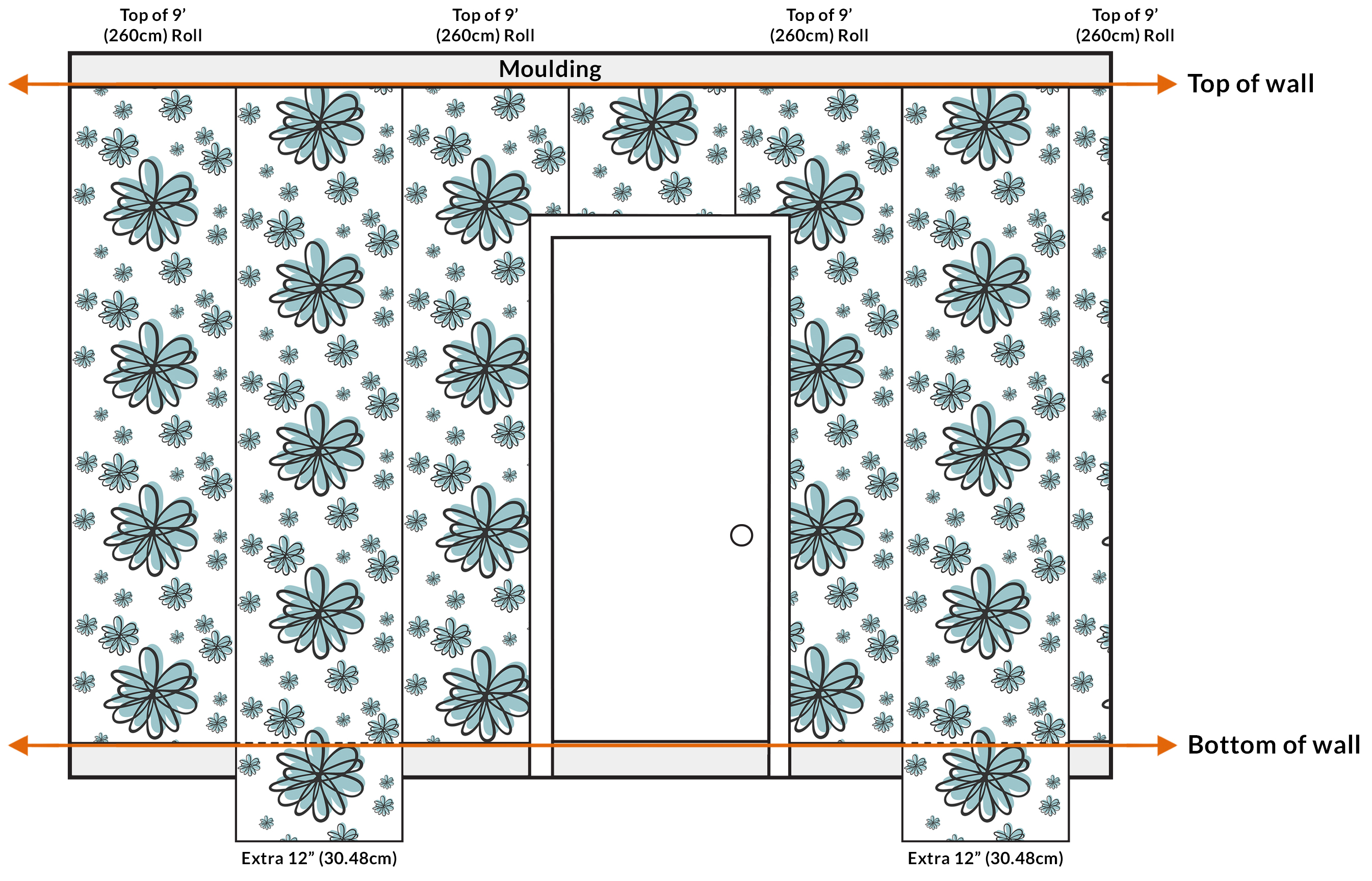 IMPORTANT: Please note not all design repeats will occur in whole foot increments, or conform with our available roll lengths, so some longer rolls may need to be ordered.
We understand this might be a bit confusing, so please contact us with any questions about Half-Drop designs, or potentially Half-Drop designs. Try to include a design link in your initial inquiry so we can be ready to help! You can copy and paste the url address at the top of the screen. It should start with "http://www.spoonflower.com/en/wallpaper."
Vertical Repeat
It's most important to note the vertical repeat size when purchasing our Non-Pasted Traditional Pebble wallpaper. As most of our wallpapers are printed with a straight drop, you'll need to know the vertical repeat size in order to determine exactly how much paper you'll need for your space. The 27' (1000cm) roll length will need to be cut during installation to easily match one panel to the next. It is not possible to install by lining up the roll to the top of the wall similar to our other two DIY papers.
Note: You can find the vertical repeat size of any wallpaper design by scrolling down to the WALLPAPER DETAILS section and clicking on the + More option as shown in the image below.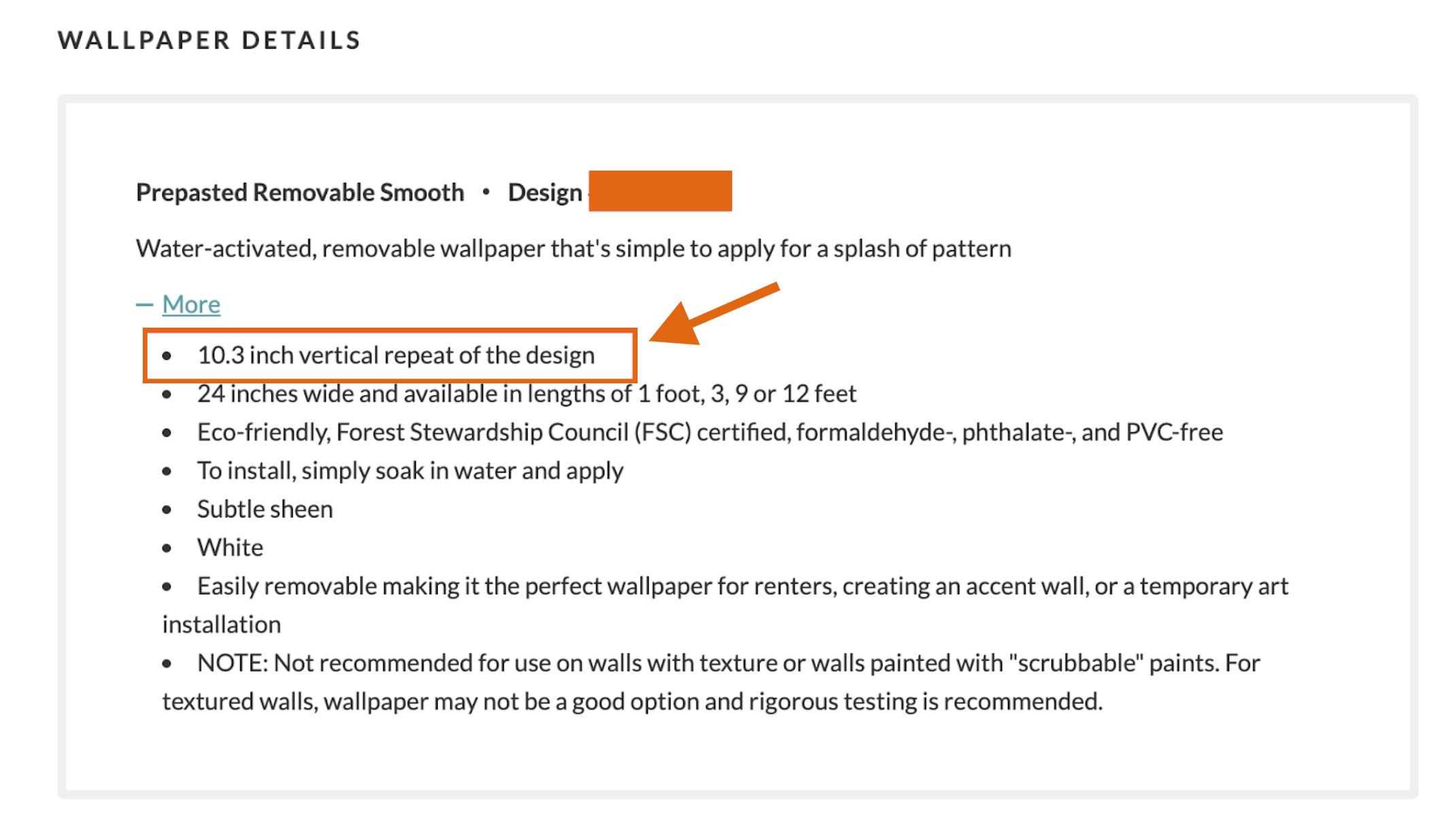 Overlap
We include about 3/4in (1.9cm) of overlap down the right side for all of our wallpaper rolls. This overlap is to aid in aligning the design when hanging, meaning rolls should be hung from left to right or right to left.
All rolls will be printed with a quantity number for an order, but you can hang your wallpaper rolls in any particular order. See an example of this below:

Overlapping the design allows for a quick and easy installation, especially for first-timers and DIY installers! If you would like to see a demonstration of how this works for our Prepasted Removable Smooth as well as Peel and Stick Removable Woven, please visit the following links:
Prepasted Removable Smooth Wallpaper Installation
Peel and Stick Removable Woven Wallpaper Installation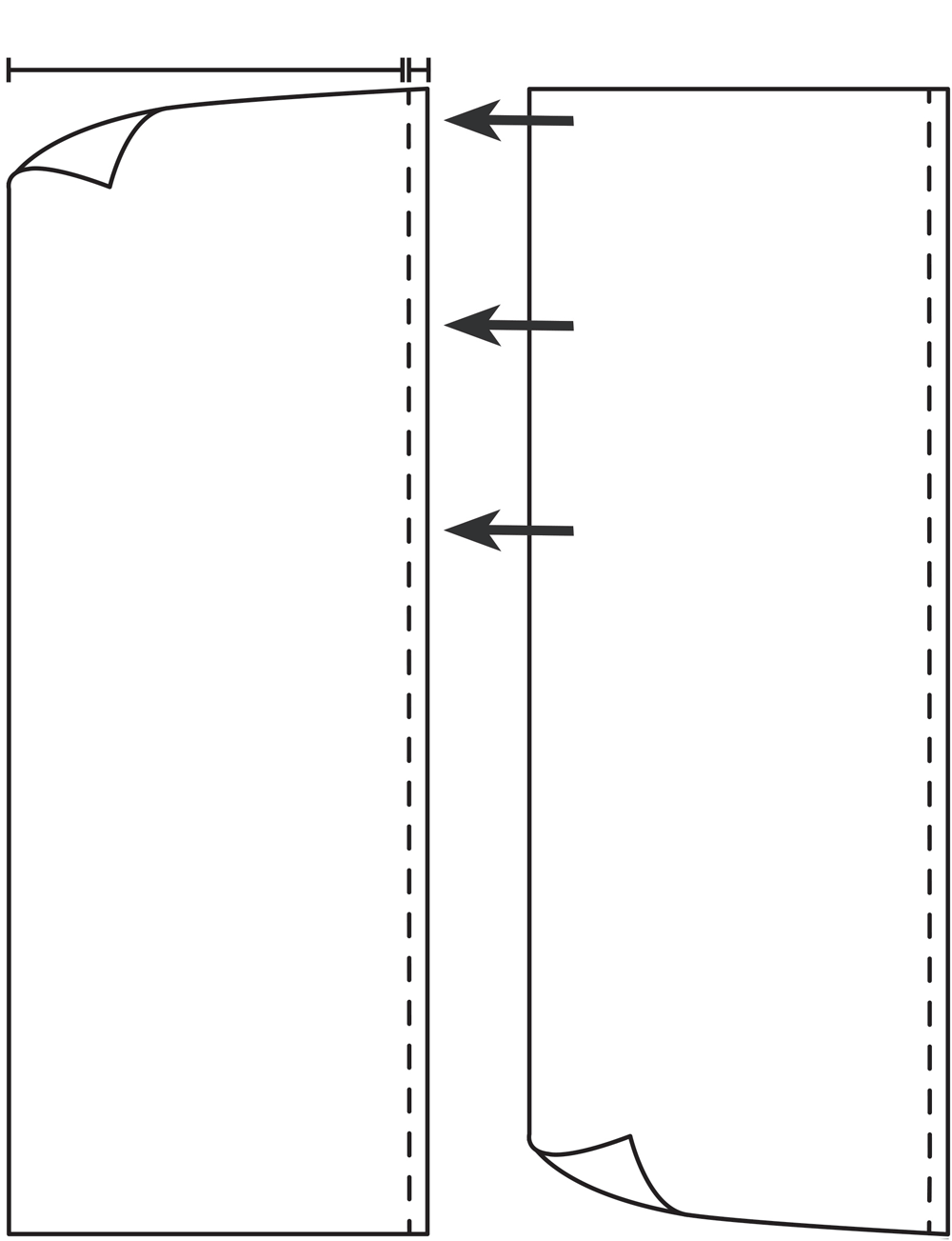 ▶ Can I order wallpaper rolls without the 3/4" overlap?

All of our wallpaper rolls will print with a 3/4" overlap along the right side. It is not possible to remove this overlap in our printing process. This addition is not displayed in the design preview window, but is automatically generated when the file is processed.
▶ How can I remove the overlap?

The 3/4" overlap for all wallpaper rolls can be removed by a professional installer using the Double-Cutting method. This process involves trimming the overlap so that each wallpaper roll will be "butted" together and can appear more seamless.
▶ Will the overlap show after installing?

Our wallpaper overlap will have a seam once installed properly. It can be more apparent for designs with white backgrounds and design elements that have larger amounts of spacing. Generally, the overlap is not noticeable for busier designs. If you would rather not have an overlap seam, you can always reach out to a professional installer to remove this with the Double-Cutting method.
Tips and Tricks
Before going over any tips and tricks we recommend for our wallpapers, it's also good to keep in mind the information below:
Always double check that the surfaces you are applying to are clean and dust free. This includes around outlets and along ledges and molding. It is likely best to remove outlet and switch covers during the installation process.
Keep in mind, the number printed onto any roll does not indicate which roll should be installed first, this is simply a number for the quantity of your order. Your rolls will be printed with "1of8," and so on.
Each DIY wallpaper option has its own removal process. For more information take a look at each installation article:
Only work with accurate measurements to determine the best amount for your space. As we might say, "Measure twice, order once." Check out our recommended guidelines for measurement.
Frequently Asked Questions
▶ Should I order a Test Swatch first?

We always encourage getting a swatch first to make sure the wallpaper type, color and scale meet your expectations in all types of light, but also so you can do a test installation on your unique surface.

To order a wallpaper swatch of any type, just select the wallpaper type first in the drop down menu for WALLPAPER. Then, in the ROLL SIZE drop-down menu select Test Swatch (2' x 1'). For more information on ordering a swatch, please go here.
▶ Do you have dyelots? How can I receive the same rolls again for another order?

Since every Spoonflower product is custom-printed, each individual order is like its very own dye lot. While large color shifts between orders should not be an issue, there can be slight changes between orders placed (and therefore printed) at different times. Just like when buying commercial fabric, yarn or wallpapers with dye lots, it's best to order as much digitally printed wallpaper as you need for your project the first time. If you ever need to order additional paper for another wall or room, reordering is easy. As long as the design is still public in our marketplace, you can sign into your account and find the design through your Order History. If you don't have an account, create a free one using the email address from your first order, or search in our system using the Design ID.
▶ Is there a way to order double rolls?

Customers often reach out asking if a certain wallpaper will arrive as a double roll. While Spoonflower does not use this language, a quick explanation may be helpful. Traditionally, wallpaper rolls were defined by the area of wall they covered. Our Non-Pasted Traditional Pebble Wallpaper, at 2' x 27', covers an equivalent amount of square feet as a standard double roll would cover. We simply don't use that labelling to describe that product.
▶ Will a dent, scratch, or any other imperfections on my wall show through the paper?

Major wall imperfections may become noticeable once installing your wallpaper. It's best to prep your walls and make sure you have a smooth surface prior to installing. Keep in mind, we recommend at least 4+ weeks for your paint to fully cure before starting any install.
▶ Should I remove any outlet or switch covers?

If you would prefer to wallpaper under an outlet or switch cover, it's best to remove them first. Make sure any dust is removed around the edges, as this could prevent the adhesive from applying properly.
▶ How do I wallpaper around doors or windows?

Best results vary depending upon the paper. First, apply the wallpaper as normal around the window or door frame. With our Smooth wallpaper, because it takes about 3 hours to dry, and therefore fully shrink back to normal size, you will want to wait to trim it flush. If the paper is a bit clumsy or heavy around the edges, you can do a rough cut leaving about two inches overlap to the frame, and then come back later for the final cut. With our peel and stick Woven, you can trim the panel down once the wallpaper is flush with the moulding.
▶ How can I install with corners?

It's best to avoid using almost a full roll width of paper when crossing over the corner of a room during installation. It takes a bit of planning, but you might want to start your installation on the wall in a place that makes sure you aren't crossing over the corners with large amounts of paper. Having to wrap only a few inches around a corner isn't that hard, but squaring over 12" of paper across the same space can be challenging. Some people think trimming to the corner is a good idea, but we do not recommend cutting the wallpaper for this practice. It is tricky to create a seamless repeat this way.
▶ What temperature is best to install with?

It's best to install with a normal room temperature you are comfortable with daily. We do not recommend installing during severe humidity or cold temperatures. Sudden changes in temperature can occasionally cause bubbles if applied too quickly. These bubbles can expand or shrink in other temperature extremes and can cause issues with installation integrity.