Peel and Stick Wallpaper is a popular choice for temporary projects or rooms ready for a little added flourish. Read and review these installation instructions carefully as you prepare your walls for a successful installation. Find printable attachments at the bottom of the article with instructions in English, German, French and Spanish. Installing a Test Swatch to your unique surface before placing a larger order is highly recommended.
Install your wallpaper to a surface that is a solid, light color.
For freshly painted or primed surfaces, allow the paint to dry for 30 days. We have not tested the installation of this substrate over other wallpaper, or on other paper that has also been primed over.
Preparing for Installation (day of)
Getting Ready (weeks ahead)
Preparation of Your Walls
Peel and Stick wallpaper is not recommended for use on walls with texture or painted with scrubbable or No-VOC paints.
Ensure your wall is smooth, clean and dust-free
Patch any damaged areas of the wall, especially where sharp edges might pierce or tear the wallpaper
Surface should be a light, solid color. The following primer and paint finishes are acceptable:

Eggshell (preferred)
Satin (preferred)
Semi-gloss (preferred)
Gloss
Matte (Removal may experience some paint damage)

Recently primed or painted walls must dry for at least 30 days before installation
Walls with washable or scrubbable paint, or No-VOC paint, may not allow for strong bonding of wallpaper to wall. To promote better adhesion under these conditions:
Create a solution of 30 % isopropyl alcohol and 70% water
Wipe solution over entire wall with a clean, lint-free rag
Allow to dry completely
Install a Test Swatch

to

confirm longevity prior to placing larger order
Get a Friend and Schedule Your Time
Hanging wallpaper is a two-person job. Find a meticulous friend to help and plan to complete the installation in one day to ensure a steady and consistent hand.
Necessary Tools
Prepare your installation tools to include the following:
Sharp utility knife
Extra blades

Squeegee (included with all orders of rolls)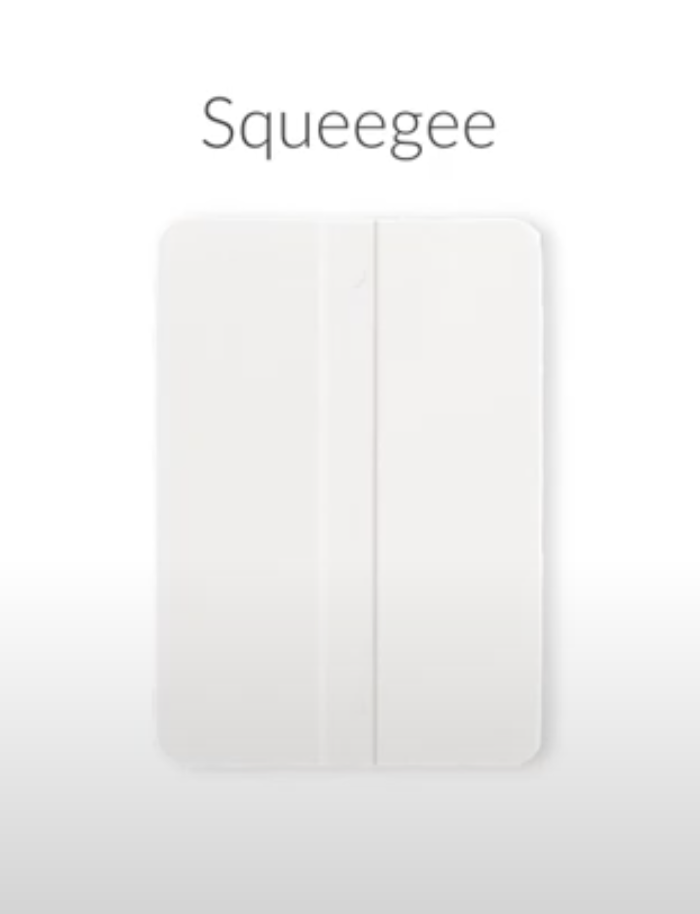 Find definitions and Tips & Tricks for basic wallpaper installation FAQ here
.
Preparing for Installation (day of)
Remove switch and socket covers, and window treatment hardware
Lay Out Your Paper
Unroll each roll to face the same way. The top of each panel has no white space. The bottom has a narrow line of white space printed with order information:
Each roll is labeled with its item number ("Quantity- 1 of 8, etc...). This number is not an installation order. Rolls of the same design may be installed in any order
Re-roll each panel starting from the bottom so that the top edge is on the outside of the roll
Choose Where to Start Hanging
Each wallpaper panel is printed with a slight overlap of ~0.5" (~1+ cm) along the right edge to help during installation. This overlap may vary per roll so visually matching the design is necessary.
When installing
across one, two or three walls, start hanging at the farthest left or right corner and continue in one direction until you are done
on all four walls, the final panel may not align seamlessly with the first. To reduce visual disconnect, hang the first panel at an inconspicuous point in the room, such as behind an open door or taller piece of furniture
IMPORTANT: If your installation space contains different wall heights, we still recommend ordering all your rolls at the longest wall height. Purchasing and installing rolls of different lengths can be very tricky, as you may experience issues aligning the patterns due to the vertical design repeat. Please review How Spoonflower Wallpaper Prints for more information before determining your final order.
Installation
Hanging the First Roll
Peel away 6" (15cm) of the paper backing from the top of your first roll and fold it backwards and flat
Place a few inches of the exposed back in place, with at least 1-2" of the paper above the top edge of the wall. Ask your helper to step back and check that the roll is straight and the design is level
Adhere the paper onto the wall from the center of the panel
Use a squeegee and gently smooth the paper from the center out to each edge.

Be careful not to scrape the design

Move large bubbles to release at the edges

Keeping the roll of paper flat to the wall, unroll another small section of the panel
Peel and fold down more paper backing and install the next 4-6" segment, smoothing from the center as before
Move down the wall in small segments until you reach the bottom of the panel
Peel and Stick Wallpaper can initially be repositioned during the installation process. To adjust, slowly peel the paper from the wall and then reapply.
Overlapping Each Following Panel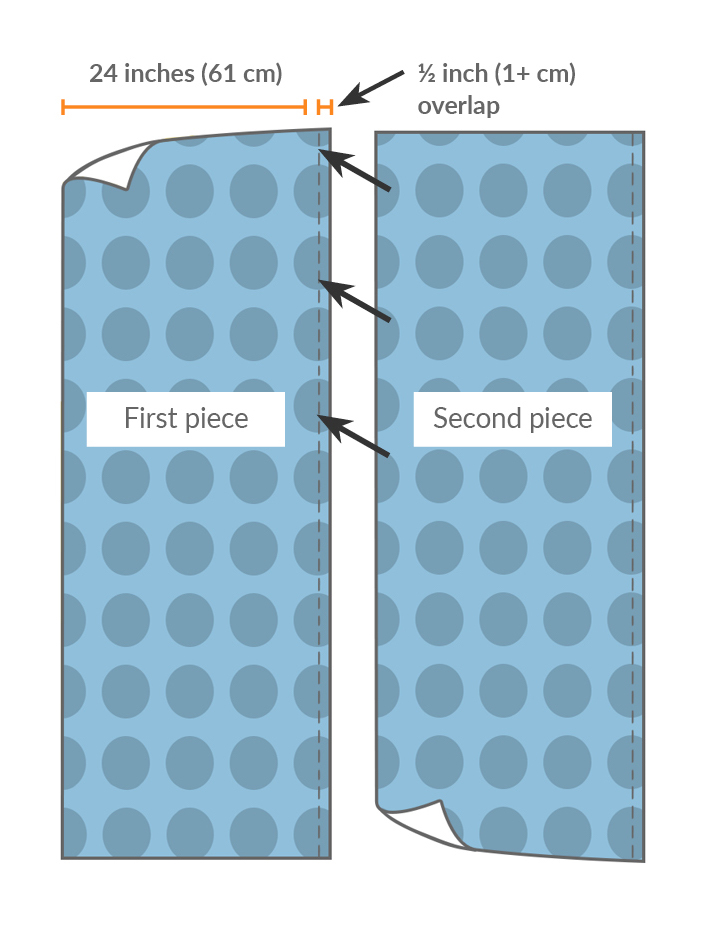 Pick up your second panel
Determine the proper overlap for the design - approximately 0.5" (1-2 cm) - to install seamlessly down the edge of the first panel (as shown above)
Starting at the top, align paper properly along the top edge of wall
Follow the steps from the first panel and work down the wall in 4-6" segments, constantly verifying pattern alignment before using the squeegee
To reposition, gently pull off paper, parallel to the wall, with consistent pressure to avoid stretching
Complete the entire installation with the remaining panels
Review Finishing Installation below for tips on trimming excess paper
Dispose of paper backing properly. It is

not

recyclable
Installing Around Windows and Doors, Corners, and Plugs and Panels
It is always a great idea to search online for videos with installation hacks when tackling trickier spots on your walls.
Around Windows or Doors
Once you are certain you know how much paper you need to install around the molding edges of these room features, you can trim away the bulk to help ease the adhesion. Wait until all wallpaper panels are installed before trimming the final excess to the edges.
Around Corners
Installing around interior and exterior corners can challenging. Rather than trimming right into the corner, it is easier to control installation so that a least a few inches of paper will wrap around any corners.
Outlets and Wall Panels
You can install over these and trim appropriately when you finish the installation. Always be careful working around live electrical outlets.
Finishing Installation
Once all panels are in place, trim the edges with a sharp, fresh blade. We often recommend a snap off knife with good stability, such as the Olfa SAC-1 Graphic Cutter.
Using a straight edge at the ceiling, across baseboards and vertically down corners will ensure a straight cut without edge walking.
Caring for Your Product
Clean with a damp microfiber cloth and mild detergent dish soap. Do not aggressively rub.
Removal of Wallpaper
Temperature, humidity, and wall preparation will determine how long the wallpaper can remain in place and still be easily removed. A fair estimate for longevity is one to two years. Once the adhesive has hardened, or if the paper was installed in drier conditions, your surface may still require touch up after removal.
To remove:
Working backwards, begin at the top of the last panel that was installed
Lift exposed corner with a knife edge
Gently pull paper downward at 180 degrees, parallel to the wall surface
Continue with a slow, steady force until you reach the bottom of the wall
Repeat with remaining panels
Dispose of paper properly.

P

aper is

not

recyclable
Pulling down on the paper, rather than pulling it away from the wall, will help reduce unnecessary removal of paint/primer.
See also: Wallpaper Terms
See also: How to Order Wallpaper