Spoonflower welcomes Grasscloth to our family of wallpapers. Handcrafted from 100% natural sisal grass, this wallpaper prints with a subtle luster and a variegated texture, making it a perfect accent on feature walls in lower-traffic environments, or for drawing attention to focal points or unique design features in your most important rooms.
Due to the unique qualities of this eco-friendly wallcovering, professional installation is strongly encouraged. Printed exclusively in the United States of America.

Grasscloth Sample Book
Spoonflower's Grasscloth Sample Book is a great way to see this product. The Sample Books will share a collection of designs specifically chosen to showcase the natural features of grasscloth wallpaper. Inside you will find two 5.5" x 8.5" (13,9 x 20,3 cm) samples and eight smaller, 3" x 4.75" (7,62 x 12 cm) samples of Marketplace designs that represent everything you need to best understand this beautiful wallcovering.
Order Spoonflower's Grasscloth Wallpaper Sample Book
Details, Specifications and Care
Roll dimensions: 24" W x 27' L (

60.96 cm W x 823 cm L)

100% handcrafted natural sisal will print with a slight luster

Type I wallcovering suitable for lower traffic environments and in light-touch residential spaces with less risk of abrasion

Professional installation highly recommended, paste required

Water-based latex inks are

 

GreenGuard Gold

 

certified

Swatches available: 2' W x 1' L (60.96 cm x 30 cm)

Not suitable for high moisture areas such as bathrooms with showers or bathtubs

Maintenance: To remove dust, use a soft surface feather duster or vacuum.

Never use cleaning agents but if necessary, use the foam from a

clear

, gentle household dishwashing liquid, touching lightly with a soft white cloth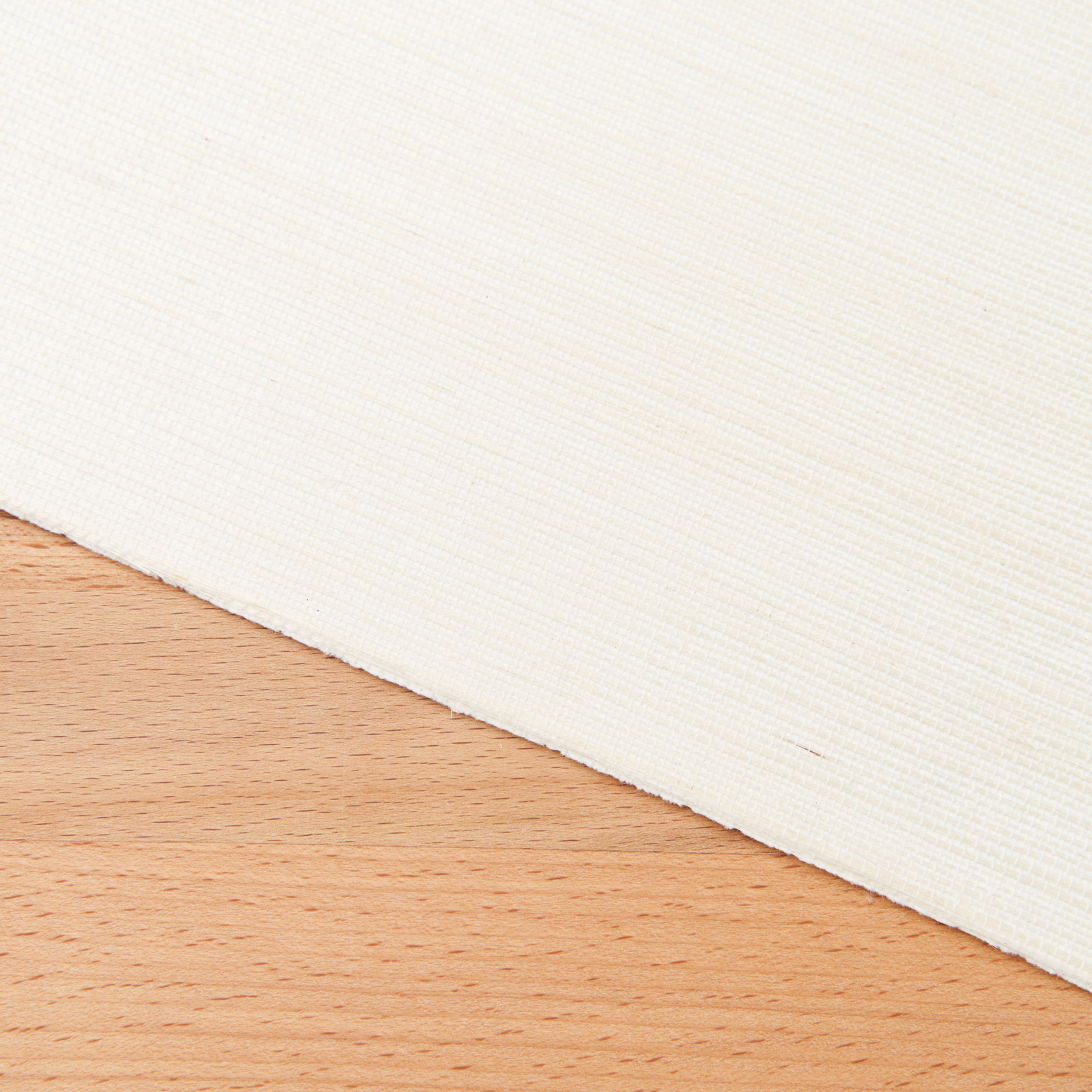 IMPORTANT: Due to the handcrafted nature of this product, variations in texture, color, and weave will be visible from panel to panel once printed. After installation, noticeable seams between each panel of grasscloth are to be expected.
Due to the delicate nature of Grasscloth, we recommend installation to be handled by a professional. Please review How to Install Spoonflower Grasscloth Wallpaper with your installer to understand the necessary installation requirement for this paper.
Compare this paper with Non-Pasted Traditional Pebble Wallpaper, Peel and Stick Wallpaper and Prepasted Removable Smooth Wallpaper.
What is a Type I wallcovering? 
Type I wallcoverings are for use in areas of light to moderate traffic. 
What is a Class A fire-rating?
No wallpaper is fire-resistant, but a Class A fire-rating means that this wallpaper received the highest ranking for subverting the burning characteristics of fire when compared to similar building materials in laboratory settings. In other words, Grasscloth doesn't burn as fast as other comparable wallpapers.
FAQ
▶ How is Grasscloth wallpaper made?

Grasscloth is made by hand, the sisal fibers woven together with lightweight thread and fastened onto a light paper backing.
▶ How is Grasscloth different from other wallpaper types in the Spoonflower Marketplace?

While our three other wallpapers are printed to install seamlessly with color consistency across every roll, the use of natural fibers means each roll of finished Grasscloth will be unique in texture.

Any color variations between rolls are not manufacturing flaws or printing defects and should be seen as part of Grasscloth's charm. Individual rolls will likely stand out, so if irregularity is something you prefer not to notice with your interior design, one of our other wallpapers may be better for you.
▶ What are the best locations to use this paper? Are there places it shouldn't be installed?

While Grasscloth wallpaper offers a great backdrop, it does work better in certain locations. Dining rooms, living rooms, studies and bedrooms are ideal rooms for this paper. However, because this paper is highly susceptible to water marks, use in bathrooms and kitchens is not recommended. Any contact with moisture and humidity will compromise the beauty and natural finish of this paper.
▶ Does this paper absorb odors?

Yes. With its porous nature, Grasscloth is susceptible to absorbing odors from smoke or heavy, greasy foods. Unlike your dining room curtains, this paper cannot be sent to the cleaners. Keep your living habits in mind as you decide to order.
▶ How do I clean it?

Because this paper is highly susceptible to stains and water damage, cleaning the product requires discretion. Dusting with a feather or light vacuuming will remove dust but do not rub or press the paper, for risk of damage. If needed, sparingly use the foam of a clear, uncolored liquid detergent on a clean white sponge or towel. Be certain to best on an inconspicuous place first.
▶ Will this paper show flaws and damages from the wall underneath?

Yes. Any flaws or damages of the wall will likely be apparent after installation. Holes, cracks and damages to the wall should be sealed, sanded and covered with a uniformly colored primer prior to installation.
▶ Should Grasscloth be double cut, or can we keep the overlap like with other papers?

Yes. Your installer should double cut your grasscloth paper after installation. Small shifts in color representation are common so ensuring the seams lay flat is ideal.
▶ Is it possible to color match this paper? Will my installation be seamless?

One of the unique qualities of this paper is the natural grass from which it is constructed. Because of this more organic finish, color variations in the base paper will be reflected in the printed rolls of your order. These variations are expected and are not seen as a flaw. If you are looking for a seamless finish with a professional paper, Non-pasted Traditional Pebble might be more suitable.
▶ Is installation for Grasscloth a Do-it-Yourself project?

No. This paper should always be installed by a professional.
▶ Because this is a natural product, is there risk of deterioration?

Sisal wallcoverings are highly breathable and will not promote the growth of mold and mildew.
▶ Is this paper pet-proof and child-proof?

Due to the delicate structure of this paper, it should not be used in high traffic environments where risk of human contact is likely.

Due to the scent and structure of the paper, cats are often attracted to it. If you have indoor pets, it may be wise to install this paper above any chair railings, and not onto a full length wall.
▶ This paper has a distinct, natural odor. Is this paper recommended in spaces where people with allergies may frequent?

This paper is made from sisal fibers and will maintain an odor as a natural product. While the smell may dissipate over time, it does offer an unexpected sensory experience that may add depth to your design aesthetic. However, this might be an issue of concern for people with grass allergies. We always recommend ordering Test Swatches before all larger purchases, and in this case it would be a good precautionary step.
See also: How to Order Wallpaper
See also: Peel and Stick Wallpaper 
See also: Non-Pasted Traditional Pebble Wallpaper
See also: Wallpaper Terms and FAQ