Spoonflower's Non-Pasted Traditional Pebble Wallpaper is our most traditional wallpaper. Printed on natural white paper with a matte finish and a woven backing, this paste-activated wallpaper installs with a subtle, leathered texture.
This highly durable paper is great for high-traffic environments subject to wear and tear, like playrooms, bathrooms, restaurants and office spaces. Printed exclusively in the USA, this is a great option for commercial properties and homes.
The Paste on Pebble
Roll dimensions (installed): 24" W x 27' L (

60.96 cm W x 823 cm L)

Matte finish with subtle leathered texture printed on natural white
Professional installation highly recommended, paste required
Eco-friendly and PVC-free
Water-based latex inks are

GreenGuard Gold certified
Swatches available: 2' W x 1' L (60.96 cm x 30 cm)

Breathable construction means it is highly mold and mildew resistant,

with water resistance as well.
Easy care with

warm water, mild soap and a clean cloth or sponge to remove any dirt or stains. Dry immediately with a soft, lint-free towel. Avoid the use of solvent-based cleaning agents.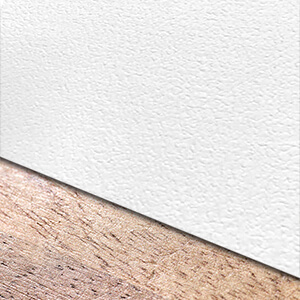 Non-Pasted Traditional Pebble Wallpaper is professional grade. We highly recommend the installation be handled by a professional, but you should read over How to Install Non-Pasted Traditional Pebble Wallpaper to have a better sense of the project ahead.
Compare this paper to our Peel and Stick Wallpaper, Prepasted Removable Smooth Wallpaper and Grasscloth Wallpaper.
What is a Type II wallcovering?
Type II wallcoverings are compliant with a durability standard for commercial contracts and are often required for wallcovering projects. Criteria include scrubbability, stain resistance, flame spread, color fastness, abrasion resistance, and more. Testing is conducted in accordance with the Type II ASTM F793 standard and test procedures. The American Society for Testing Materials (ASTM) established these standards with input from the Wallcovering Association. Type II is often a requirement when specifying wallcoverings.
What is a Class A fire-rating?
No wallpaper is fire-resistant, but a Class A fire-rating means that this wallpaper received the highest ranking for subverting the burning characteristics of fire when compared to similar building materials in laboratory settings. In other words, Non-Pasted Traditional Pebble doesn't burn as fast as other comparable wallpapers.
See also: How to Order Wallpaper
See also: Peel and Stick Wallpaper
See also: Non-Pasted Traditional Pebble Wallpaper
See also: Wallpaper Terms and FAQ