Spoonflower's Peel and Stick Removable Woven Wallpaper is a white, opaque 100% polyester fabric with adhesive backing and as it functions not unlike an overlarge sticker, is another great Do-it-Yourself paper.
Repositionable during installation, this paper is a perfect option for that unexpected flourish on an accent wall, as well as a smart choice for any array of craft, decorating, promotional and temporary projects.
It is also removable with minimal to no clean up required. Peel and Stick Removable Woven Wallpaper is made in the United States with fiber that may have been imported from other countries. It is printed at our headquarters in Durham, North Carolina, USA and Berlin, Germany.
Details, Specifications and Care
24 inches (60.96 cm) wide and available in lengths of 1 foot, or 3, 6 , 9 or 12 feet (30 cm, or 100 cm, 260 cm, 310 cm, or 400 cm when ordered in metric)
PVC-free and non-toxic
Compliance Tested: Lead, formaldehyde and phthalate-free
Water-based latex inks are

GreenGuard Gold

certified
Easy care; rip and wrinkle free
Gently wipe down with a warm, damp cloth. The use of astringent cleaners, or heavy rubbing may cause color to lift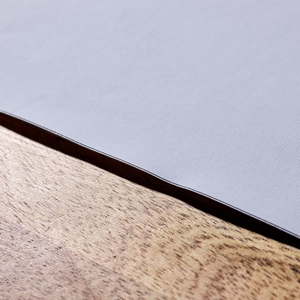 IMPORTANT: Peel and Stick Removable Woven Wallpaper should not be installed in nurseries or children's rooms.
NOTE: Peel and Stick Removable Woven is not recommended for application over paints advertised as being stain-resistant, scrubbable or washable. These paints are crafted to prevent things from sticking, including wallpaper. If in doubt, prime your walls with a flat white primer and allow to fully dry for at least 4 full weeks prior to wallpaper installation. We have not tested installation of this substrate over other wallpaper, or over other paper that has also been primed over.
While you might already know this is the right wallpaper for your project, please read over How to Install Peel and Stick Removable Woven Wallpaper. Even if our wallpapers are created with most Do-it-Yourself folks in mind, it's a good idea to be certain what you are getting into!
Compare this product with our other wallpapers, Prepasted Removable Smooth Wallpaper and Non-Pasted Traditional Pebble Wallpaper.
What is a Class A fire-rating?
No wallpaper is fire-resistant, but a Class A fire-rating means that this wallpaper received the highest ranking for subverting the burning characteristics of fire when compared to similar building materials in laboratory settings. In other words, Peel and Stick doesn't burn as fast as other comparable wallpapers.
See also: How to Order Wallpaper
See also: Prepasted Removable Smooth Wallpaper
See also: Non-Pasted Traditional Pebble Wallpaper
See also: Wallpaper Terms and FAQ