With so many things to consider while getting established as a seller in the Marketplace, this article shares the nitty-gritty details so that you will be up and running in no time.
Overview of Seller Verification
Important Design, Commission and Distribution Information
Overview of Seller Verification
We'd love to have you as a designer in our marketplace! If you would like to sell your designs, you will need to first complete our Seller Verification. It is possible to sell on our site even if you are not within the US. To explore this more in depth, be sure to go the article Seller Verification.
This process includes 4 steps:
Verify the email address for your account.

Read through and accept our Seller Agreement.

Verify your address.

Complete your tax form (W-9 for US taxpayer and

W-8BEN or W-8BEN-E for non US taxpayer).
Once this process is complete, each design must be proofed by ordering any quantity of the design on any product type (including home decor) of your choice, before it can be made available for sale.
As your designs are sold, you will receive commission. All commission will be first added to your account as Spoondollars (in-house credit) with the option for payout to PayPal once you have surpassed the minimum amount of USD$ 10.00.
Note: We do not offer any payouts with any other options at this time, only PayPal.
Important Design, Commission and Distribution Information
Before proceeding further into the Seller Verification process, we highly recommend reviewing the following articles. They will provide a general sense behind preparing designs, establishing yourself as a seller and what you need to know about Marketplace options.
Selling My Designs at Spoonflower
Third-Party Marketplace Distribution
Customizing "My Shop"
There are many ways to personalize your Shop for the Marketplace. Here is a quick lesson for customizing your Shop Image, Shop Banner and Design Thumbnails.
Shop Image
For your Shop Image, first go to My Shop in the user drop-down menu. From the next page, look for the option to Edit Your Shop. Clicking through will allow you to upload a new shop image. This image must fit the following requirements: File must be less than 500k as a JPEG or PNG. Images with dimensions over 250 pixels will be cropped and resized. On this same page, you can also add a link to your store or website, a link to your blog, and add some information about your shop!

Shop Banner
If you scroll further down the page after clicking Edit Your Shop you will see the options to add a Shop Banner. Banner files must be less than 2MB. For best presentation, this image should be saved at dimensions 868 ppi by 117 ppi. This will ensure it fits properly into the space and is not stretched or out of proportion. Click Choose File and then Upload once the file is ready.

Design Thumbnails
To change the thumbnail image used to represent the designs displayed in your shop you will want to link into the each individual design page one at a time. With the design page, scroll down below the Marketing & Selling section to locate the Thumbnail subsection.
You will find three options: Fat Quarter, Swatch and Crop view. Select the option you prefer and that will become the thumbnail view for that design in your shop.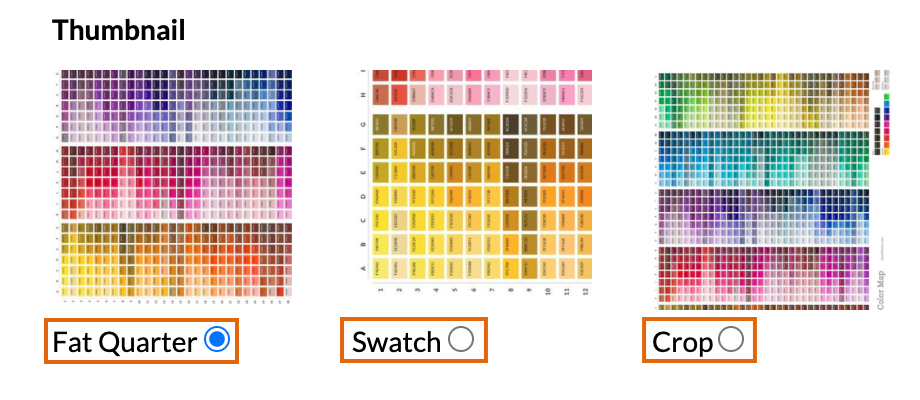 Common Issues and FAQ
▶ Why do I need to verify my email address?

We want to be certain that you receive order confirmations, tracking information and other important Spoonflower news that you have signed up to receive. Therefore, when you create your account, we will automatically send you a welcome email with a request to verify your address. To complete the process click the link within the welcome email and then follow the prompts to sign into your account with your email address and established password.
▶ I didn't get an email about verifying my address. What should I do?

We send your verification email to the email address you've associated with your Spoonflower account. If you don't receive the verification email, first check your Spam or junk folder. It can sometimes route there. If it's not there, we recommend that you confirm that your email address is correct on the Settings tab in your Account Settings page. If it is wrong, you can update it here. Then, to re-send the address verification, click the Verify Account tab and you'll see the option to re-send your verification email there.
▶ How long does it take for approval with Seller Verification?

Once correctly submitted, your income tax form will be reviewed within 24-48 hours. When approved, a check mark will be displayed next to Step 4 in the Seller Verification tab of your Account Settings. Once all four steps have been completed, you will be an approved seller and a notification saying "Thank you! You're now a certified Spoonflower seller." will appear at the top of this section.
▶ Do I keep the copyright for my designs?

We value the copyright of all images and every artist owns the rights to their artwork. Please review Artist Copyrights. More information about copyright can also be found in our Terms of Service.
▶ Can I market my designs on Spoonflower to potential customers using other websites such as Pinterest or my own website?

Absolutely! You are more than welcome to advertise your Marketplace designs through Facebook, Twitter, Instagram, your blog, TikTok, or any other channel of social media. We share some helpful tips in the article Promoting Your Designs on Spoonflower and Social Media.
▶ Is it a requirement to fill out an Income Tax form if I am not a US citizen or do not have a Tax ID?

Filling out either tax form (W-9 for US taxpayer, non-US W-8BEN or W-8BEN-E) is a requirement for our Seller Verification process. If this form is not completed, it will not be possible to sell in our marketplace.
▶ What is the designer discount?

Orders you place using your personal designs will automatically receive a designer discount of 10%. This discount is applied to any item larger than a Test Swatch for fabric or wallpaper. Learn more about discounts in Bulk Fabric, Wholesale Pricing and Designer Discounts.
▶ What are some of the benefits with PRO as a designer?

If you join our Spoonflower PRO Program, you will receive unlimited half-price swatches and swatch samplers annually. This may be a boon to your pocket book over the course of a year. Other benefits include:

Free standard shipping worldwide
Guaranteed 1-week (5 business day) turnaround time
Unlimited half-price swatches and swatch samplers
Half-price expedited shipping

Explore all the benefits and order a PRO Membership here.
▶ Can I rearrange the designs in my shop?

You are not able to re-order the designs in your shop. However, we offer three different view options for customers to update when browsing within your shop. They are Best Selling, Fresh Picks, and New and can be updated by click each particular button in the upper right corner under your shop banner.
▶ How can I view the preview of my designs onto all product options?

To view how your design might look on all Spoonflower products, go to the individual design page and link through View All Products found to the left of the design preview window. This page will offer images of each product with a direct link to the product page with this design.

HINT: Right-click any of these image mockups and save a copy for your own website or social media account.
See also: Adjusting Account Settings
See also: Income Tax Documentation for Verified Sellers: FAQ