If you are signed up to receive our weekly newsletter, you know that there are always great promotions at Spoonflower. However, there is more than just one type of promotion, so it is helpful to understand the distinction in case it might influence your order. This article goes over the types of promotions that Spoonflower offers so that you can make sure to take advantage of all our best deals.
Be sure to look for our promotion banner at the top of our site for more information about any current specials!
Rules Of Promotional Engagement
Applying and Removing Promo Codes
Sitewide Promotions and Everyday Discounts
Discounts for Military, Frontline Workers, Educators and Students
Special Circumstances and Conditions
The Basics of Promotions
Sitewide Promotion: A sale or promotion made available for all customers at Spoonflower over a certain period of time. There are two types of Sitewide Promotions, those for merchandise and those for shipping. Our Sitewide Promotions are automatically applied for all eligible items and do not require a promo code to receive the discount at checkout.
Merchandise Promotion: All goods sold by Spoonflower are considered merchandise. A merchandise promotion may be for all Fabrics, speciality Fabric(s), Wallpaper, Home Decor, Fat Quarters, Buy Now/Save Later, Buy More/Save More, etc...
Shipping Promotion: This covers the charges incurred to ship the order. Free Standard (Worldwide) Shipping is the most common promotion.
Promo Code: A special, one-time-use discount code unique to each individual. It may be for merchandise or shipping and when used, it is considered a promotion. Promo codes are generally provided in an email with our newsletter, through a postcard mailer, or in a pop-up menu on our site. Whenever a code is site generated, be sure to save it. It will not be automatically applied into your shopping cart and must be manually entered or copied and pasted.
Evergreen Discounts: These discounts are similar to Sitewide Promotions, but are always active and will be automatically generated when certain conditions are met. These conditions include the Everyday Designer Discount (EDD), the Bulk Discount and some Pro Membership benefits. (Learn More Here)
Everyday Designer Discount (EDD): While it acts like a merchandise promotion, it works differently. Artists receive 10% off any item printed with their own design, except for swatches with any fabric/wallpaper or Swatch Samplers. If using the Fill-A-Yard® feature for any order, the 10% discount arrives as a commissions payout instead. For special circumstances with Home Decor items, please refer to more information here.
Bulk Discount (Fabric Only): Orders with a combination of designs and fabrics for a starting total of 20+ yards/meters will have certain wholesale discounts automatically applied to the order and are considered a merchandise promotion. You can view the applied discount within the shopping cart, similar to the image below. When you purchase your own designs, the discount is applied after the 10% Everyday Designer Discount has been deducted.

10% off orders of 20 to 49 yards or meters of fabric
15% off orders of 50 to 99 yards or meters of fabric
20% off orders of 100+ yards or meters of fabric

PRO Membership: Benefits provided by a PRO Membership, such as half-priced Swatches and Swatch Samplers along with free Standard shipping, are considered to be merchandise promotions when placed in an order. Pro-exclusive fabrics do not qualify for any promotions except the 10% Everyday Designer Discount.
Rules Of Promotional Engagement
At Spoonflower there are two promotional categories: merchandise and shipping. Within the merchandise category there are many types of promotions, such as for Fabrics, Quilting Cottons, Fat Quarters and Wallpaper. Shipping is, well, for shipping!
When a Sitewide Promotion for merchandise comes live on Spoonflower, all discounts connected to the promotion are automatically applied to your order. You will see the "price" crossed out with an updated "sale price" posted instead. Your overall savings will also be shared in "Savings" just under the "Subtotal" in the shopping cart.
Note: Discounts will only remain through the promotion. Placing an order into the cart does not guarantee the sale price for later. You can always see the fine print for a Sitewide Promotion here.
Discount applied on a design page example: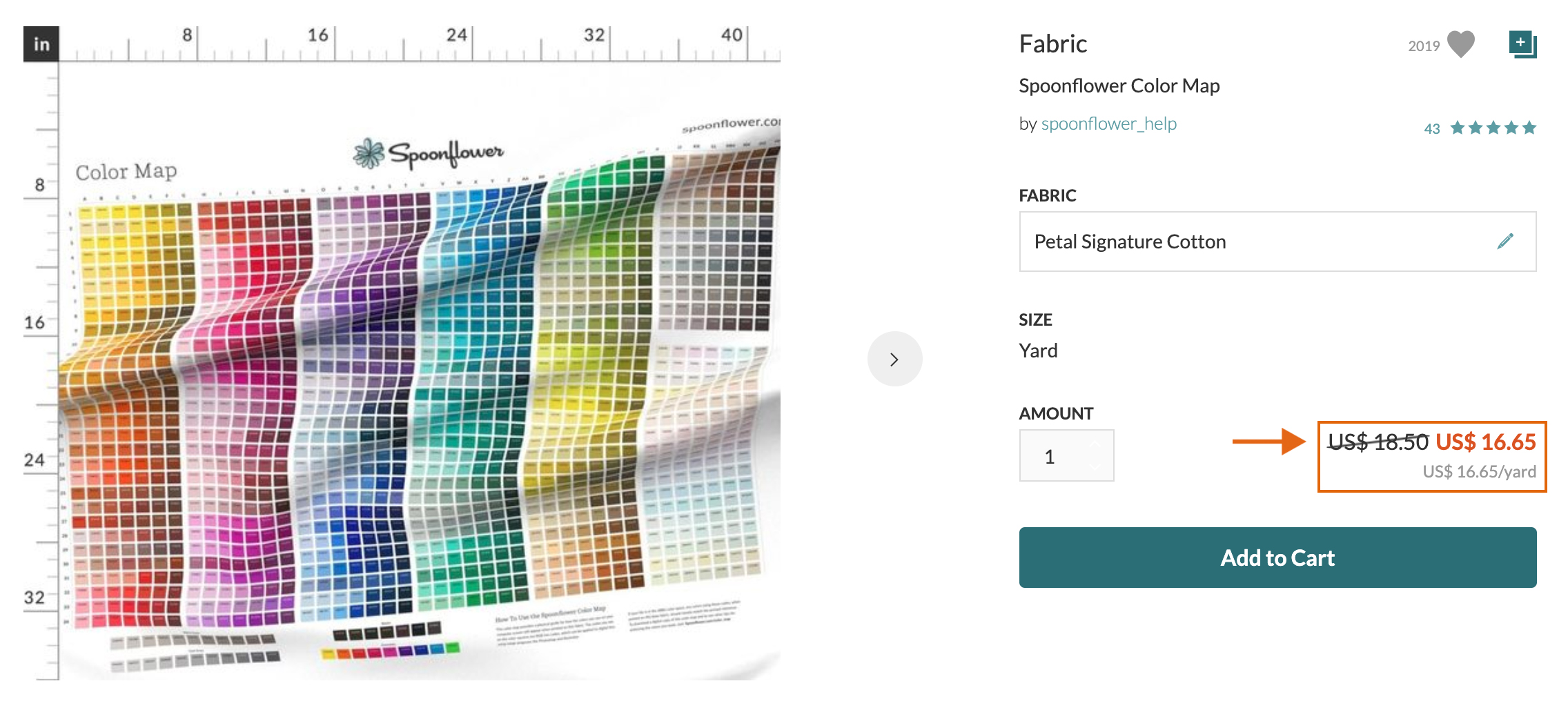 Discount applied in the shopping cart example: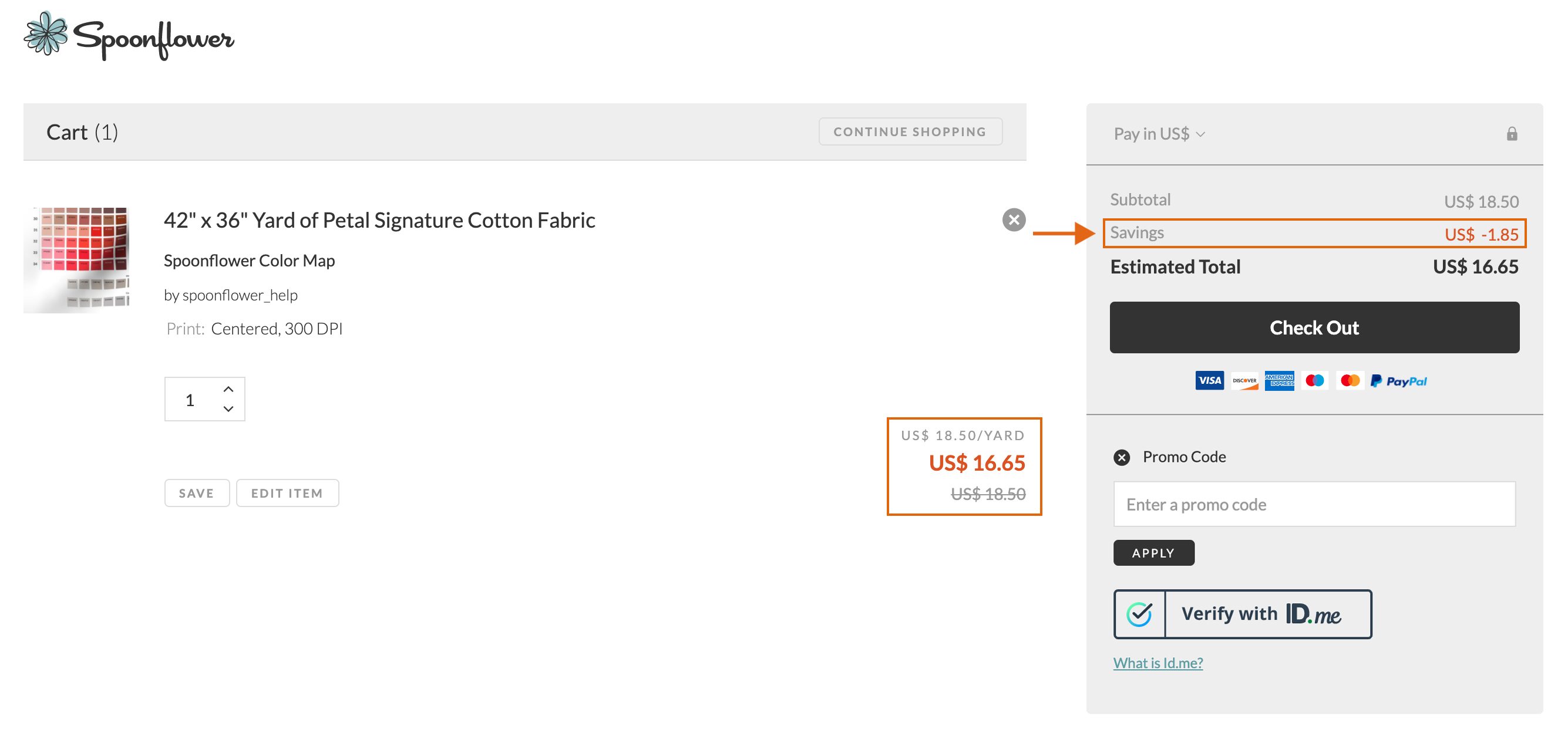 With the exception of the 10% Everyday Designer Discount, no two merchandise promotions can exist within one order, and merchandise discounts cannot be grouped together as one larger discount. This includes the combination of an automatic Sitewide Promotion and Promo Codes. If you happen to enter a Promo Code for merchandise during a Sitewide Promotion for merchandise, it will override the current promotional discounts in your cart even if the discount is less.
Example: If we are offering 15% off Wallpaper and a new customer enters a 10% off Welcome Promo Code in the shopping cart, the 15% off discount will disappear and the price will only be listed as 10% off instead. Don't worry if this happens; it is easily remedied. We go into more detail about this in the next section.
Note: A customer is never able to enter 2 Promo Codes in 1 order, even if they are for merchandise and shipping separately.
Example: When there is a Sitewide promotion for merchandise (no code required) and you have a Promo Code for shipping, you will be able to apply this code. The same applies if there is a Sitewide free shipping promotion (no code required) and you have a Promo Code for merchandise. You will not be able to apply 2 Promo Codes for both shipping and discounted merchandise.
Applying and Removing Promo Codes
Applying a Promo Code from Spoonflower is easy. Simply proceed to the shopping cart page by clicking the View Cart icon in the upper right-hand corner on any Spoonflower page.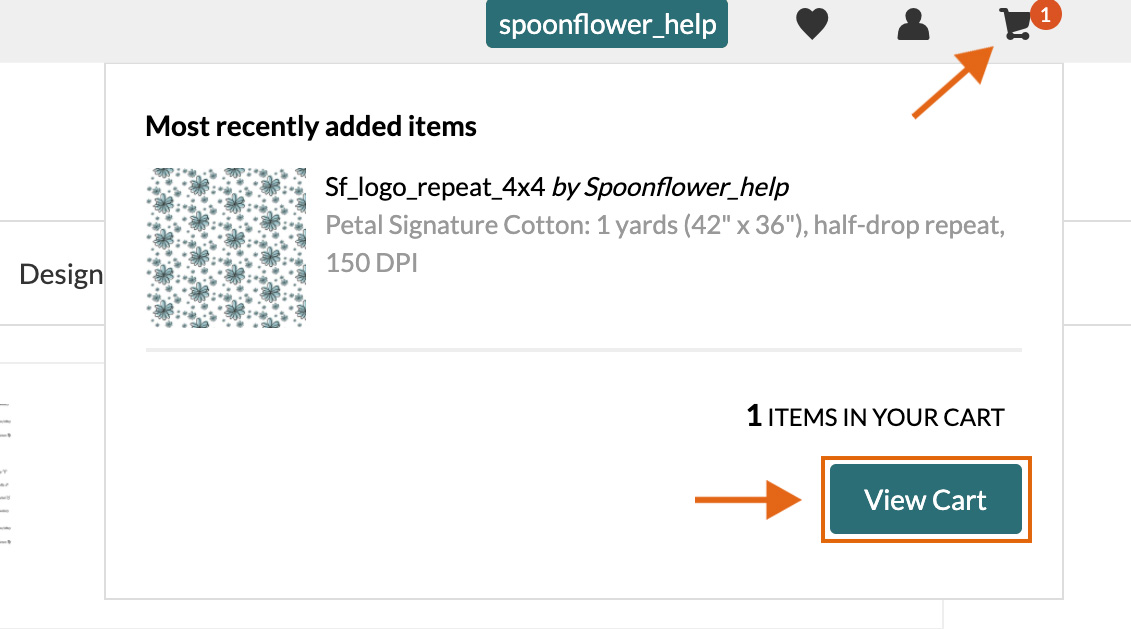 Once the shopping cart has loaded, the option to apply a Promo Code can be found on the right hand side of the screen. It will appear with a small + symbol. You will need to click on (1.) + Promo Code to expand the window in order to enter in your code as below: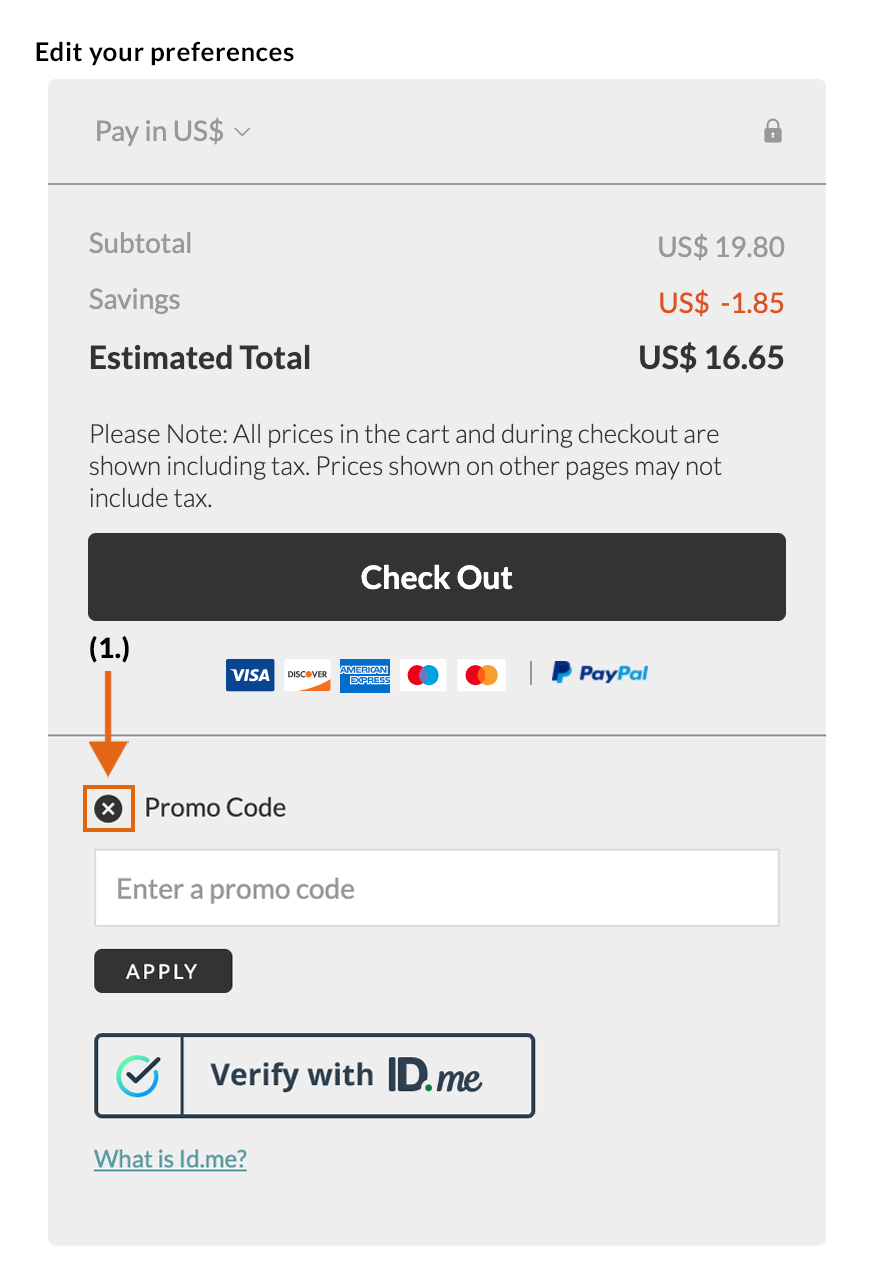 To apply your Promo Code, enter your code into the box below the new option for x Promo Code. Then, click the button for (2.) Apply. You'll then see a brief description for the Promo Code you have applied to your cart.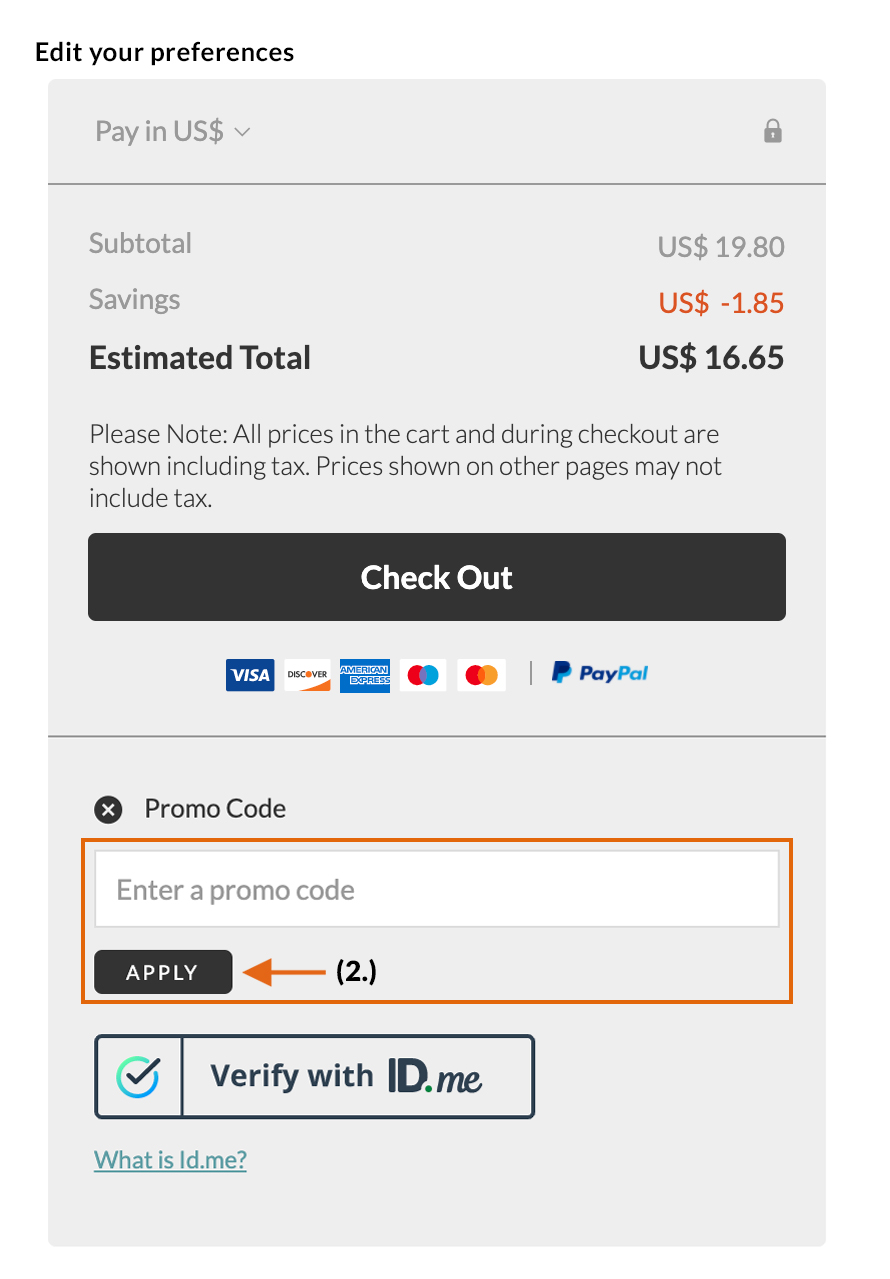 Removing a Promo Code is just as simple, just click on the (3.) x next to the Promo Code name to remove this immediately. As soon as the Promo Code has been removed, the pricing on the same page will update and you will no longer see a brief description of the code applied.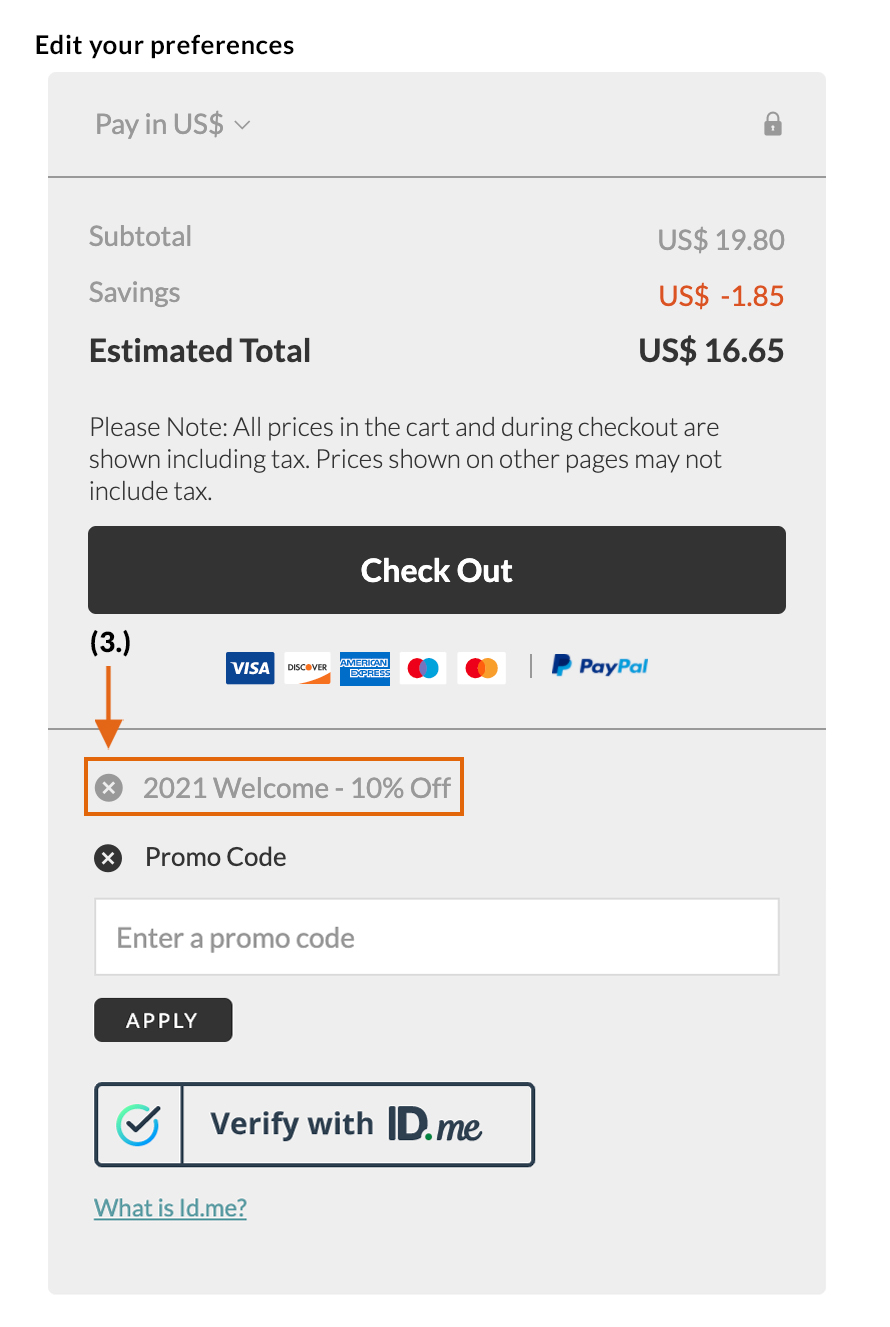 If you accidentally apply and remove a Promo Code, it can still be used later, as long as it hasn't expired. For more details on this, be sure to look over the fine print provided with your Promo Code.
Sitewide Promotions and Everyday Discounts
Once enough fabric has been added to the cart to generate a Bulk discount, the discount will automatically apply to the order. For a visual for how this looks in the shopping cart, please go back here. However, if there is an active Sitewide Promotion at the same time, our system will apply whichever promo gives the greatest discount on the order.
Example: When a customer orders a mixture of fabric substrates and various designs that total over 20 yards, they become eligible for the 10% off Bulk discount. However, if there is a Sitewide Promotion for 15% off Quilting Cottons running at that time, the cart will automatically calculate which promotion provides a better overall discount for you and apply it automatically.
Note: PRO Membership exclusive fabrics will be included in the overall yardage/meterage calculations for the Bulk Discounts, but they will not receive the 10% off (only the 10% Everyday Designer Discount for uploaded designs). Any other substrates within the cart will receive any Bulk Discounts once the threshold has been met in the cart.
Memberships and Programs
Spoonflower offers a PRO Membership for small business owners, frequent orderers, designers, and anyone who may benefit from this useful membership! We also offer a Trade Program for interior designers. Both offer amazing benefits!
Our PRO Membership has an annual rate of $249/year, which can be auto renewed if preferred. Many of the benefits included in this membership offer savings on shipping, swatches, and receive a wholesale cost of PRO-exclusive fabrics. For more information about this membership, please look here.
The Trade Program is only available for interior designers and requires an application to receive the benefits of this program. This application only takes around 5 minutes to complete and gives us the opportunity to see more about your business and if we can offer the best benefits for you! To start your application, go here.
For quick reference, you will need to provide at least 1 qualifying document as follows and a link to your website: your business card with the included design profession, a business license, or a professional trade association membership card. Note: If you do not have an active website, please submit a digital portfolio or a social media page that shows your interior design work.
Discounts for Military, Frontline Workers, Educators and Students
As a show of gratitude to Military, First Responders, Educators, and Students, Spoonflower is happy to extend a 15% discount on all orders with verification through our ID.me partnership. Simply look for the ID.me verification in your cart as you complete your order. Click the "Verify with ID.me" button and follow the steps.

Orders with ID.me discounts can be combined with the Everyday Designer Discount. When another promotion is active, the site will automatically apply the larger discount to any ID.me order. When a free shipping promo is active, or a customer has a free shipping promo code, it can be used in combination with the ID.me discount. This discount is currently only available to customers and community members within the United States.
Special Circumstances and Conditions
As mentioned above, Spoonflower is not able to stack, or combine, promotions together, but we want you to be able to take advantage of all our promotions in the best way possible. If you happen to have two valuable promo codes, or a certain Sitewide Promotion partially conflicts with a Promo Code that you already have, it is always a smart idea to place separate orders.
Examples:
If you have a Promo Code for Fat Quarters and there is a Sitewide Promotion for yardage/meterage of Quilting Fabrics, you will want to place two different orders, one only for Fat Quarters using the Promo Code, and the other for the yardage of Quilting Fabrics which will receive the the Sitewide Promotion pricing.
If you are a PRO Member, your half-priced Swatches benefit are considered a "promotion". If you have swatches in your cart as well as enough fabric for Bulk pricing, or if any other Sitewide merchandise Promotion is active, our system will always calculate and provide you with the overall best discount. This means that you will likely end up paying full price for the Swatches accidentally. However, when you place them as a separate order, the "promotion" will apply.
Note: Specific terms and conditions will apply for each Sitewide Promotion and Promo Code that may differ from the information covered in this article. These terms and conditions will always be included with promotional emails and found on our site, serve as authority for our Promotions, and take precedence over any details found on this page.
Common Issues & FAQ
▶

How can I see when your current Sitewide promotion will expire?

You can always see any fine print for the current promotion on our site here.
▶

I received a Promo Code to my email (or from a pop-up on the site), but I'm not seeing a discount applied in my cart.

The provided Promo Code will not be automatically applied to your shopping cart. You will need to add this once you are ready to place your order. For more information for the steps to do so, please go here.
▶

My Promo Code won't apply to the cart, it's showing my order doesn't qualify?

For any provided unique Promo Codes, first be sure that the items in your cart do qualify for the fine print of the promotion. It may also need to be applied while logged into an account. If you are still receiving an error message with your code, feel free to reach out to us here for assistance!
▶

I forgot to add my Promo Code to my order. Can it still be applied?

Unfortunately, we can't retroactively apply a Promo Code to any order once placed. You can certainly still use the Promo Code towards any new order instead as long as it is valid. For more information about applying this to an order in the future, look here.
▶

Can my Promo Code be combined with the Bulk discount in my cart?

If you have received a merchandise Promo Code (a code for a discount on a product), it can't be combined with any other discount, including our Bulk discounts. If you enter in your Promo Code, it will override the Bulk discount. The code can be removed if you would rather proceed with the Bulk discount instead.
▶

Can the 10% Everyday Designer Discount be combined with the Bulk discounts?

As long as you are purchasing your own uploaded designs, you will always receive the 10% Everyday Designer Discount (EDD) along with the Bulk discounts once you have reached the first threshold. Keep in mind, the 10% EDD will be provided as Spoondollars to your account for any purchases with our Fill-A-Yard® feature. For Home Decor, you will receive the 10% EDD only for the amount of fabric needed to make the item. For more information about this, go here.
▶

I'm a PRO member, why can't I receive half-priced swatches in my cart?

To receive the half-priced Swatches and Swatch Sampler discount provided in your membership, first make sure you are logged into your account and then check over if your cart is already receiving another promotion. If so, it's best to place a separate order for any other items needed. For a more in-depth example of this type of issue, look for Example 2 here.
▶

Do you have an Interior Designer discount?

We have a new program specifically for Interior Designers! You can see more information about this here.
See also: Shipping Rates and Delivery Options
See also: Order Status and History
See also: How long will it take to get my order?