Spoonflower Wall Hangings are a great addition to the decor in your living space! Printed on Linen Cotton Canvas and fitted with solid beech wooden magnetic hangers, these tiny tapestries are ready to add punch and personality to your world.
Conveniently, our wall hangings are the same size as our finished tea towels, which means you can swap them out at your leisure! To ensure the entirety of your design is captured in and visible on a ready-made Spoonflower Wall Hanging, we've collected a few guidelines and tips below. If you'd like more in-depth information on how to properly size, design and tag these items, you can check out the tutorial on How to Design a Recipe Tea Towel.
Each wall hanging comes with a set of 2 magnetic wooden bars 18" (45.72 cm) long. Since finished wall hangings are 16" x 24" (40.64 cm x 60.96 cm), this means that all wall hanging designs must be portrait-orientation (taller than it is wide) to properly display. The wooden hanger bars are not long enough to display a wall hanging in landscape orientation (wider than it is tall).
A Linen Cotton Canvas Fat Quarter measures 27" wide by 18" tall (68.58cm x 45.72cm), and a finished and hemmed Spoonflower Tea Towel or Wall Hanging tapestry measures 16'' wide x 24'' tall (40.64cm x 60.96cm). When installed in the magnetic framing kit, approximately 1.25" of the top and bottom of the tapestry will be overlapped by the hanger bars, leaving a visible area of approximately 16" wide by 21.5" tall.
If you are creating a design specifically sized for Wall Hangings and Tea Towels, you will need to add the tag sfrotate to your listing. This will allow your design to be automatically rotated 90° clockwise for the wall hanging and tea towel previews. If this tag is not added to your design, your design may not print in the proper orientation for using as a wall hanging.
Following the measurements in the illustration below will ensure that your design looks beautiful as both an unfinished Linen Cotton Canvas Fat Quarter as well as a finished product.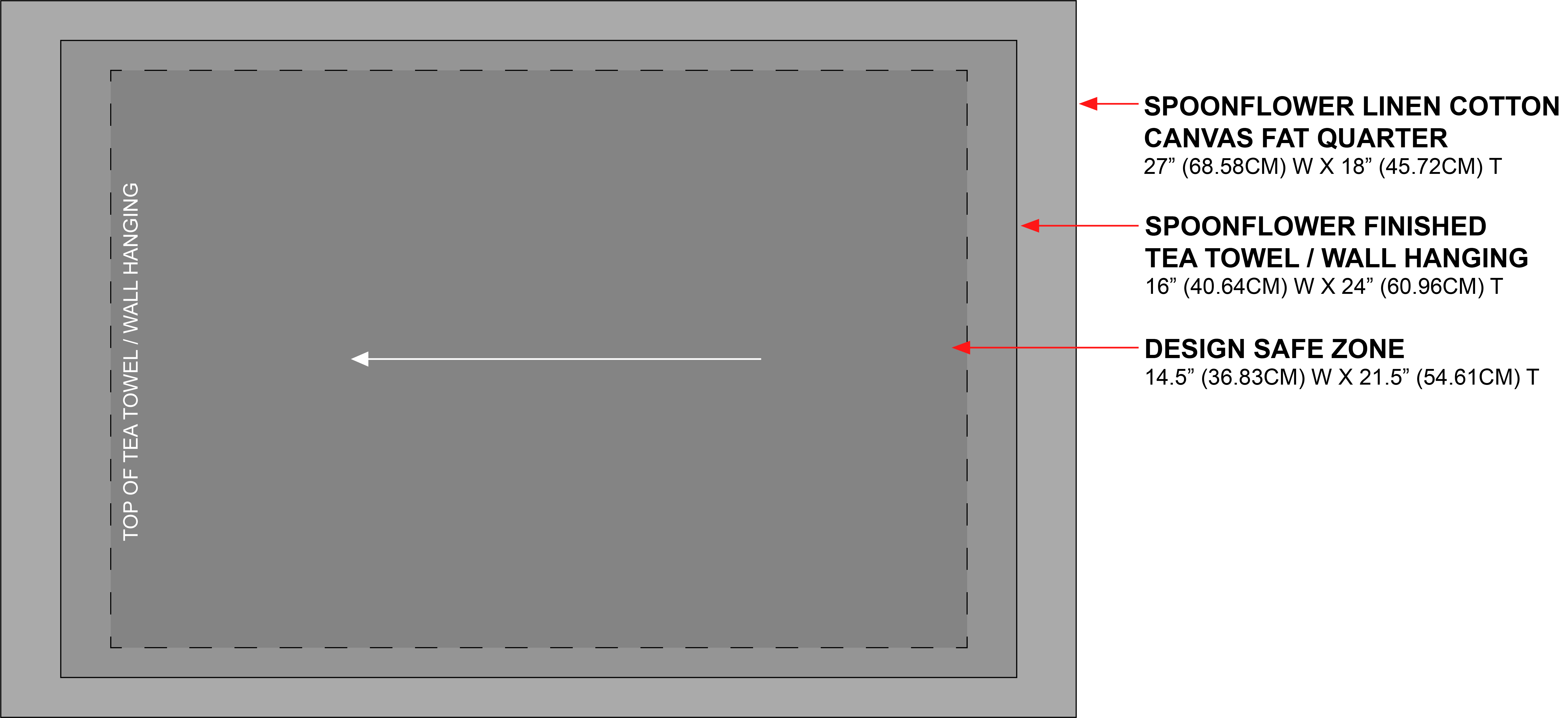 Need a little help? Download the Spoonflower Wall Hanging/Tea Towel template here!

QUICK TIPS
Orient your design so that the top of the design is on the left side of the design file.
Let the background color or pattern extend all the way to the edges.
Keep main design details like calendar dates within the safe area (14.5" x 21.5") to ensure they don't get cut off, sewn over, or overlapped by the hanger.
You can also take a look at popular Wall Hanging designs from the Spoonflower Marketplace here. Once you've ordered a Wall Hanging, you can easily switch out the tapestry with a finished Tea Towel as well!
See Also: New! Home Decor: Wall Hangings
See Also: How to Design a Recipe Tea Towel
See Also: How To Order Home Decor