A Recipe Tea Towel is a perfect gift to share with friends and family. All you need is a handwritten recipe, a bit of curiosity, and a Spoonflower account. Learn about the basic design guidelines and then look over the mini-tutorials for a selection of design programs below.
Tea Towel Basics
The most important component of your Recipe Tea Towel will be the recipe. There are a couple of ways to get a copy of this recipe onto your desktop computer.
Scan the recipe card or photo onto your computer at the highest resolution possible, such as 'best', 'high', or 'photo'. If there is an option for dpi (dots per inch), choose a number that is 600+.
Take a photo with your smartphone or digital camera with optimal settings and email or share it to your desktop. When you take the photo make sure there isn't a flash. Using indirect lighting with HDR settings is a great option.
Starting with the best image resolution possible is always preferred as it will ensure your final design is sharp and focused. Make sure the scan or photo is bright, focused and readable because we will be printing from the design file you upload. We won't make any changes.
Finished Tea Towel designs must be uploaded at the following specifications:
Your file must measure 27" wide x 18" wide
Your file must be saved at 150 DPI
If you are working in pixels, the dimensions should be 4050 x 2700
So you don't lose any important designs to the hem, check the boundaries in the image below for the DESIGN SAFE ZONE (14.5in wide x 22.5in height).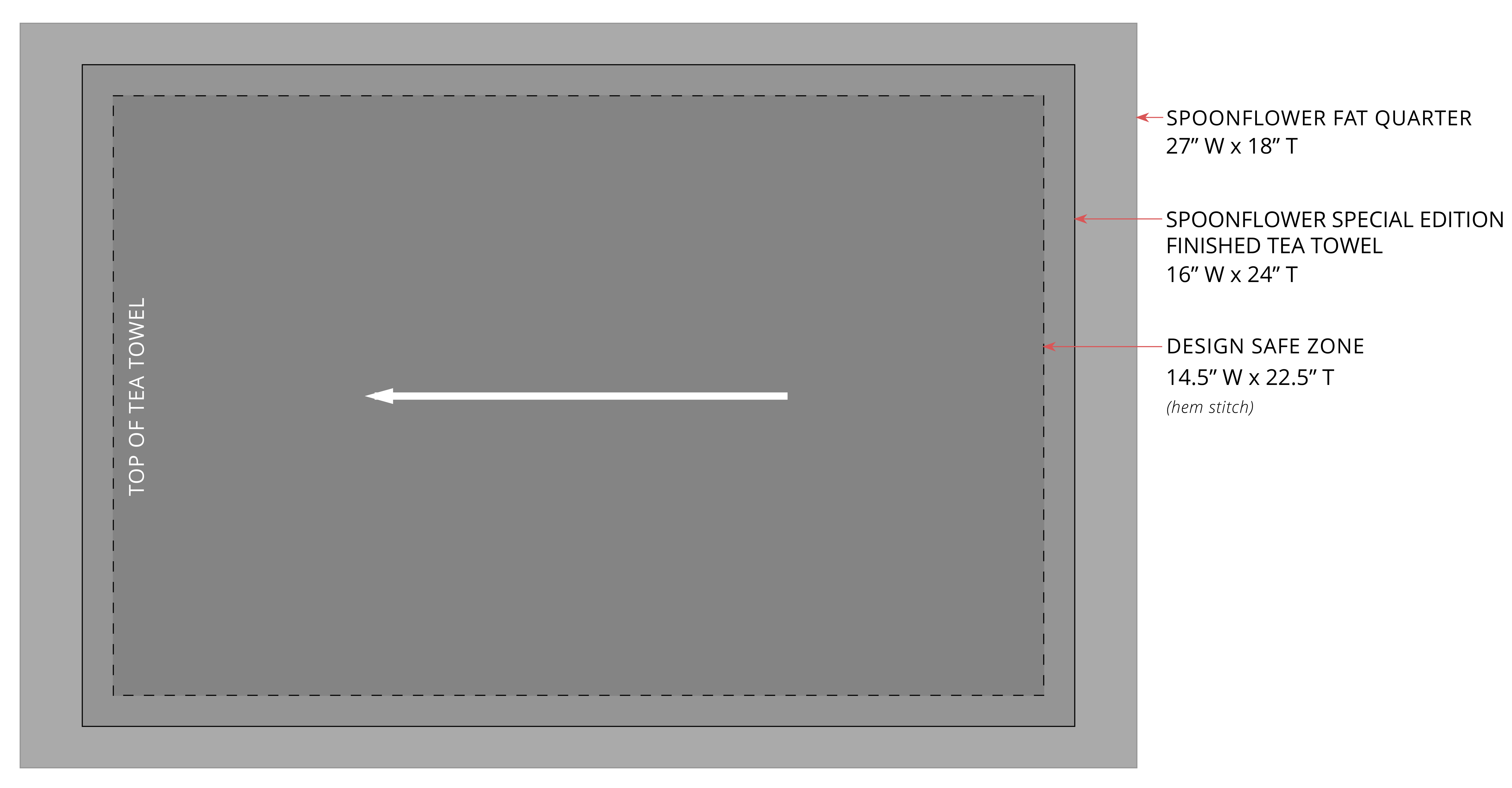 If you work with Adobe® Photoshop®, you can download this template:
Spoonflower-Special-Edition-TeaTowel-Template.psd
Design Program Options
Now that you have covered the basics, click through on any of the links below to access our tutorials for how to design and upload a perfectly sized Recipe Tea Towel. In these tutorials, we walk you through ordering a Fat Quarter so you can sew your own tea towel, but if you'd like Spoonflower to sew it for you, drop to the last section: Ordering a Finished Tea Towel.
▶

Canva

Canva is the perfect design tool if you may be frequently creating graphics for social media along with any presentations or posters. With all the options available for a free and professional account, you can add text, edit your images, and add layers to your design.

1. Create an account to access custom size options.

With a free Canva account, you can save all of your designs and import your own artwork and photos to edit. To start creating a Tea Towel design large enough for Spoonflower, select the Custom Size option after logging into your account.

2. Set up the new custom design.

We recommend creating a design at the size of 27" wide x 18" height. Since Canva allows for downloads at 300 dpi with the PDF Print option, it will be possible to adjust the design to the proper scale later on.

3. Now to design!

On the left hand side of the page, you'll see an option to upload a file from your device as well as several more options for Facebook, Google Drive, Instagram and Dropbox.

Add in as many files as you would like and continue to change the size of each one as needed. For the example below, I have imported my recipe card, adjusted the size of the image, and centered it within the Tea Towel. I also added in one of the background options provided for free accounts and some of their free elements. Be sure to check out all of Canva's amazing features!

Pro Tip: Be sure to keep all elements of your design rotated from the beginning, unless you have a Professional account with Canva. The resize tool is not available for free accounts.

4. Preview the design.

Once you are happy with your design, be sure to use the handy fullscreen preview option at the bottom of the page! This way you can see a larger preview of your design before it is exported.

5. Download your design.

To Download your finished design, locate this option at the top of the page. We recommend using the option for PDF Print so that your design can be saved to 300 dpi.

6. Convert the design file to 150 dpi.

Now, it's best to convert your 300 dpi PDF file to a JPG or PNG file instead. Canva only supports downloads as a JPG or PNG up to 96 dpi, so it is not suitable for Spoonflower (minimum requirement is 150 dpi).

With the PDF Print option, a file can be saved that is suitable for use. You can convert the file however you would like or you can use a site such as this one to change your PDF file to a JPG at 150 dpi.

150 dpi (Medium) is the default option on the site linked above. Once your file is selected or dropped into the window, it will be automatically converted and the new file will be downloaded.

7. Upload your design to Spoonflower!

Once you're signed into your Spoonflower account, hover over the selection for Design & Sell in the Spoonflower top navigation menu and click Upload Your Design.

8. Adjust the scale on the design page.

When the design page loads, you can adjust the scale as needed using the Smaller, Bigger and Change DPI options to reach the appropriate size for a Tea Towel of 27" wide x 18" height.

9. Change the fabric and size.

Be sure to change the fabric type to Linen Cotton Canvas and select the Fat Quarter size. Also, click on Save This Layout to save all of your selections before adding to the cart or moving on to another design!

Once you receive your printed design, all you need to do is finish the edges with a hem, and you're all done creating a special keepsake of your favorite family recipe!
▶

Fotor

Fotor allows you to work with your own designs by uploading to their site or you can utilize any of their design template options to create one from scratch!

1. Head on over to Fotor!

Go to Fotor, to start your own Tea Towel recipe with their free design options. First, select the Custom Size option after logging into your account. We recommend an account for this site if you would like to access your designs again in the future.

2. Selecting the custom design options.

The free options on Fotor only support exporting at 72 dpi, so we recommend creating your design size to a much larger scale, 60" wide x 40" height, so that it'll be possible to adjust the scale to the proper dimensions later on with Spoonflower.

3. Start your new design!

To import any images or photos, locate the Cloud option on the left hand side of the page. Fotor supports file uploads for JPG, PNG and SVG only. As an example for what is available with this program, I added a free background option, centered my recipe card, and adjusted the transparency. There's also so many options to add elements, templates, and more!

4. Use the preview tool to see more!

If you would like to see a larger portion of your design prior to exporting, be sure to use the preview option available at the bottom of the page.

5. Time to export and save!

To Export your finished design, you can find this option at the top of the page. We recommend using either option for High Resolution JPG or PNG to export your design.

6. Now to upload to Spoonflower!

With your new design file, you can then start uploading it to Spoonflower. When the design page loads, you can change the DPI to 160 to reach the appropriate size for a tea towel of 27" wide x 18" height.

For the correct print size, change the fabric type to Linen Cotton Canvas and select the Fat Quarter fabric size in the drop down menus. If you click on Save This Layout, all of your options will be saved for any future orders. We always recommend using this before adding to your cart or moving on to another page!

Now you can order your printed tea towel by using the Add to Cart button and all you need to do is finish the edges with a hem!
▶

Pixlr

Pixlr is an online photo editor that allows you to upload your own images, resize them, crop and layer them with text and graphics, as well as much more.

1. Go to Pixlr to access the free design platform.

There will be two options, but click PLAYFUL PIXLR X for the free option.

2. Set up the dimensions of your file.

The dimensions for a Tea Towel using Linen Cotton Canvas are 27" wide x 18" height. Starting with these dimensions in mind will make this process a lot easier! In the screenshot below you will see the three steps that will help you create the template for your file. After you click on the button at the left, the next options will appear.

one: Locate and click the CREATE NEW button along the left side of the Pixlr webpage.
two: Name your design and then enter the WIDTH and HEIGHT dimensions in the empty fields as 4050px and 2700px respectively. 4050px x 2700px will equals 27" x 18" at 150 dpi, and 150 dpi is the default upload size for all designs at Spoonflower.
three: Click the turquoise CREATE button in the bottom right corner.

3. Time to design!

In this step we will be setting up the background for our Tea Towel and then we will be uploading our recipe image, a small block of text and some graphics for that special touch. And remember, these are just basic ideas to help get your creativity started. This is where you can start doing what you like!

Start by locating the design tools on the left side of the Pixlr page to create the layout of your Tea Towel and determine your background color.

one: Hover over and click the small Properties box at the top left of the Design Tools column.
two: Click the small switch to toggle on the background option.
three: Select your preferred background color from the options.

Next we will upload our recipe file from our computer or laptop.

one: Hover over and click the small Add Image box at the bottom of the Design Tools column.
two: A pop-up will appear that will as you to Browse your computer or laptop to locate your recipe image. Select the right file and then choose to upload it into Pixlr. (

Important

: After you click upload a pop-up will appear with two options. Select Add Current, the option on the right, so that your recipe is placed directly over your background.)
three: Your photo will not appear perfectly centered over your Tea Towel background.

Now is the fun part. Designing. You are free to resize and rotate this photo using the Properties and Arrange tools. If you feel adventurous you can crop the image and add text. There even is a selection of graphics built into Pixlr to add that unexpected finishing touch! Don't forget the margins!

Check out our final design. We rotated our recipe and reduced its size to fit within the background for our sewn edges. We also added text then resized, rotated and centered it over the photo. But this was only a portion of what we might have done!

4. Save your design.

Click the turquoise SAVE button at the bottom right corner of Pixlr. A pop-up will show up and there will be a few options. We highly recommend saving your new design as a PNG. Double check the dimensions are still 4050px x 2700px to ensure that seamless upload to Spoonflower.

5. Return to Spoonflower and upload your new design.

Because the dimensions are already saved for a Tea Towel, when you upload your design all you need to do on the design preview page is update the fabric to Linen Cotton Canvas and click Save This Layout. From there you can order your Fat Quarter.

6. Before you know it, your Fat Quarter will arrive.

Simply finish off the edges with a hem and you've created a wonderful gift or family keepsake.
▶

Photopea

Photopea works most similar to Adobe® Photoshop® and allows for users to import/edit photos, add text, apply effects, and many many more options all without requiring an account!

1. Start the new custom design size.

To begin with Photopea, proceed to the option for File in the upper left hand corner and then New. In the new pop-up menu, you can add in your File Name, change the dimensions to pixels or inches, and directly enter in the DPI you would like to save to. Create a file for 27" wide x 18" height at 150 DPI.

2. Add in anything you would like!

To add any images, recipe cards, or designs you have already created for the new Tea Towel design, use File → Open. Any image opened can then be copy and pasted into your tea towel file, or you can click and drag it into the file you are working on. For the design below, I have added in my recipe card, added a background, and a drop shadow effect. I also rotated my card for the proper Tea Towel orientation.

3. Export the finished design.

Once you're happy with your design, it's time to export! If you want to keep working with your design in the future, Photopea also allows you to save your file as a PSD. To export for uploading on Spoonflower, go to File → Export as → JPG.

4. Save your design.

On the next pop-up menu, be sure to change the quality to 100% as long as the file stays below 40 MB. Then, click Save to export your design.

5. Go to Spoonflower to upload your design.

Once you have logged into your Spoonflower account, it's time to upload your new design! On the design page, you should see the design size displayed as 27.00in x 18.00in, 150 pixels/inch, Basic. Be sure to Save This Layout of your design for Linen Cotton Canvas at the Fat Quarter size before adding to the cart or leaving the page.

All you need to do is finish the edges with a hem once you receive your printed tea towel design. You're all done designing this keepsake!
Ordering a Finished Tea Towel
If you would like your Recipe Tea Towel to be finished by our sewing team, you need to complete just a few more steps after you upload your design.
The most important detail is to add the tag sfteatowel or sfrotate within the Tags section of Marketing & Selling. Scroll below your design to find this section. Doing this will ensure that your design will be rotated properly for printing and sewing.
Scroll back to the top of the design page. Click View All Products on the left of the design preview window. This will link you to the product page where both Tea Towels and Wall Hangings with your

design will be presented

.

Click on the Tea Towel and add the correct quantity to your cart. Since this is your own design, you'll receive our 10% designer discount automatically on your order!
(Image above displayed using Yard preferences)
Learn: Everything You Need to Know about Fat Quarters
See also: Sizing Your Design
See also: How to Create a Fabric Presentation Poster from a PowerPoint or PDF