Once you have created a Spoonflower account and placed at least one order you will have access to an Order History page listing all past and currently processing orders. This page connects you to a variety of helpful tools and resources. Not only can you check on order status and tracking information, but you are also able to change your shipping address, cancel certain orders, re-order designs, generate invoices and even download your order history for offline business needs.
Accessing Order History
There are two ways to access your Order History. Both begin by clicking on the person icon in the upper right corner of any page on the main Spoonflower site. From this drop-down you may find your orders in two ways:
Through Account Settings


After (1.) clicking the person icon a drop down menu appears. (2.) Click "Account Settings". From there a selection of tabs will appear horizontally on the main page. (3.) Click "Orders" and you will find yourself in your Order History.
Through Studio Home


After (1.) clicking the person icon a drop down menu appears. (2.) Click "Studio Home". From there you will be taken to your design studio. From here, you can (3.) either link to your entire "Order History" or check the status of any three of your most recent orders.
Using Order History
Your "My Orders" page displays links and information built around key details of your order history. Descriptions for each piece of information is found below this screenshot.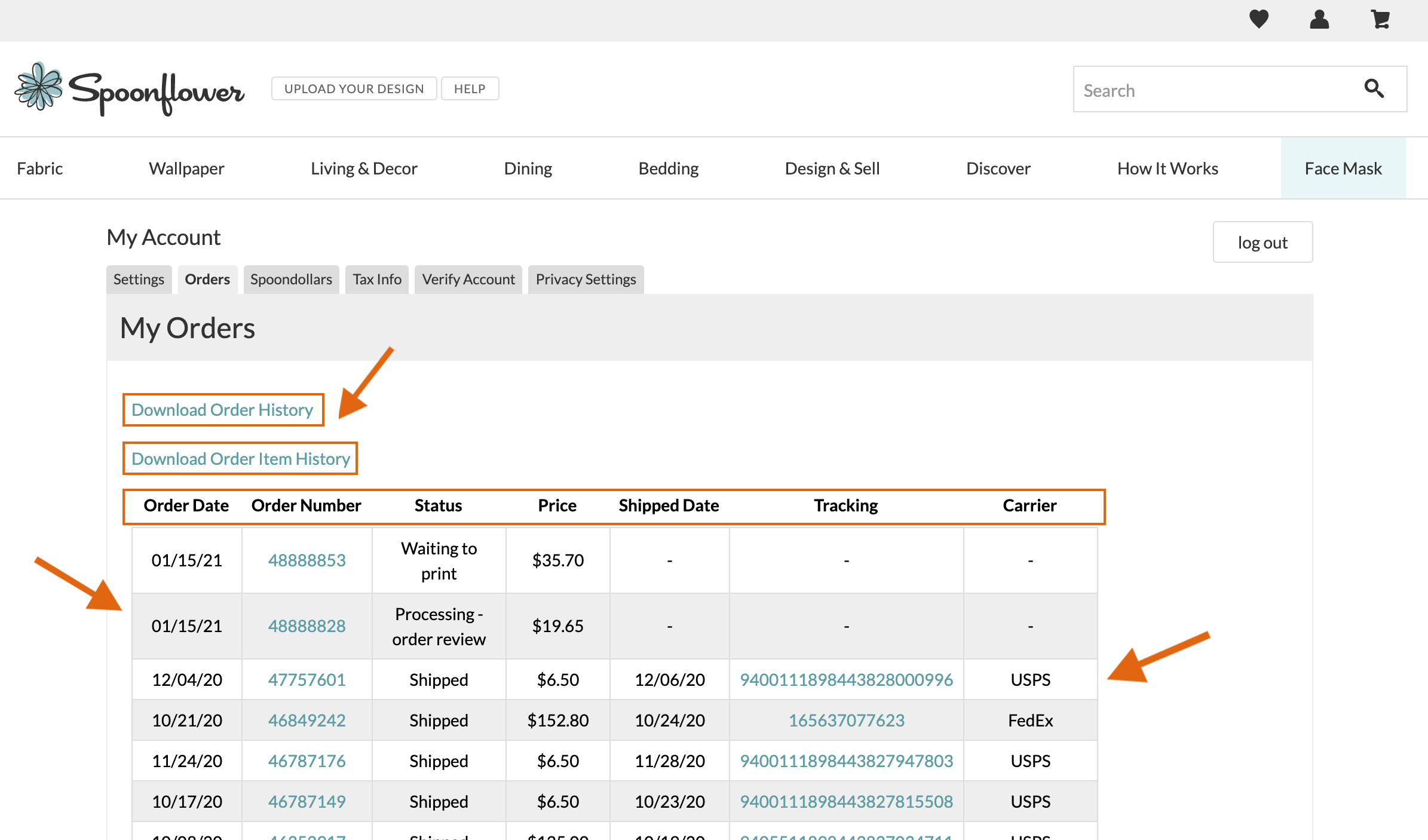 Download Order History

Clicking this link will download your Order History as a spreadsheet that contains all the information presented on this "My Orders" page.
Download Order Item History

This second link will generate a spreadsheet that lists your order history by order, but it also includes line item and designs for each order. This may be helpful for crafters and designers who use Spoonflower for personal enterprises.
Order History

Perhaps the most valuable information on this page is your order history. Your orders are listed by Order Date in reverse chronological order. Each row contains a link to the order page for each Order Number, the current Status of the order - including Waiting to print, Processing, Printing and Processing, and Shipped - the order Price, Shipped Date, and finally Tracking and Carrier information.

When you click on any Order Number in your order history you will be taken to an Order Status Page. This page presents the further specifics for any selected order.
Order Page and Order Status
Each individual Order Page shares helpful information about your order and order status. Depending on where your items are in production, you may be able to cancel your order, confirm or change your address, and review details like fabric, design size and pattern repeat. You will also be able to link directly to original design pages, reorder fabric, leave comments and generate an order invoice. Learn more below the screen shot.
Order Page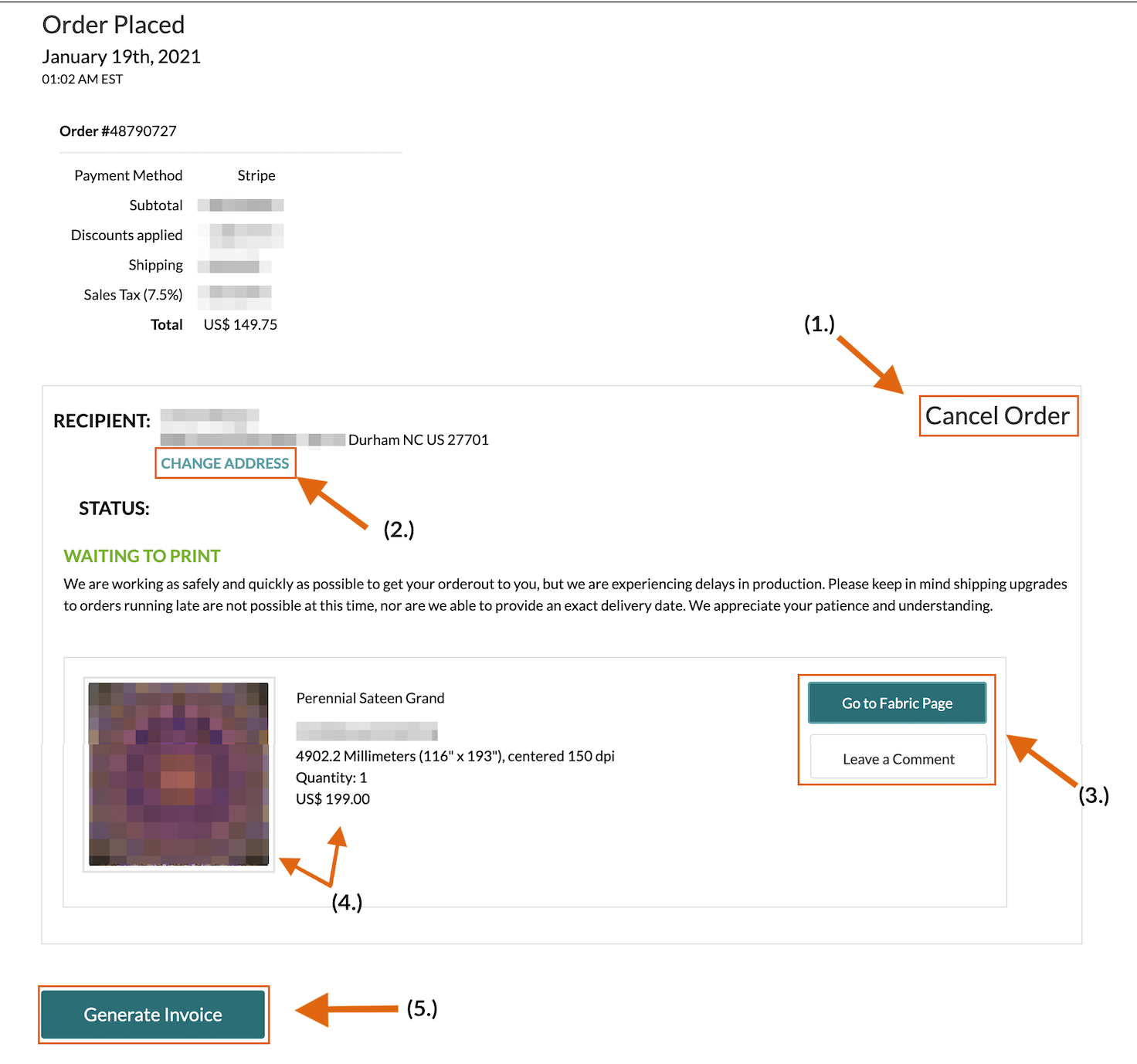 Your Order Status will change as your order is processed, and as it moves through the Spoonflower factory your access to certain options on the Order Status page will change, as follows:
When an order is still "WAITING TO PRINT" you are able (1.) to "CANCEL ORDER" and (2.) "CHANGE ADDRESS" for shipping by click on either link to begin the process.
Once your Order Status changes to "PRINTING", you will only be able to change your address.
After your order has "Shipped," you cannot change your address, but there will be a link that connects directly to the tracking information at the third-party carrier website.
(NOTE: If you need to communicate about other changes to your order, click the "HELP" button found in the bottom right corner of any Spoonflower page or contact us here.)
This Order Status page also (3.) links to "Go to Fabric Page" for each design in your order, and once you receive your items you will be free click through to "Leave a Comment" on the fabric or wallpaper page. (4.) You are also able to review key details of the original designs and fabrics ordered.
Finally, most orders (5.) will also display the link "Generate Invoice". Clicking this takes you to a new page with the copy of an invoice for your order. You may print or save this page for your records. (IMPORTANT: If the "Invoice" link is not available, please contact us here or through the "HELP" button.)
Reordering
There are two ways to reorder products from your order.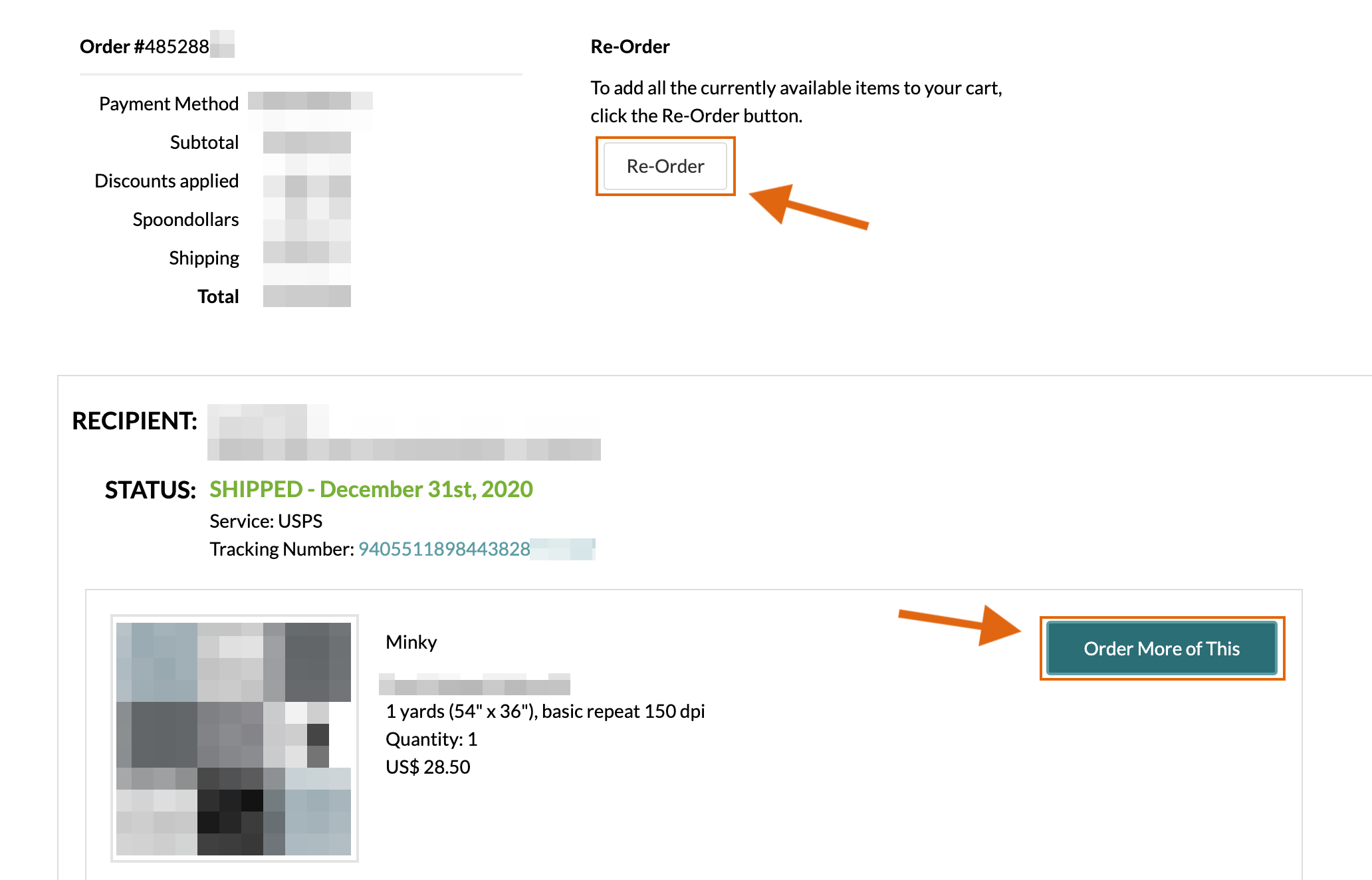 Clicking "Re-Order" adds all the items from this order to your cart exactly as they were ordered before.
Clicking "Order More of This" next to each individual item will take you to the product page where you can place a new order with any updates to the size, fabric or quantity.
(If either of these options are not available, the design or the product ordered may no longer be available for sale.)
See Also: How to Place an Order
See Also: How Do I Cancel My Order?