Prepasted Removable Smooth Wallpaper is a durable, fully removable paper with water-activated adhesive backing and a satin finish to reduce glare. Brighten up your kitchen or nursery, accent any wall, or bring some color to that rented or temporary space. This wallpaper is also great for home decorations projects, drawer/shelf liners and art installations. It adheres well to most non-textured surfaces that are not water-repellant.
Milled and processed in the United States and made from 10% post-consumer waste makes this is a great product with an environmentally conscious edge. Prepasted Removable Smooth Wallpaper is printed at the US factory best suited for a quick delivery.
Details, Specifications and Care
24 inches (60.96 cm) wide and available in lengths of 1 foot, or 3, 6, 9 or 12 feet (30,

91, 183, 274, or 366 cm

)
Eco-friendly, formaldehyde-, phthalate-, and PVC-free, and recyclable! F

ree from PFAs and Volatile Organic Content (VOA) and compliant with California Proposition 65

Water-activated backing allows for personal or professional installation
Water-based latex inks are GreenGuard Gold certified
Scratch-resistant surface is wipeable with a wet cloth to keep clean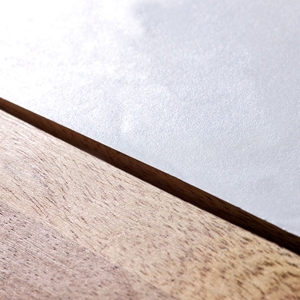 IMPORTANT: Darker or fully-saturated designs may print more glossy, rather than satin on this wallpaper. We always recommend ordering a wallpaper Test Swatch for temporary installation prior to placing your larger order.
If you think this might be the right paper for your home, read How to Install Spoonflower Prepasted Removable Smooth Wallpaper to review installations requirements before getting started!
Learn about our three other wallpaper offerings, Peel and Stick Wallpaper, Non-Pasted Traditional Pebble Wallpaper and Grasscloth Wallpaper.
What is a Class A fire-rating?
No wallpaper is fire-resistant, but a Class A fire-rating is the highest ranking for subverting the burning characteristics of fire when compared to similar building materials in laboratory settings. In other words, Prepasted Removable Smooth Wallaper doesn't burn as fast as other comparable wallpapers.
See also: How to Order Wallpaper
See also: Peel and Stick Wallpaper
See also: Non-Pasted Traditional Pebble Wallpaper
See also: Wallpaper Terms and FAQ