Make a Design Available For Sale
Proofing Process
If you want to sell your designs in the Spoonflower Marketplace, you are required to order a sample of your design. You can proof your design on any product type with any size for fabric, wallpaper, and home decor.
Typically the Test Swatch size on any fabric or wallpaper option is fine, but larger scaled designs may require more. Get the best deal when you proof up to 42 designs on our Cheater Quilt 6" Squares Fill-a-Yard® template.
The reason for the proof is that the colors you see on your computer monitor may come out differently when printed and there can be issues with your files that aren't apparent until printed.
Make sure to check that the color, image resolution, and repeat all match how the design should look. To check the repeat of your design prior to checking out, go here: Checking for repeat flaws in designs.
After your proofing order has been shipped and received, the option to make a design available for sale will become available. It is not possible to make a design available for sale in advance of this time.
Swatch Samplers
In an effort to help reduce the cost of proofing designs, we offer a Swatch Sampler. The sampler is like an old-fashioned contact sheet; it prints an 8in x 8in (20cm x 20cm) swatch of each design from a collection onto a single piece of fabric.
Pricing
The price of a swatch sampler depends on the number of designs and the fabric selected:
1-5 designs start at US$12.00

6-15 designs start at US$20.00

16-30 designs start at US$35.00
How to Order
Go to your Design Library (from the user drop-down menu) and select Collections on the left side of the page under Views.
Select the collection you want a sampler of.
Click See This Collection in Your Design Library highlighted in blue.
Click the Get a Sampler button on the upper right corner of the page.
Confirm the designs. To see how each design will print, click the design thumbnail and select test swatch in the size and amount drop-down on the design page.
In the drop-down menu for Order this swatch sampler on your choice of fabric, select the fabric you want your sampler printed on. A price will be displayed next to each fabric option for the amount of designs included.
Click Order A Fabric Sampler to add this to your shopping cart.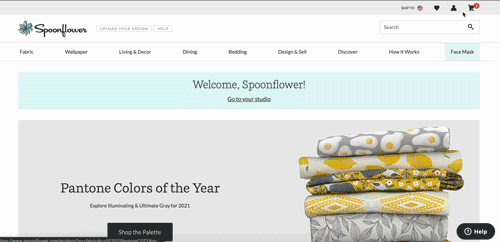 Please note: For Collections that contain more than 30 designs, only up to the first 30 will print and be charged. The Collection being sampled must be composed of all original designs; Collections with a mixture of original and Marketplace designs are not available for swatch samplers.
Make a Design Available For Sale
To make a design available for sale after proofing, simply go to the design page from your Design Library and scroll down to section titled Sell or Display.
There will be 2 options available:
I would like to include this design in my public gallery.

(click here to make available for public view)

I would like to sell this design.

(available when a proof has been purchased)
Once you have selected the box for I would like to sell this design, more options will appear as below. Click within the box to have your selections saved.
Fabric - Your fabric will be sold at 2.50in x 2.50in, 300 DPI, basic repeat (If you have saved a repeat scale using Save This Layout, it will display here)
Wallpaper (If no further information is displayed for this option, you will need to save the scale and layout for the wallpaper option of your design)
See Also: How do I sell my designs on all of your products?
See Also: Collections Overview