Make a Design Available For Sale
Proofing Process
If you want to sell your designs in the Spoonflower Marketplace, you are required to order a sample of your design. Samples allow you to see how your design actually prints, as colors may arrive differently than they present on a computer monitor. The design proof may also allow you to see a file or design issue that wasn't noticed until after the print was received.
1. Before ordering these swatches we always recommend you complete the following prior to uploading your design file:
Double check that the color, image resolution, and repeat all match how the design should look from within your design program of choice. We will be printing all orders from this file. (The image you see within our site is just a higher-quality rendering of how your design will look.)
Review that the repeat of your design is seamless, as well. The article Checking for repeat flaws in designs offers key tips.
2. Once uploaded, you are free to proof your design on any product on our site, at any size, be it fabric, wallpaper, or home decor, but most artists order a Test Swatch one either fabric or wallpaper.
Note: Larger scaled designs may require a larger print area in order to make sure the design prints right. To see broader areas you can order a Fat Quarter, but a more economical option is our Cheater Quilt with 6" Squares. Fill-a-Yard® templates allow you to create personalized displays of your designs so you might a bit more of each, as needed. They also let you include up to 42 different designs on one 1-yard piece of fabric.
3. After your proof order has been shipped and received, the option to make each new design available for sale in the Spoonflower Marketplace will become available in your Design Library. It is not possible to make a design available for sale in advance of this time, and if you want to submit any rescaled or rotated versions for approval, the original design must already be approved and for sale.
Swatch Samplers
In an effort to help reduce the cost of proofing designs, we offer a Swatch Sampler. The sampler is like an old-fashioned contact sheet; it prints an 8in x 8in (20cm x 20cm) swatch of each design from a collection onto a single piece of fabric.
Pricing
The price of a swatch sampler depends on the number of designs and the fabric selected:
1-5 designs start at US$12.00

6-15 designs start at US$20.00

16-30 designs start at US$35.00
How to Order
Go to your Design Library (from the user drop-down menu) and select Collections on the left side of the page under Views.
Select the collection you want a sampler of.
Click See This Collection in Your Design Library highlighted in blue.
Click the Get a Sampler button on the upper right corner of the page.
Confirm the designs. To see how each design will print, click the design thumbnail and select test swatch in the size and amount drop-down on the design page.
In the drop-down menu for Order this swatch sampler on your choice of fabric, select the fabric you want your sampler printed on. A price will be displayed next to each fabric option for the amount of designs included.
Click Order A Fabric Sampler to add this to your shopping cart.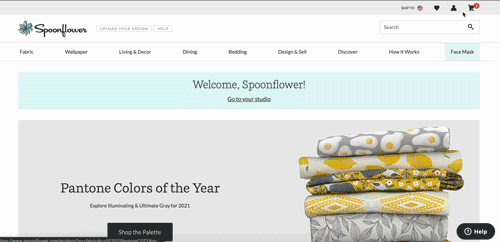 Please note: For Collections that contain more than 30 designs, only up to the first 30 will print and be charged. The Collection being sampled must be composed of all original designs; Collections with a mixture of original and Marketplace designs are not available for swatch samplers.
Make a Design Available For Sale
To make a design available for sale after proofing, simply go to the design page from your Design Library and scroll down to section titled Sell or Display.
There will be 2 options available:
I would like to include this design in my public gallery.

(click here to make available for public view)

I would like to sell this design.

(available when a proof has been purchased)
Once you have selected the box for I would like to sell this design, more options will appear as below. Click within the box to have your selections saved.
Fabric - Your fabric will be sold at 2.50in x 2.50in, 300 DPI, basic repeat (If you have saved a repeat scale using Save This Layout, it will display here)
Wallpaper* (If no further information is displayed for this option, you will need to save the scale and layout for the wallpaper option of your design)
*Note: It is very important to let customers know when a wallpaper design is a Half-Drop repeat so they can order the right amounts. The best place to enter this information is in the Description field on the design preview page when you are making your design available for sale.
However, walls can be different heights, and every design repeat is different. So, every design creates a new set of variables. If you have any questions, please reach out to us. In fact, you may even suggest your customers do the same when you write out the description information.
▶

I've proofed my design. Why can't I make it available for sale?

Sometimes an artist may upload a design to our site and proof it, but for some reason upload an identical version of the design later and try to make it for sale instead. Our technology cannot visually link previously approved designs if they are ever uploaded a second time. Instead, it uses the unique DesignID that is generated when first uploading the art. Therefore, proofed design can only be made for sale when linked to the original design within your design library. If you have any concerns, please contact us.
See Also: How do I sell my designs on all of your products?
See Also: Collections Overview