Academics, professionals and educators use Spoonflower to create presentation posters on Performance Piqué. This lightweight, wrinkle-free fabric prints with crisp images and vibrant colors, along with edges that will not fray when you cut them, which means no hemming required! Piqué travels easily and never creases or tears, so your project can be used again and again.
Scroll down and learn how to create and save PDF files at the proper dimensions and resolution for a broad selection of programs. From there, follow our tips for converting these files into JPGs to upload and print at Spoonflower.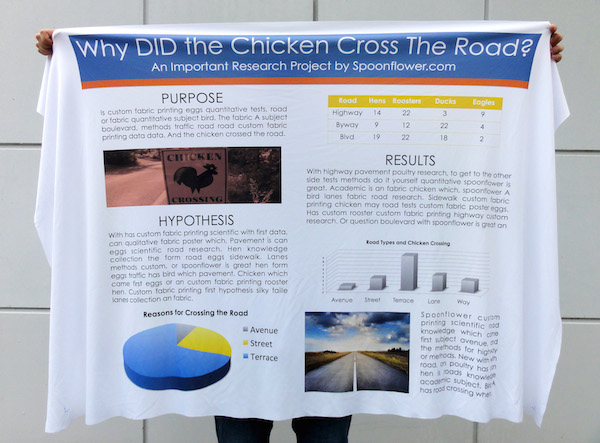 Other Helpful Design Tutorials
The Basics
Because some design programs limit the physical dimensions you can save for a file, you may need to work backwards from your final goals to create a perfect poster. Each mini-tutorial below shares the steps you need to know. Keep the following in mind as you begin:
For background on how our site works, review Uploading Images, Sizing Your Design and Image Resolution and DPI.
Powerpoint for PC
If you are using PowerPoint on a PC to create the PDF for your poster, the process is just five easy steps.
Decide how big you'd like your final poster to be in inches
Access Page Setup within your PowerPoint version
Create your poster in Powerpoint at custom dimensions to match your poster
Save this image as a PDF
Convert that PDF to a 150 DPI JPG
Upload this JPG to Spoonflower
Follow the example below and replace the measurements with the dimensions you want:
Let's say you want to create a poster that measures 56" wide x 36" tall. This means you will want to upload your file to Spoonflower at the following pixel dimensions:

8400 pixels x 5400 pixels. (Since we convert all files to 150 DPI, 56" x 150dpi = 8400 pixels; 36" x 150dpi = 5400 pixels)

The location of Page Setup varies by version of PowerPoint. For older versions, it is typically found through the File > Page Setup... drop down. For more recent versions follow the path Design > Slide Size > Page Setup.
Enter the measurements of your poster into the width and height fields in Page Setup and click OK. (NOTE: If you are working with an older version of PowerPoint that says your dimensions are too big, please review steps 2 and 17 in this blog article for a special hack). If your poster must measure

more

than 56" in either direction, please contact Customer Service for support.)
Create the layout of your poster in the slide. Once finished click Save as and select PDF as the format
Since Spoonflower does not print from PDF, you need to convert the file to a JPG file that measures 150 dots per inch (150 DPI). Newer versions of Powerpoint may allow this within the program but if not, use an online conversion sites such as Convert-My-Image.com. Select PDF to JPG and set the Quality (DPI) field to 150 - Medium when you upload the PDF file
Once the site saves the JPG file to your download folder, upload it to Spoonflower and follow the steps in the Place your Order section below!
Powerpoint for Mac
If you are using Powerpoint on a Mac, follow the first three steps above. However, rather than going to an online converter
Right click (or double finger) your saved PDF file and select Open With from the small menu
Select Preview. Preview is Apple's default image software
Click into File menu and select Export from the drop down
Select JPEG from Format and change the Resolution field to 150 DPI
Click save to create the JPG to upload to

Spoonflower

Drop to Place your Order below for the next steps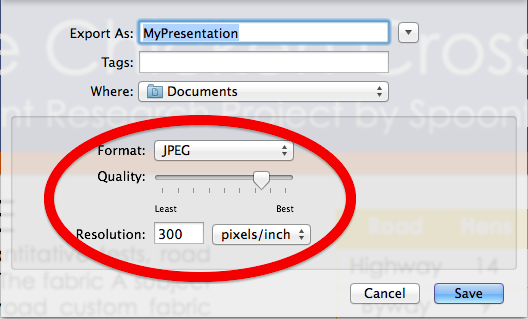 Adobe InDesign & Photoshop
If you are using Adobe InDesign or Photoshop, you may be more familiar with establishing and saving file dimensions and resolution. Simply multiply the width and height of your final poster dimension in inches by 150dpi and save your file with those pixel settings.
For example: If you want a 56" x 56" poster, create your design at 8400 pixels x 8400 pixels - 56" x 150 dpi = 8400 - and save the file as a JPG then review Place Your Order below.
Pages (Mac)
If you are familiar with Pages on Mac to create your poster, the process is straightforward.
Create a new document
Set your file dimensions
Create the document and export as a PDF
Preview that PDF and Export it to a JPG at 150dpi
Read below for more detailed guidance on each step:
Open a new Pages document. From File, select Page Setup and click into Paper Size and Manage Custom Sizes. .
Click the small + sign and enter your poster dimensions in Paper Size then click OK. (Margin dimensions are personal preference; they will move in from the dimensions you save.)
Once your poster is done, go to the file dropdown - File > Export To> PDF - to open a new menu. Select Best settings, click Next and enter the file name for your PDF.
Close the document and then locate the PDF in its folder. Right click (or double finger) this file. Hover over Open With and then select Preview. From the preview image, go to File > Export, change the Format to JPG and Resolution to 150 pixels/inch. Click Save to create the JPG of your poster for upload.
Follow the steps in Place Your Order below.
Google Slides
Creating a PDF in Google slides and converting it to a JPG combines a couple of the steps from above.
From your Google Drive, open a new google slide document.
From the File dropdown select Page Setup and Custom.
Rather than entering the dimensions of your poster in inches, convert your dimensions to pixels. For example, if we want our poster to measure 56" x 72", multiply each dimension by 150 dpi and enter those numbers (56" x 150 dpi = 8400 pixels, 72" x 150 dpi = 10800 pixels).
Create the poster, create a proper file name then download to your computer through File > Download > PDF Document.
If you are on a PC, use Convert-My-Image.com through an online platform (See Step 4 in Powerpoint for PC). If you are working with a Mac, follow along from Step 4 in the section Pages (Mac).
Other Helpful Design Tutorials
Here are two blog posts offering detailed explanations when creating with Canva and Powerpoint.
Place Your Order
As mentioned above, Performance Pique is the best fabric for posters. It's wrinkle-free, won't distort, has a bit of stretch to it, but doesn't fray.
Save the proper design settings on the Design Layout Page. In the image below, note the file dimensions as 42" x 36" at 150 pixels. If you used different dimensions, they should be properly published here. Set the Repeat at Center so your design will only print one time. Click Save Changes.
Change Choose a Fabric to Performance Piqué, Change Choose a Size & Amount to Yards and if your file is longer that 36" (one yard) change QUANTITY to the next full yard increment (2 yards for heights between 37" to 72", etc...). We do not print in partial yards.
Review the image preview window and make sure your entire image is visible. Review these Troubleshooting questions for final confirmation.
Click Add to Cart and follow the steps to place your order.
If you have any questions, please contact us before placing your order.
Troubleshooting
See Also: Ordering Fabric with Your Own Design