Once you've created and saved your design, and confirmed you work still aligns with the Terms and Conditions links for the them linked through the Design Challenge page, follow these steps.
Submitting Your Design
Sign into your account, or create an account if you don't already have one
Upload your design
Adjust your entry on the design layout page and click Save Changes

Click the Enter a Challenge button on the left

Select the correct Design Challenge from the dropdown menu under What challenge do you want to enter?

Review the voting preview image to make sure your design displays properly

Confirm your design fits the prompt by clicking Yes and adding a thoughtful title and description

Happy? Click Submit Entry

Not quite perfect? Click Edit Design Thumbnail or Cancel and return to design library to adjust and re-save the settings and review the design until you are happy


After you submit your entry, your design will automatically be saved to public so it can be seen during voting. If you mark your design as private after entering it, your design will be removed from being seen in the challenge
Confirming Your Entry
Artists often write asking to confirm their design is entered. To confirm your design is entered:
Hover over your profile icon in the top left
Click My Design Challenges from the dropdown menu

On the My Design Challenges page you will see the challenges you've entered, votes you've received and top ten wins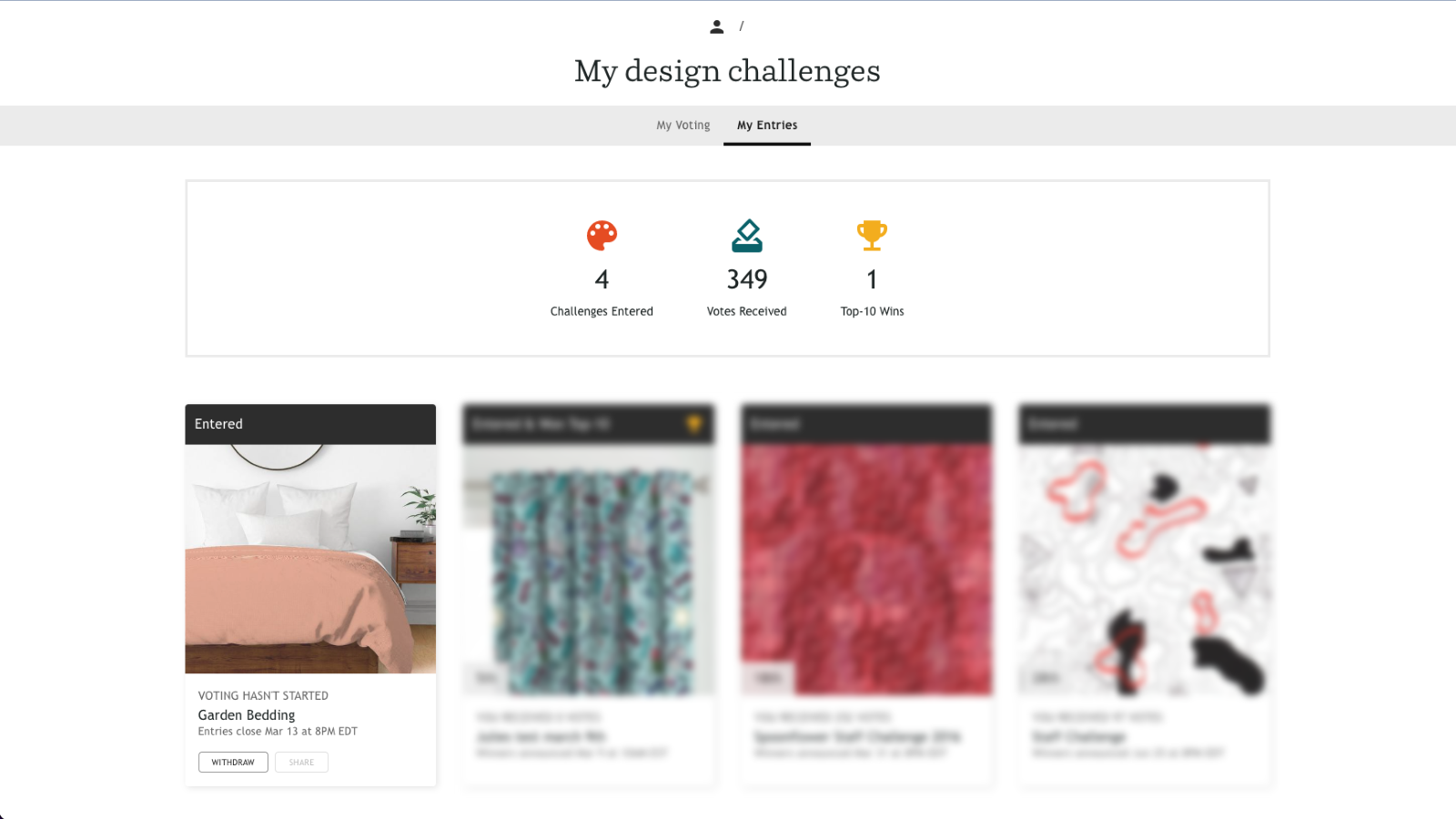 Editing Your Entry
You are free to make changes to your design before the published contest entry window closes. Simply follow the steps found in Revising Your Design.

However, please refrain from editing your design after the submission deadline has passed. These changes will not be reflected in your entry and may impact the accuracy of how the design is represented in your Design Library and on the voting page.
Withdrawing Your Entry
To withdraw your design from the design challenge please take one of the following actions:
Withdraw the entry

Navigate to the My Design Challenges page

Hover over your profile icon in the top left

Click My Design Challenges from the dropdown menu

Click Withdraw under the design that you wish to withdraw

Remove the design from the public gallery

Scroll to the Marketing and Selling section on the

design layout page

Remove the check that includes the design in your public gallery