Completing the Seller Verification process guarantees that we have everything we need from you so you can sell your designs. All artists must complete these four steps before your designs are made available for purchase in the Marketplace:
verify your email address
read and accept the Seller Agreement
verify your home (or other active) address
complete the tax form that matches your circumstances.
To begin the Seller Verification process:
Hover over the small person icon in the upper right corner
Click Account Settings from the drop down,
Link into the Verify Account tab and instructions and links to the four steps.
The image on the left shows how your account will look before completing verification. As you complete each task a check will appear. The image on the right shows how it will look once completed.
Review the FAQ below for additional information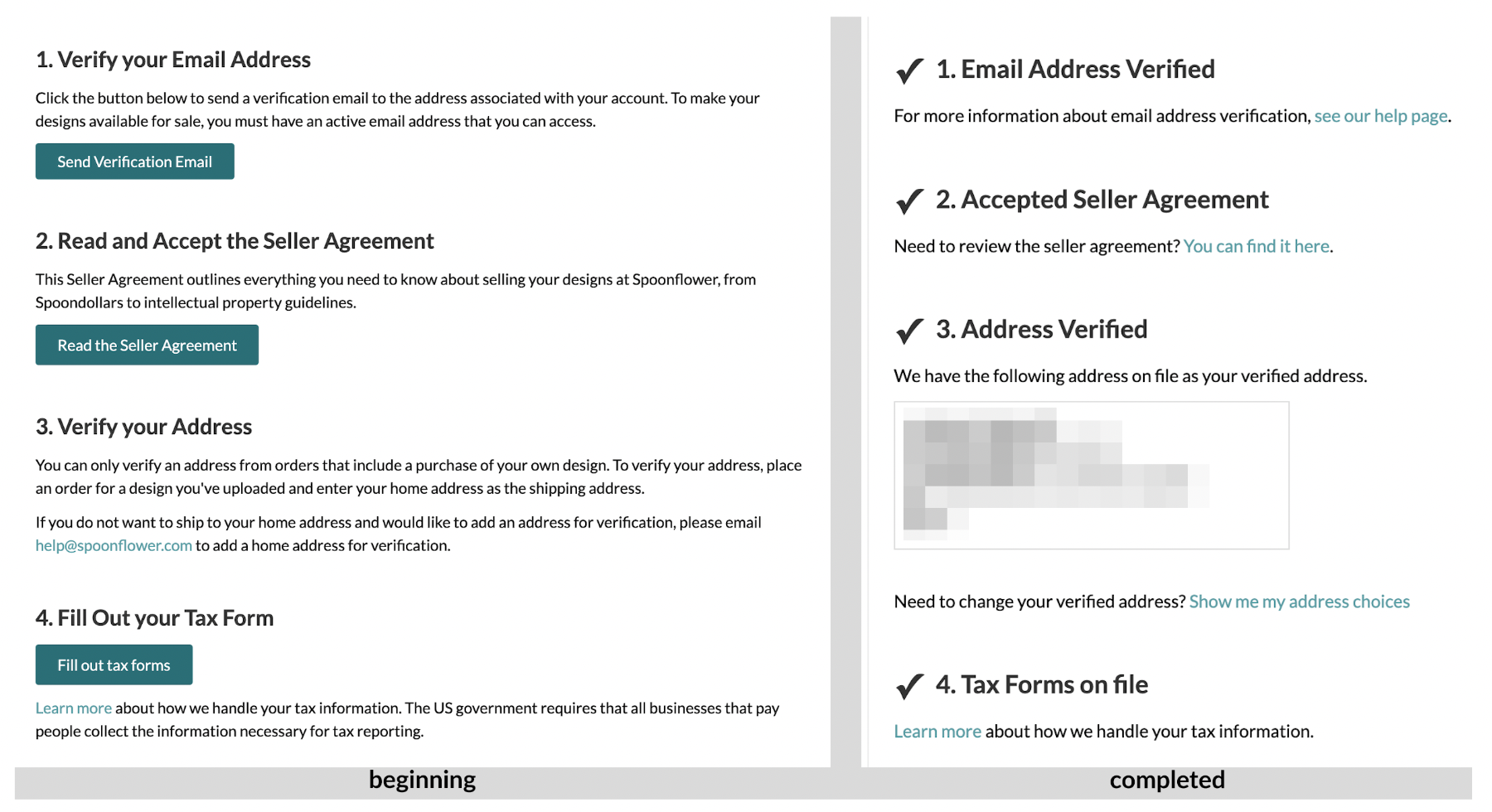 1.

Verify Your Email Address

We need this to confirm that we have a way to contact you.

Click "Send Verification Email" button to auto-generate an email to your address on file. When you receive this email, click the "Verify Email Address" button in the body to finish the process.
2.

Read and Accept the Seller Agreement

The Seller Agreement presents the information you need to know for selling your designs at Spoonflower.

Click "Read the Seller Agreement" and review all these details. When done, click the "Accept Seller Agreement" button at the bottom of the page. This will bring you back to the Seller Verification page.
3.

Verify your Address

Once you place an order with one of your original designs, that shipping address will auto-populate as your address and can be used for verification. Ordering samples of your designs is a requirement for selling. If you would prefer to use an alternate address please contact us with this preferred direction and we will add it manually to your account.
4.

Fill Out Your Tax Form

The United States government requires all businesses that pay people to collect certain information for tax reporting purposes. This includes people based outside the USA. We do not accept tax documents through our site or by email. They must be received by the secure third party, RightSignature. Completing these forms correctly will ensure that Spoonflower does not automatically withhold 30% of your earnings.

Click the "Fill out Tax Forms" button to begin. This will open a new window that will ask you to confirm your site password. From there, link through "Complete Seller W8 or W9 Tax Form" and answer the questions to match your personal circumstances. Follow the prompts and click a box to send an email to your address on file from RightSignature. This email will guide you through the steps to submit your W-8/W-9 documentation correctly. If you do not receive this email, search your inbox with the email address documents@rightsignature.com and check your spam folder, as well.
Frequently Asked Questions
▶ What does "verified seller" mean?

It means that you've completed all the requirements to make your designs for sale at Spoonflower! After verification, any design that has been proofed can now be made for sale on the site. 
▶ Why does Spoonflower require me to complete this process?

Respecting the intellectual property rights of our artists and ensuring accountability within the Spoonflower community is of utmost importance. Making sure each seller completes these steps allows us to uphold this integral aspect of our Marketplace.

We need to be able to contact you. We want you to understand how we work with your designs. We want to be sure to fulfill our tax reporting duties to the U.S. government. 
▶ What happens if I choose not to verify my account?

Without Seller Verification, you won't be able to make any designs available for sale. 
▶ I don't see a list of addresses to select from, or my home address isn't listed. What do I do?

We generate potential addresses for verification from past orders of your own designs that have been placed under your account's active email address. If you haven't yet ordered your own designs using your email, you will need to contact us and ask us to manually add your preferred address. Make sure to include the address in this message to save yourself a step. We will email you back once the address is associated with your account and you can verify it easily from there.
▶ I'm a verified seller. How do I make my first designs available for sale?

If you have already printed and proofed a design, all you need to do is link into that design through your Design Library. Scroll down that design page and you will see the option to make the design for sale on either Fabric, Wallpaper, and Home Decor. Learn more in the article Setting Designs for Sale
▶ I have completed all four steps and there is a check beside each one, but I am still not able to make my proofed designs available for sale. What is wrong?

If you are certain you have completed all four steps but are still not able to mark your designs for sale in our Marketplace, please contact us. Sometimes we need to add a bit of pixie dust from inside the site to officially verify your account. It's an immediate process and you will be on your way in no time!
▶ I am a Design Challenge Champion and it says I don't need to proof my designs. Why aren't they for sale?

Even if you win a design challenge, you are still required to complete the Seller Verification process before we can make your designs for sale in the Marketplace.
See Also: Selling FAQ
See Also: Income Tax Documentation for Verified Sellers: FAQ