The design layout page helps to set the scale and repeat information for all artwork uploaded to our site. When a design is uploaded, it is assigned a unique design ID and Design URL that links to its Design Layout Page. Be certain to sign into your account before uploading so that each design will be saved in your Design Library for future access.
Features of the Design Layout Page
Ways to Preview and Proof Your Artwork
Features of the Design Layout Page
Each new design uploaded to our site is treated as unique and initially saved as private. It receives a Design ID, a home in your Design Library, and its own design layout page. The URL of each design will fit this format:
https://www.spoonflower.com/designs/########
This design layout page features an image preview window and includes a set of layout tools to ensure that your pattern prints exactly as you intend.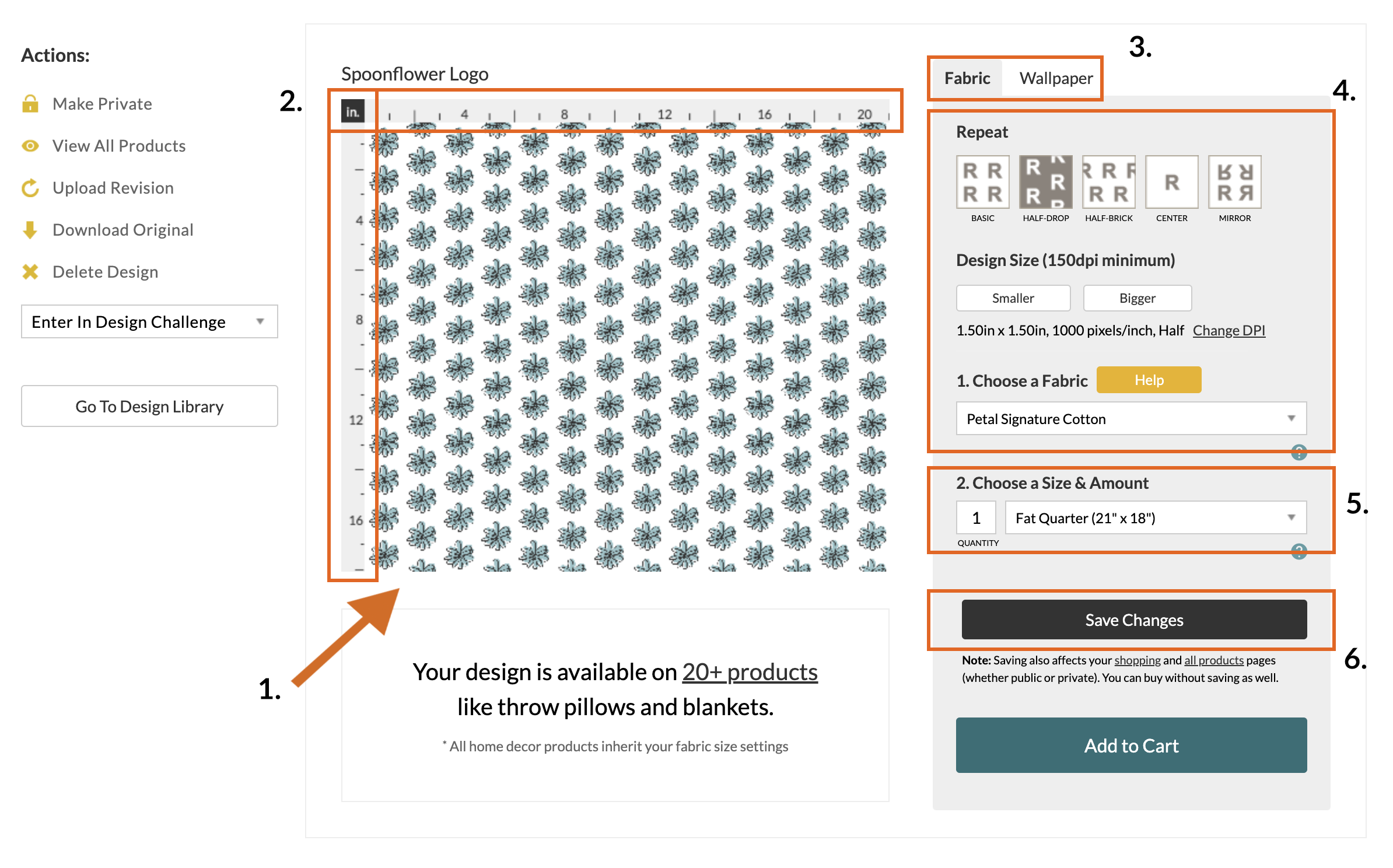 These are the key features of this page:
1. Image Preview Window: This visual layout will change as you update each setting in the layout and size tools. To decrease page loading times, a lower resolution photo may be used.
2. Rulers: Confirm the dimensions and design scale around the image preview window
3. Toggle between the fabric and wallpaper settings here. Wallpaper layout features are the same as those on the fabric tab, but access to certain features will vary based upon the size of your design tile.
4. Layout Features

Modify the Repeat
Design size

Make the design Smaller or Bigger
Change DPI: Clicking here will allow you to change the DPI by entering a numeric value and clicking

Change

.

Choose a Fabric: If your design should be printed on a fabric of a certain width, selecting this fabric and clicking "Save Changes" will create a note nudging customers to this preferred fabric type on the product page in the Marketplace:

5. Choose a Size & Amount: The image preview window will rescale as the item size is changed.
6. Save Changes: Make your updates permanent.
IMPORTANT: The design layout page will always be in imperial inches, even when your site preferences for the Marketplace are set to metric. Review What Are the Basics in Sizing Your Design for hints as a metric artist and How the preview - or digital proof - works below.
Ways to Preview and Proof Your Artwork
There are two primary ways to review your work using the tools on the design layout page:
Using the image preview window as a basic digital proof.
Ordering a Test Swatch as physical proof to confirm color, scale and layout. In fact, Proofing Your Design is a requirement to sell any design in the Marketplace.
Digital Proofs
Whenever you upload new artwork, the image preview window can serve as a digital proof before placing your first order. It is good practice to review this image for any potential errors before printing.
How the preview - or digital proof - works
Visually engaging with the key features described above will help review your work, and what you see in the image preview window is a visual representation of how the item will print:
The layout of your design will always begin in the bottom left corner of the image preview window. If your image seems cut off in the preview, it will print cut off if you order that s

ize

.

For example, a design that is 20" x 20" will be cut off by 2" at the top of the design on any Fat Quarter since a Fat Quarter only prints 18" tall

Rulers along the top and left side of the image preview window help to visualize the size of your design. They will always be shown in imperial units on this page.
Every substrate is a unique width. The rulers and window scaling will update as you change either the fabric or the item size:

Test Swatch: 8" x 8"
Fat Quarter: Half the width of the fabric type x 18"
Yard: Full width of the fabric type x selected length in full increments (36")

White space in the image preview window indicates unprinted area that relies on unprinted fabric to represent white (hexcode ffffff). This often happens when you choose to "center" and print a smaller design. The white borders of the preview will arrive as white on your finished print
Thin horizontal or vertical lines around the design tile often suggest repeat flaws in the original file.
Why the Preview May Look Blurry
Artists sometimes worry when their design in the image preview window seems slightly blurry. Do not worry! We do not display a high resolution image in order to protect your design on the rare chance that someone tries to copy your work from our site. If your original design appears clear and crisp when viewed at 100% in your design software, it should print as intended.
Review the images below. On the left is the Spoonflower logo viewed at 100% in Photoshop. All edges appear to be clear and crisp, no visible pixelation. On the right is the same logo presented on the design layout page. It is subtle, but the edges are blurry and slightly distorted.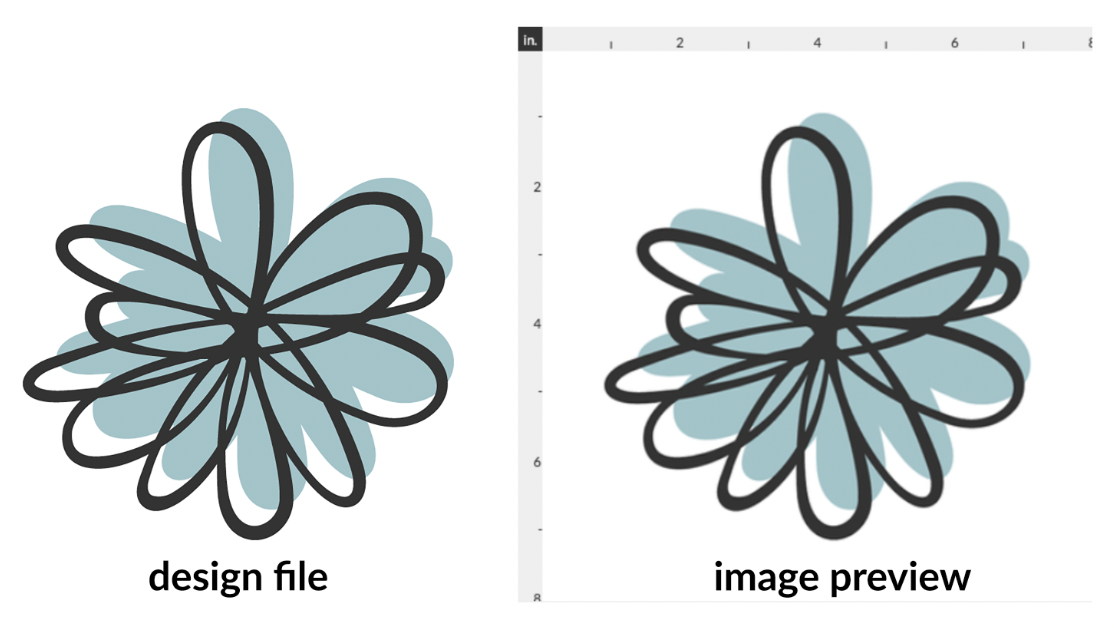 Troubleshooting: My design is cut off with an unexpected repeat
On the rare occasion your design may appear to be cut in half in the image preview window, or with a reflection of itself. This typically happens when the file name
is too long
includes a stream of numbers, letters or hyphens
To correct this, we recommend re-saving the original design file with a shorter name with words and uploading it as a revision over the file already in your design library. If this doesn't fix the issue, please contact us and include the Design ID or the URL of the design in question.
Physical Proofs
Nothing can replace an actual physical proof of your design, and even if you don't intend to sell your work in the Marketplace reviewing a physical sample of your design on any fabric or paper type is always a best practice.
The benefits of a physical proof
Physical test swatches are an inexpensive starting point for any project and often save time in the long run. Proceeding with a large order without a test swatch may result in a longer and more costly end result if the colors haven't been reviewed and approved.
There are many variables involved when it comes to our printing process and the products we print on and it is important to keep the following in mind:
Colors can look very different once printed when compared to how they represent on a computer monitor! Remember:

Colored light comes out of a screen.
Light bounces off color on fabric.
Color settings can vary from monitor to monitor.

Our natural fiber fabrics often print with a warmer, almost creamy white appearance while our polyester fabrics show as cooler due to the optic white brighteners added to the fibers.

Since each substrate has a different white point, printed colors will shift brighter or darker in response.

Our digital printers and pigment inks often print saturated colors and true blacks lighter than you might expect. You may want to test different saturation levels and modify your design.

Certain colors might "shift" to colors you weren't expecting if they are out-of-gamut for our printers, or are a complex color palette, such as many mid-tone grays.
The article How can I make sure my design is the color I want? is a great exploration of color matching hints.
How a physical proof will print
Every individual item will be printed and cut individually from a larger roll of fabric.
The blue brackets at each corner ensure that our print team knows where one order ends and another begins.

The unprinted area (selvage) around the design is necessary to help feed the fabric into the printer. We do not include unprinted area in the measurement of your fabric width.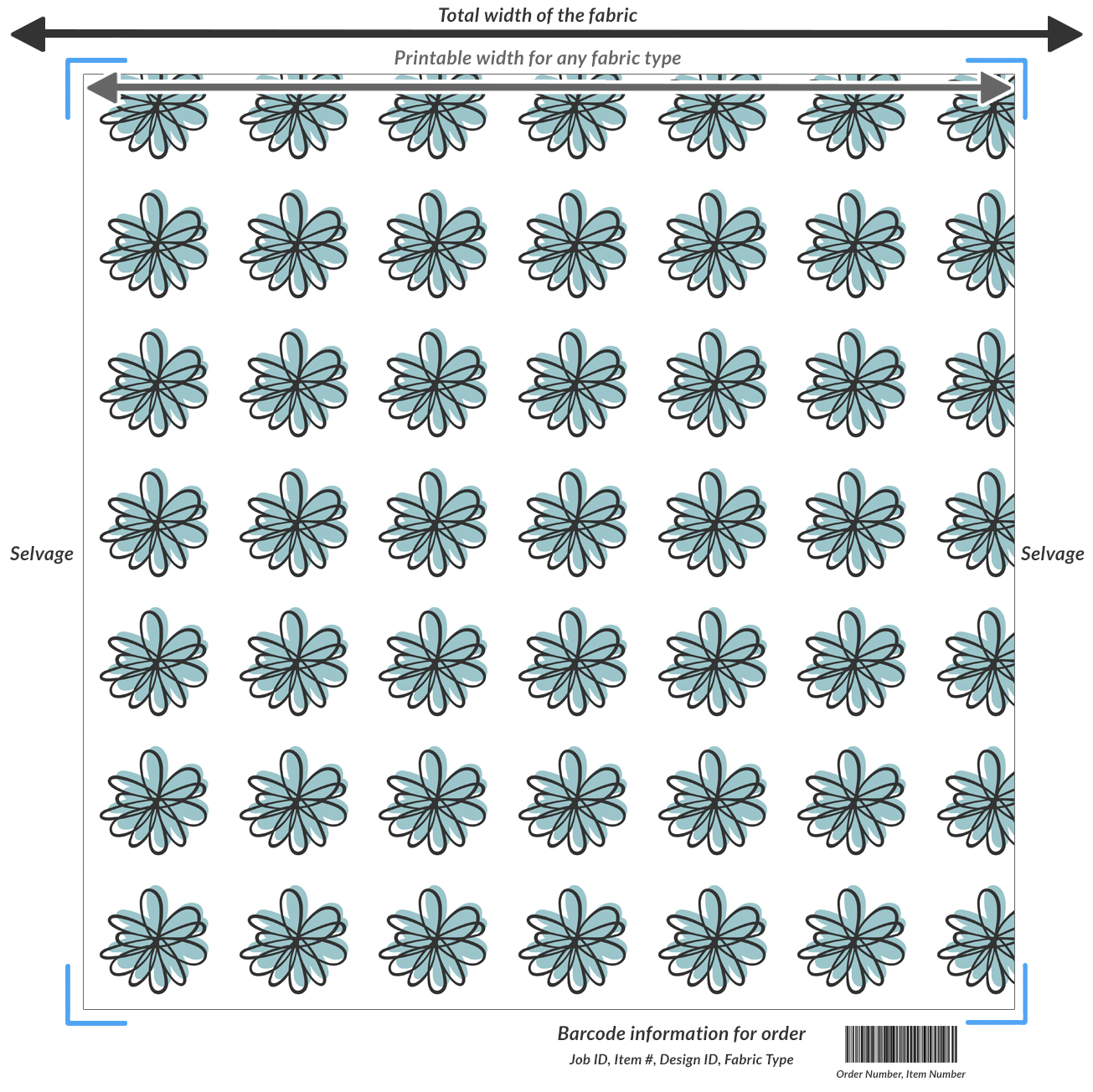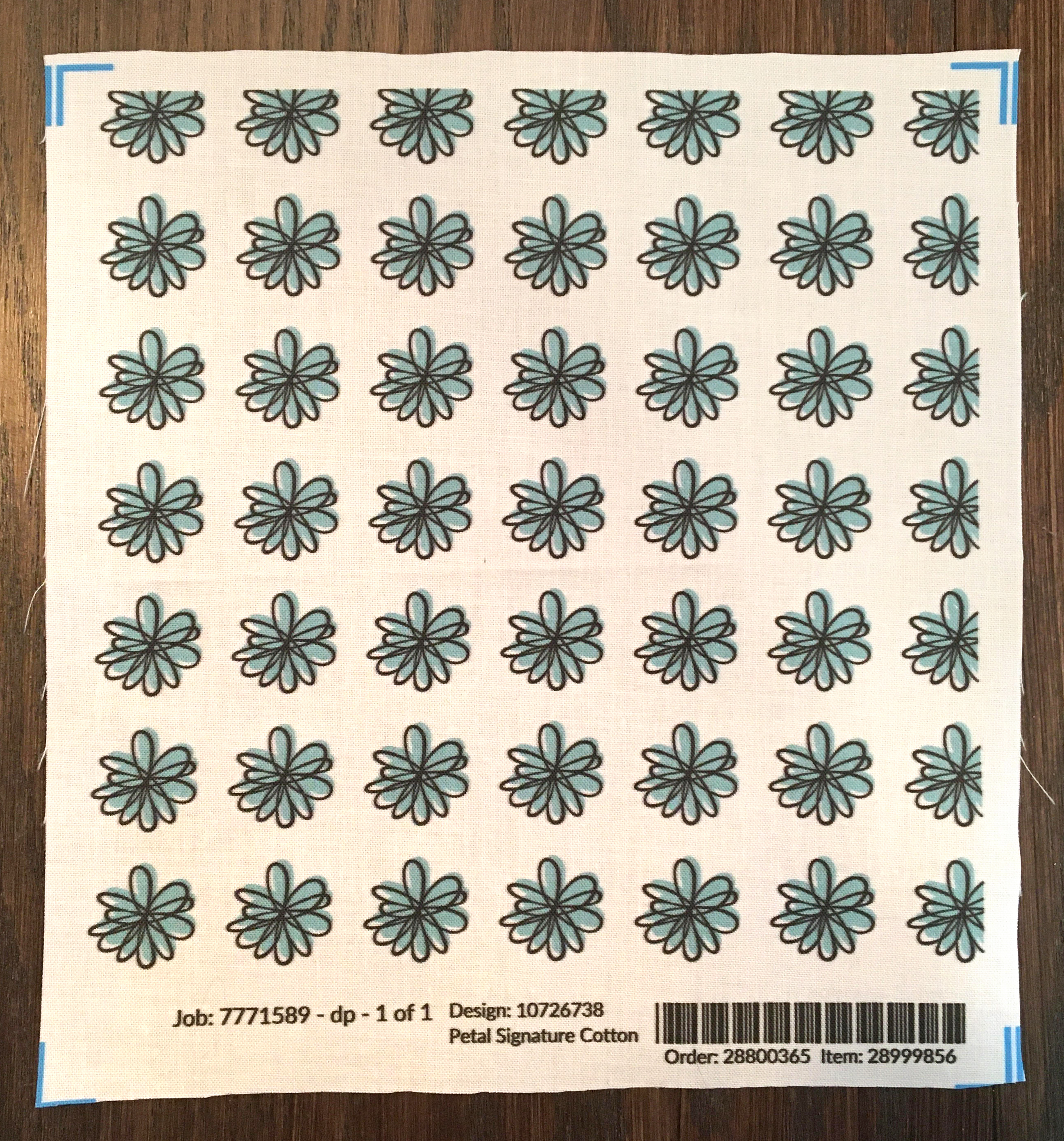 See also: Sizing Your Design
See also: Image Resolution and DPI
See also: Visualizing Size and Scale of Marketplace Designs