If you want to update a design after seeing a proof, need to make a small correction to an existing Marketplace design, or have to address a technical concern generated while first uploading a design, the process for uploading a revised version into your Design Library will be the same. But don't worry, even if this change involves one of your more popular designs, following these steps will ensure that all original comments, customer "Favoritings", and Order History will remain intact.
Design Revision Basics
From the moment an item is placed into a cart, Spoonflower makes a print-ready copy of the design file that exists in your Design Library. This is the file that will remain with the item for the entirety of the order, from placement, through processing and into printing. Therefore, any changes you make to a design after the item is placed into the cart will not be reflected in that order.
For example, if you just placed an order for your own design but realized you need to make one small edit of the design immediately after the order confirmation, you must cancel the order first. From there, upload a revision with the correct version of the design, save the layout, and then place a new order. Again, any changes made to a design after an item is placed into the cart will not be reflected in the order.
This also means that if you change the design while some customers have orders in production, you don't have to worry if your design revision will change their orders. It won't. These customers will receive the exact version of the design that they reviewed when initially placing the order.
However, once you upload and save a revised file, all items placed into a cart and ordered from that moment forward will be printed using the new version. This is why you should be mindful when working with already existing design files.
Changing the scale, design, or colors in any significant ways could lead to surprising outcomes for customers who want to re-order a design they have already purchased from you.
NOTE: It is never recommended to upload an entirely new design over a design that already exists in your library, or to resize designs instead of uploading new scale variations into your Design Library. When a design is constantly changed, it is hard for us to know what a customer expects to receive, and it challenges their ability to access their Order History with confidence. More, constantly changing and resaving the repeat and other design settings within one design URL can create unforeseen problems when the design is ordered later.
NOTE: When you upload a design revision you are not required to order another proof. However, if the design is drastically changed you may consider printing a new one to make sure you are happy with your edits.
Uploading a Revision
How to upload a revision:
1. Prepare your updated design file for upload. *Make sure to save your new file with a different name, otherwise it won't update properly* If you upload a design with the same file name, the original design may remain without any update.
2. Go into the design you want to revise from within your Design Library.
3. Click Upload Revision along the left edge of the design.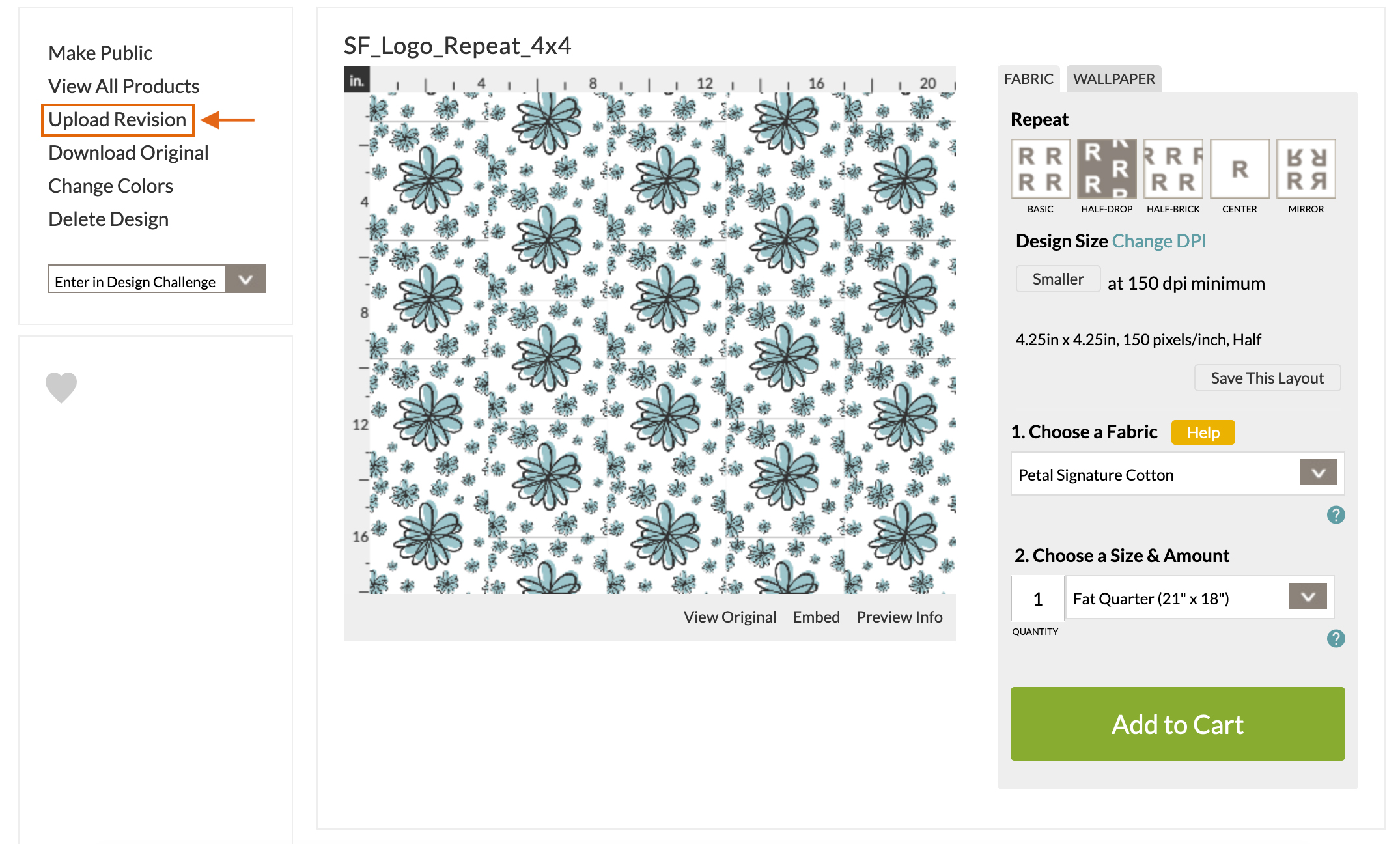 4. Choose your file using the Browse button, and then click the Upload revision button once the new file is displayed.*Your revised file must still be below 40MB and saved as a TIF, JPG, PNG, GIF.*

5. Once uploaded, it will automatically return back to the design preview page. You can then proceed with adding the new design to your cart!
Video Walkthrough
The design in the video below needs a design revision to be uploaded due to some misalignment with the Half-Drop repeat option. There are also some black lines on the edges of the design file causing pixel lines when repeated on the design page. By uploading a revision with the corrected design file, the design will now repeat properly for any order!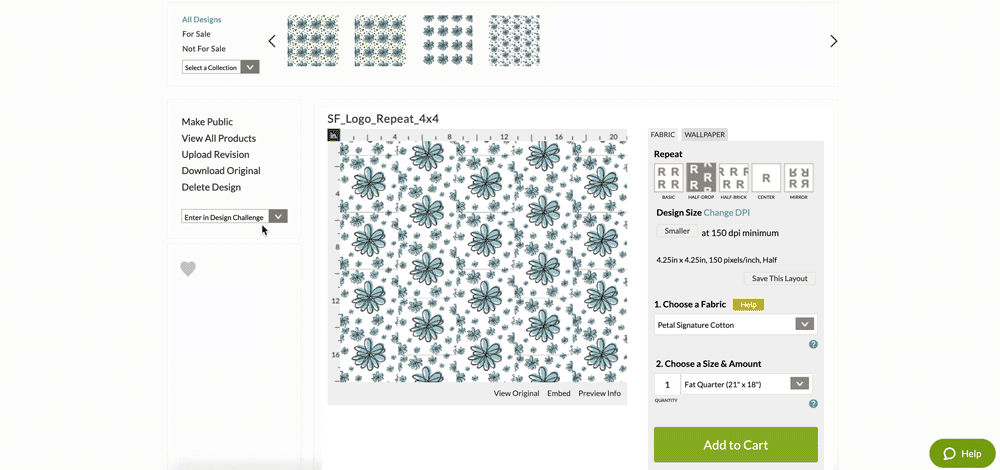 See also: Sizing Your Design
See also: Repeat Options
See also: Checking for Repeat Flaws in Designs
See Also: Previewing and Printing a Design