We print from the original file uploaded by the artist and will never modify the design. This file may be saved in any colorspace, but our digital printing technology will always convert the file to sRGB before printing. The hints below cover the basics of color matching in various ways, but you can find out more about printing colors across substrates from our blog. Check out Why is My Color on Fabric Different From My Wallpaper? and Tips for Designing on Spoonflower.
Uploading a Solid Color Design
General Tips For Color On Fabric
Ordering Test Swatches First
While a design may preview well on your screen, the only way to know how colors will print on certain products is to review a sample. This is why we always recommend ordering a test swatch before purchasing larger amounts of fabric or wallpaper. 
Uploading Personal Designs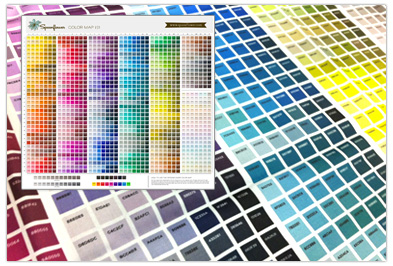 The best way to be sure your design prints with the colors you want is to create your designs from a fabric color map, or a wallpaper color map, printed on the preferred substrate. All color maps arrive with over 1400 color chips, along with their hex codes, to use for designing. Once you receive the fabric or wallpaper color map, simply find the color you want and enter the hexcode into your design program.
For example, to get that darker violet enter 402A53 in your design file, while the steel teal can be created by entering B9CECE.

Creating a White Background
Quite often an artist will scan an original artwork with a white background and upload it directly to our site. While the background of the original may be white, the scanning process will pick up textures and shadows and save them as gray tones. Our system doesn't make any updates to revert the file to white so it is important to prepare the file accordingly.
To ensure a white background, modify the background color in one of the following ways before uploading:
Remove all color information to create an invisible background.
Capture and resave all background color to hex code ffffff (Color hex white) to ensure that no ink will be printed onto your fabric.
Learn more about previewing and digital proofing in The Design Layout Page and Design Previews.
Uploading a Solid Color Design
While our print-on-demand technology excels at printing colorful textures and patterns, sometimes a solid color is a perfect complement. In fact, many customers contact us asking for help in finding coordinating fabrics.
Therefore, it is a great idea to upload basic design files of individual colors with matching hex codes to your more complex designs. 
Create a small 150 pixel x 150 pixel canvas in your preferred design program 
Fill the canvas with a color using the hex code you want to print
Save this file as a png or jpg
To sell this solid color design, you will still need to purchase a proof
Otherwise, if this is a personal design, you can learn more about ordering here: How to Order Fabric: Personal Designs
If you are a seller, be sure to save this design in a collection with designs of the same colorway. Review Collections Overview for more information. Reading over Finding Coordinating Designs and Fabrics offers Sellers some good hints on how to support Marketplace customers.
Adobe Swatch Exchange File
If you are a Photoshop or Illustrator user, or work with the Designer-Photo-Publisher trio of programs from Affinity, you can also download the Adobe Swatch Exchange File for our Color Map for design support. Simply follow these steps:
Download the file from this article
Open this file with your Adobe software application
From the dropdown Window, select Swatches
Click the menu button from the Swatches palette in your design program and follow the prompt to select Load, Add, or Import from the downloaded file (language varies)
General Tips For Color On Fabric
A design displayed on your computer and the printed version will not look exactly the same. Printing a copy of our design on your home printer will not be accurate either because the inks, material, and technology are different.
Designs printed on wallpaper and polyester fabrics tend to print more vividly than on natural fiber fabrics.
The weight, weave and base color of the fabric will influence printing results, so the same color across various fabrics may present differently. Please see the image below to see how the same design prints on four different fabrics.
Dark colors that are similar to each other may blend together when printed without enough contrast from surrounding colors. For example, black and dark grey stripes often don't print as clearly as they reflect on your screen.
Highly saturated dark colors printed across large, solid areas will not have the same visual impact as they do on your monitor. Inks tend to render saturated colors a bit differently than they do when presenting as light.
Sometimes our inks aren't capable of rendering a true, rich, saturated black on natural fabrics. It is best to only use black in small amounts, with a lot of lighter colors, or it may present as dark grey.
All our fabrics are considered white. This means we do not print with white ink. Any white or blank space in a design will use the blank fabric as the representation of white.
Fine details print best when they are high contrast. The resolution possible with digital printing on textiles is actually better than screen-printed textiles, so you can do amazing work with details in your designs as long as the contrast is good.
We do not have metallic ink, so you will need to simulate that look with your colors and design choices.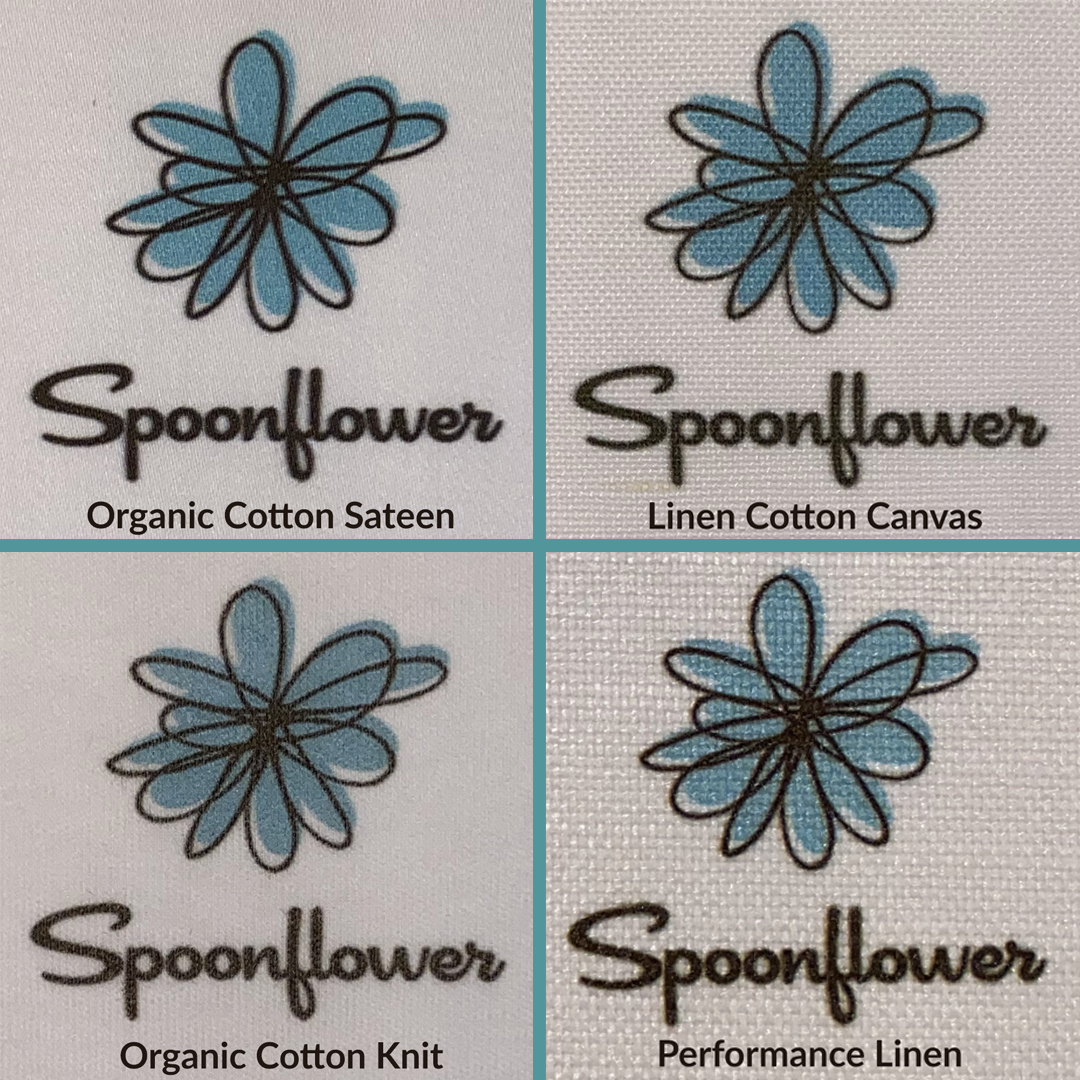 See Also: Welcome to Spoonflower: The Print-on-Demand Difference
See Also: Saving Image Files as sRGB
See Also: Finding Coordinating Designs and Fabrics