Spoonflower's digital print process allows designers to use as many colors as they want in their designs and create millions of unique colors. But since every computer monitor is different, your printed fabric may not print exactly as it appears on screen. While we always try to ensure that colors are as bright and accurate as possible, there are a few ways to make sure you get the colors you want.
Ordering from the Marketplace?
If color is important to you, it's always (always!) a good idea to order a test swatch before purchasing yardage. How the design looks on the screen can be a good preview, but in the end, the only way to judge whether your colors will look as you expect them to when printed is by holding the printed sample in your hands. Most people are happy with their Spoonflower orders, but testing first is a really good idea, and it's absolutely essential if getting the colors just right is intrinsic to your goal.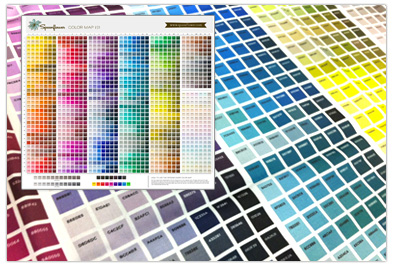 Creating your own design?
The easiest way to get the colors you want is to create your design using our color map or guide. We recommend working in the sRGB color space both because it produces beautiful color prints and because the Spoonflower Color Guide and Map (in sRGB color) will be more useful to you as color management tools. You can purchase the color map or color guide here: Design Tools.
The color guide is an 8" x 8" swatch of printed Petal Signature Cotton® with 171 color chips and their hex codes. What is a hex code? They all render on fabric very similar to how they look on your screen.
The Color Map prints onto one full yard of any of our fabrics and on 4ft of wallpaper. This color map is comprised of over 1400 color chips and their hex codes.
You can use the guide or map with almost any image editing programs. Create your design in sRGB and use the hex code for the color you want in your design:

If you are a Photoshop or Illustrator user, or work with the Designer-Photo-Publisher trio of programs from Affinity, you can also download the Adobe Swatch Exchange File for our Color Map.
All designs are automatically converted to sRGB for printing and this conversion will result in some color difference if you use an alternate color space for creating your design. You can still use whatever color space you are most comfortable with, but make sure you stick with it on all of your designs from start to finish, and test (test, test). If you do use another color space, the color selected from the color guide or map will not print accurately.
See also: Saving Image Files as sRGB
General Tips For Color On Fabric
A design displayed on your computer and the printed version will not look exactly the same. In addition, the printed version on your home printer will not look the same as the Spoonflower print. The inks, material, and technology are different.
Designs printed on wallpaper and polyester fabrics tend to print more vividly than on natural fiber fabrics.
You can expect to see slightly different results depending on the weight of the fabric you choose.
Dark colors that are similar to each other may blend together when printed without enough contrast. A perfect example is black stripes on a dark grey background.
Highly saturated dark colors printed in large, solid areas don't have the visual impact they do on your monitor because inks tend to render saturated colors a bit different than you might expect.
Our inks on fabrics with natural fibers aren't capable of rendering a true, rich, saturated black, and this limitation will probably be noticeable in designs that use large fields of black. To avoid your black looking noticeably dark charcoal gray, it's best to use black in small amounts, with a lot of lighter colors.
We only print on white fabric (there are no white inks), so there is no way to start with dark fabric and create a lighter colored design on top of it.
Fine details print best when they are high contrast. The resolution possible with digital printing on textiles is actually better than screen-printed textiles, so you can do amazing work with details in your designs as long as the contrast is good.
Dark colors work well as foreground and detail elements although again, they may print somewhat lighter than they look on your monitor.
We do not have metallic ink, so you will need to simulate that look with your colors.