As you add items to your cart, a red number will appear over cart icon in the upper right hand corner of the site.

Hovering over this cart will preview the most recent items, or click View Cart to review its contents before placing your order.
You must place your order through the site. We cannot take orders over the phone.
How to Checkout: A Step-by-step Guide
Shopping Cart Features
The items in your cart are shown along the left side of the page, while key details will display along the right. Use the numbers below to locate the features and their descriptions.
IMPORTANT: It is always best to sign into your Spoonflower account before you begin shopping, but if you forget, or create your free account later, our system should save your cart for you. Just don't close your browser or clear your cookies before!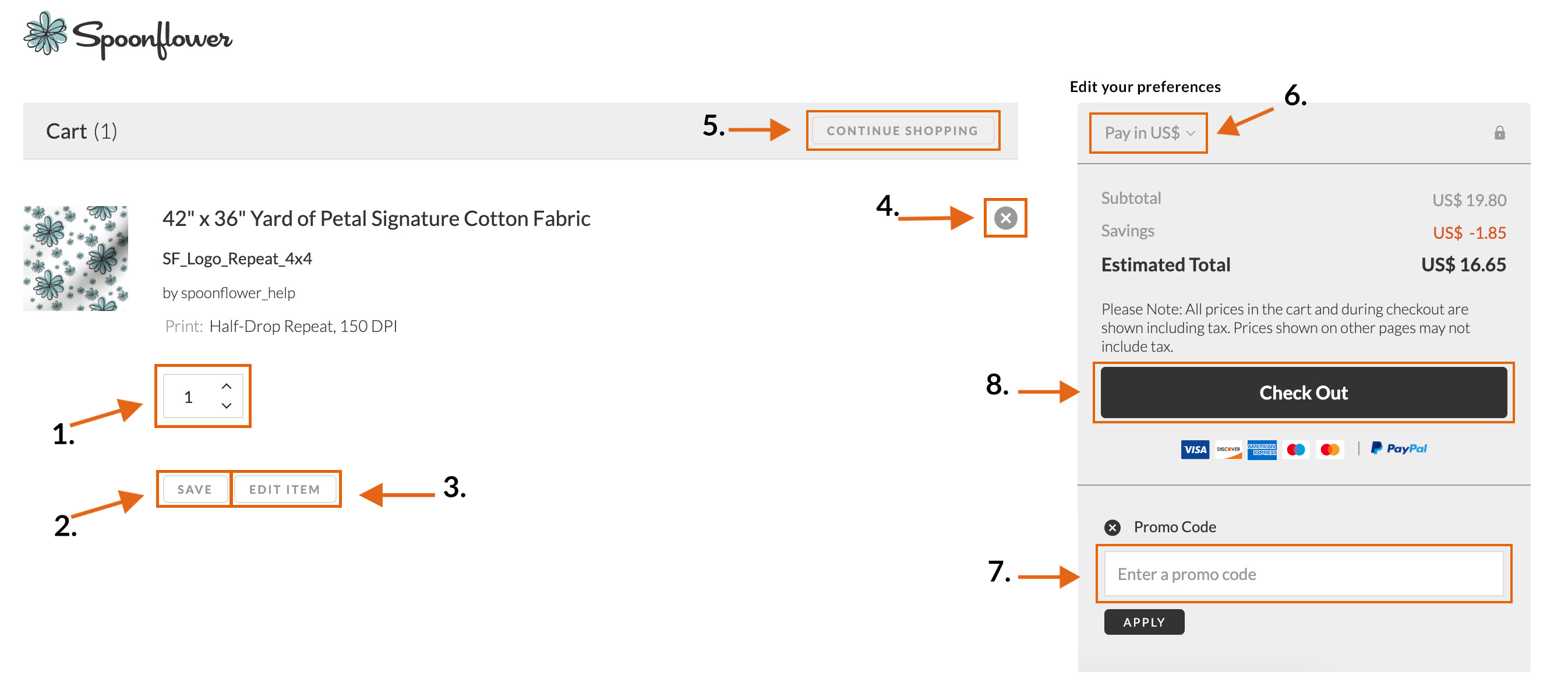 Change Amount
Save Item
Edit Item
Delete Items
Continue Shopping
Setting Preferences
Entering Promo Code
Checking Out
You can (1.) Change Amount of the item you order by clicking the arrows or entering a whole number into this field. The meaning of this number varies depending on the item.
When ordering yardage/meterage of fabric, this number represents the measurement of continuous fabric, such as 2 yards or 3 meters.
If ordering Fat Quarters, Test Swatches, Home Decor items or wallpaper, it equals the number of individual items ordered, such as 4 Fat Quarters or 5 rolls of wallpaper.
The (2.) SAVE button moves the item from your cart to a basket below, to access for later purchase. To move the item back to your cart simply click MOVE TO CART (not shown).
Clicking (3.) EDIT ITEM button will take you back to the product page for that item and design. You may modify certain details - fabric type, size, or amount ordered - can click Update Item (not shown) to return to your shopping cart to see these changes reflected.
(4.) Delete Items by clicking on the X in the gray circle to the right of any item.
To order more items, click (5.) Continue Shopping and link back to the landing page.
(6.) Edit your cart preferences will allow you to update the units for your order - imperial or metric - or change your currency, when possible. Learn more in Banner Icons: Account Preferences, Favorites, User Icon & Shopping Cart
Enter your (7.) Promo Code into this field. Note: Promo codes are case sensitive. If your code doesn't work, perhaps a "letter o" is actually a number "zero", or vice versa! Review: Promotions and Discounts, or link here for step-by-step instructions.
Click (8.) Check Out to begin ordering. See below for further details.
How to Checkout: A Step-by-step Guide
When your order is ready, you may begin your purchase by clicking (8.) Check Out.
Note: We are not able to process orders by phone. If you need assistance, please reach out to us through email or chat!
Important: We cannot make changes to the designs, substrates, sizes, quantities or shipping method of your order, nor can we combine two orders into one, or add any items to an order already in process.
Step 1: Shipping Address
Enter your shipping information into the boxes as prompted. Include your full name and business name, if you have one, or shipments may be refused or charged fines by the importing country. Once you enter your shipping destination, the factory processing your order will be shared.
Step 2: Delivery Options
Select your preferred shipping method. Note that the cost for each method, as well as the shipping and/or delivery dates, are included here to help you make an informed decision for your order. We cannot change the shipping method after the order has been placed.
For more information on our shipping methods review Shipping Rates and Delivery Options.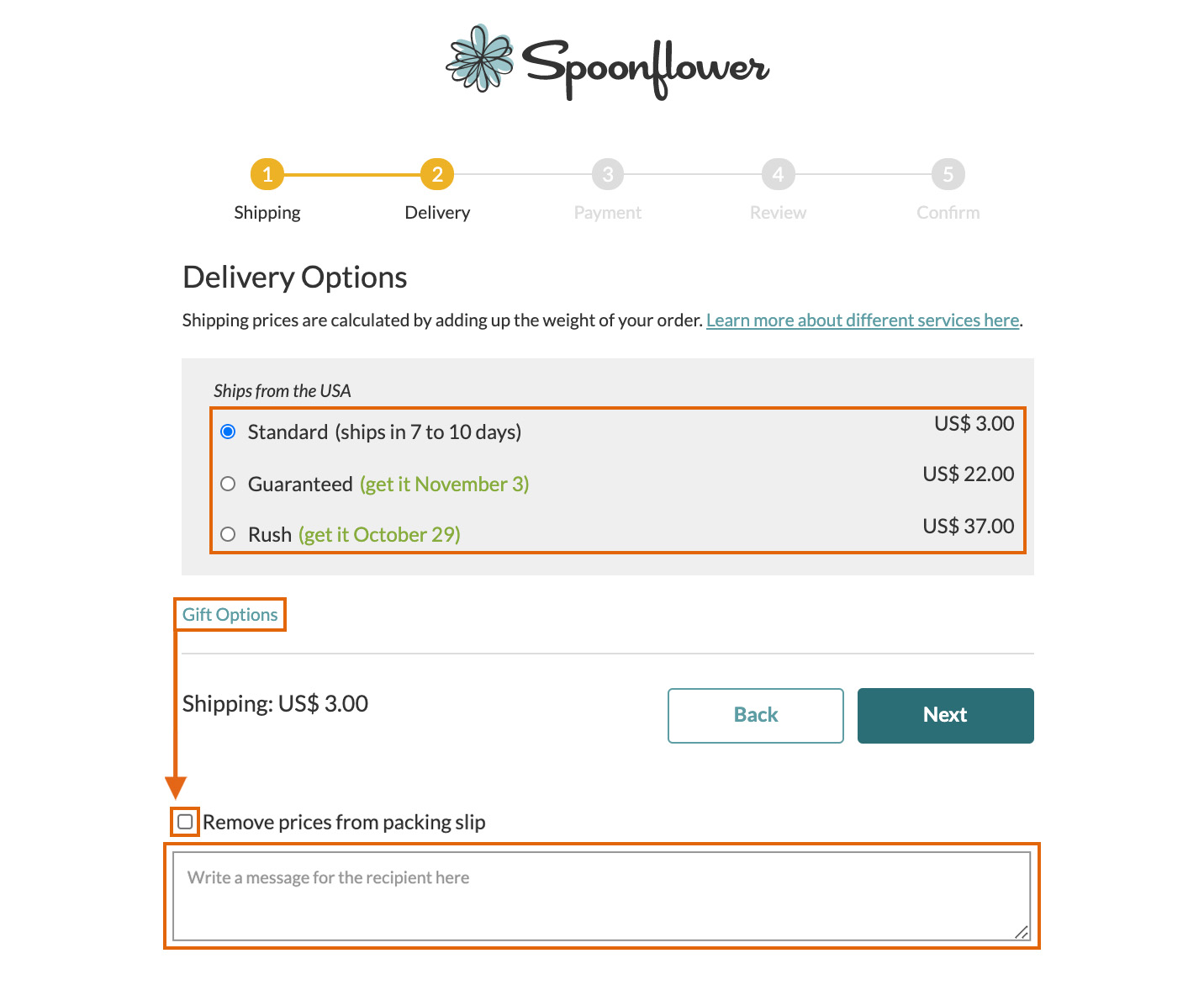 If this is a gift, you may include a note for the recipient by clicking Gift Options and entering your message in the expanding entry field.
Note: We no longer add any pricing to the packing slip for domestic (United States) orders. Any international orders that include a commercial invoice will still display the pricing for the order.
Step 3: Payment
All transactions are securely processed through a third-party vendor. As a result, we cannot process transactions or reorders on your behalf. You must place your order through our site.

We accept payments
via credit and debit from all major credit card companies including Visa, MasterCard, Discover, American Express and their subsidiaries
directly through PayPal and AfterPay for certain orders and locations
of Spoondollars from your account, either received as credits, royalties or through the purchase of gift certificates
Refer to the image below and review the detailed information for each number.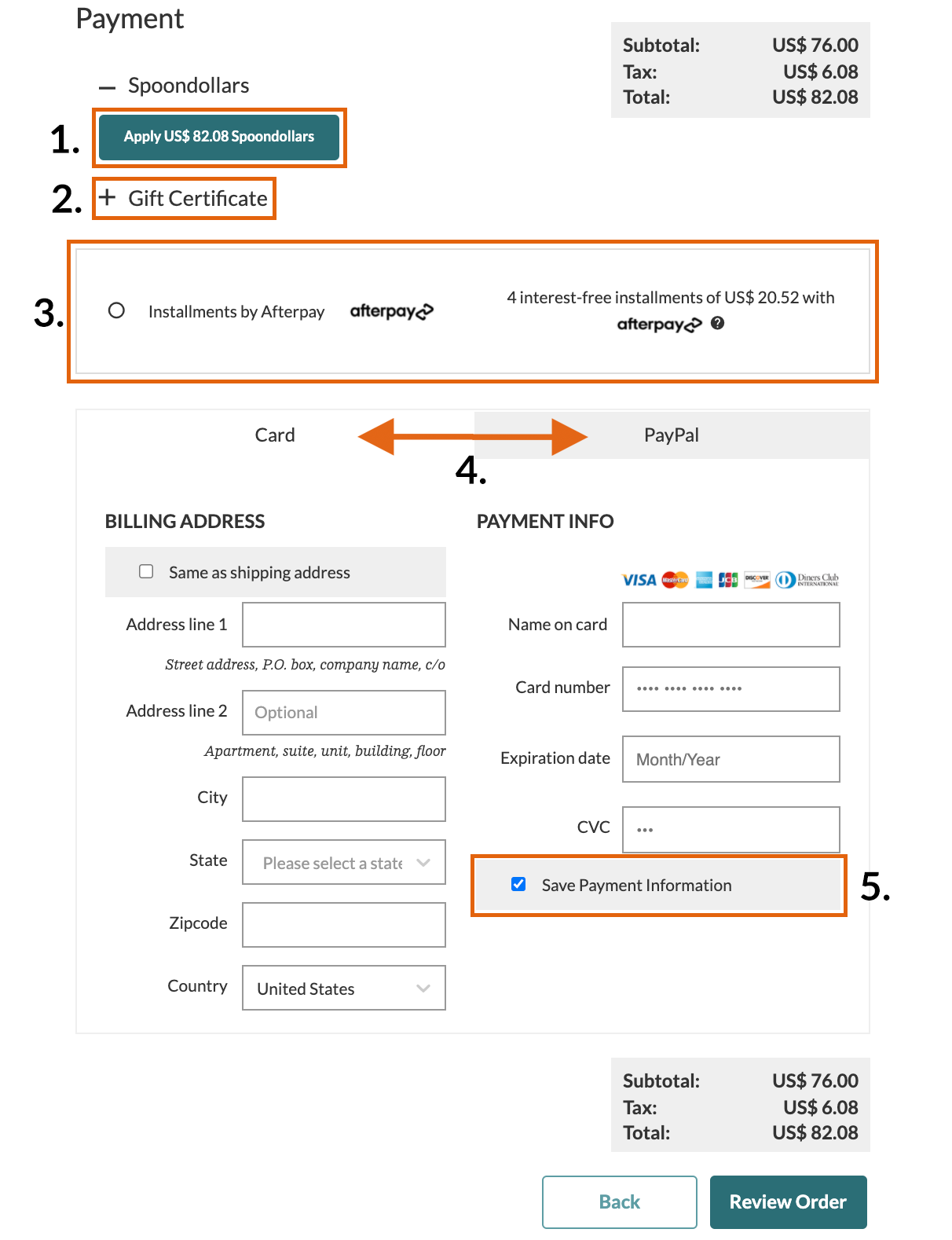 The Apply Spoondollars button will only be visible if you have Spoondollars within your account. If you have more Spoondollars than the balance of the order, you may move forward to Step 4. If there is a remaining balance, you can use one of the payment methods to complete your order.
If you have a Gift Certificate, you can redeem it here by clicking the '+'. See Gift Certificates: Purchasing and Redeeming for detailed information. Note: You must have a Spoonflower account to redeem a gift certificate.
Afterpay is available in certain locations, certain conditions apply. Please review this page for more details. Items placed using Afterpay must be shipped in specific time frame. This payment method may not always be available for all products.
If this is your first order, you will need to enter your card information. Click "Same as Shipping Address" if the billing address for the card matches. If you have saved payment information from previous orders, see below for more details. If you prefer to order using PayPal, toggle to the tab and a link will appear to navigate you directly to PayPal.

For customers with a Spoonflower account, you may elect to save your payment information for future orders by clicking the field in this box.
Saved Payment Information
To remove any saved cards from your account, click the small x next to the card, as shown below.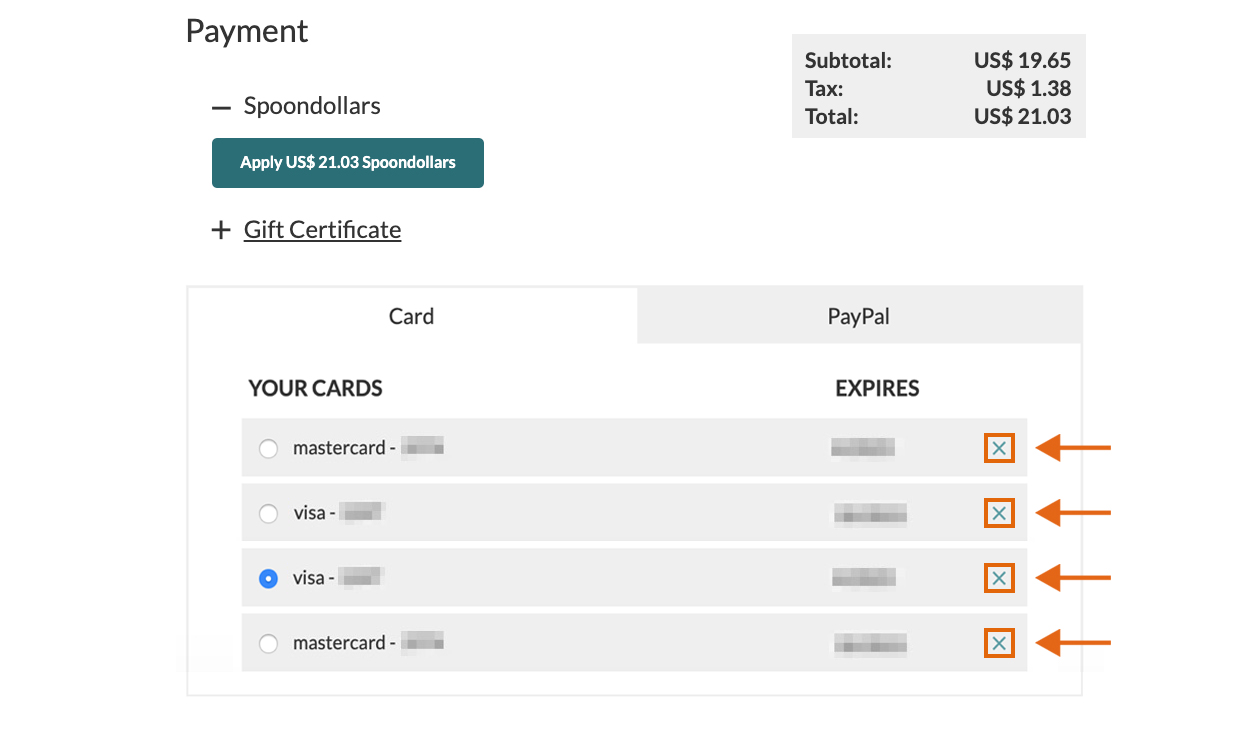 International Orders and VAT
European and Australian customers may add their VAT or ABN number on this page. + VAT Number or + Australian Business Number will appear below the Gift Certificate link during this step. Click the '+', enter your VAT/ABN in the field and select Apply. This number will be saved to your account if you are signed in, but you may remove it at your discretion for future orders.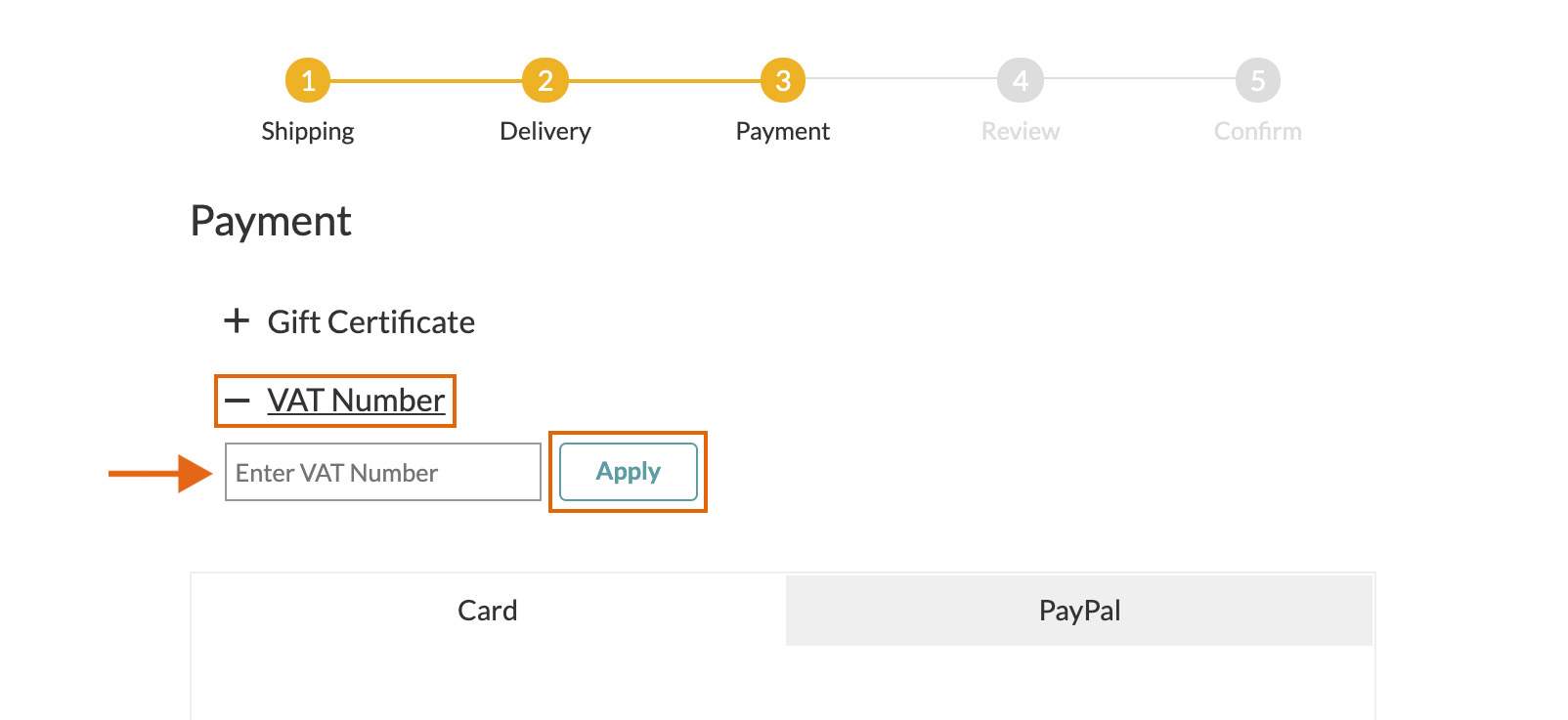 Split Payments
We do not offer split payments, but please review the section on Split Payments in Payment Methods for a clever hack.
Step 4: Review Order
Look over the details of your order and confirm everything is correct before processing. This is your last chance to change various details, as marked below. Then once you're ready, click Place your order. Remember, once an order is placed, the only thing we can change is your shipping address!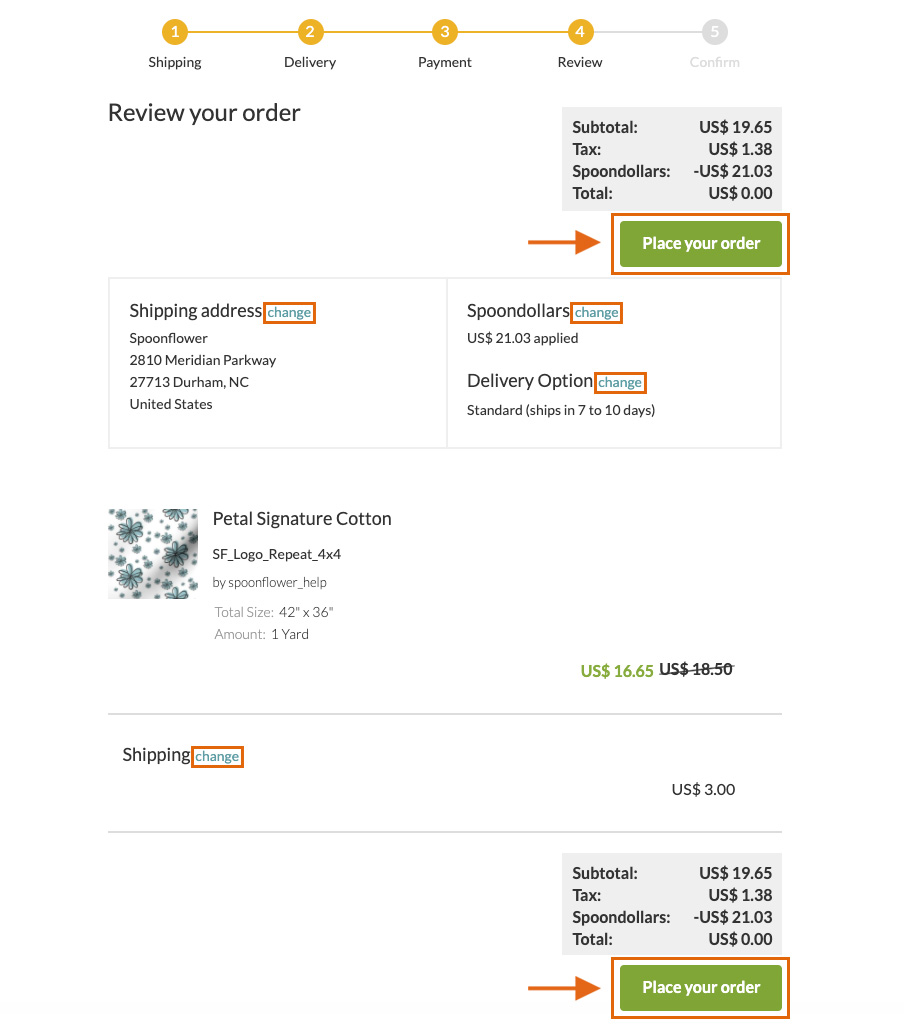 Step 5: Confirmation
You're set! Your order is complete!
An order confirmation email will be sent to the email address used to place the order. If you don't receive it, please check your spam/junk folder.
If you need to review your order in the future and have an active Spoonflower account, please review Order Status and Historyto see previous orders.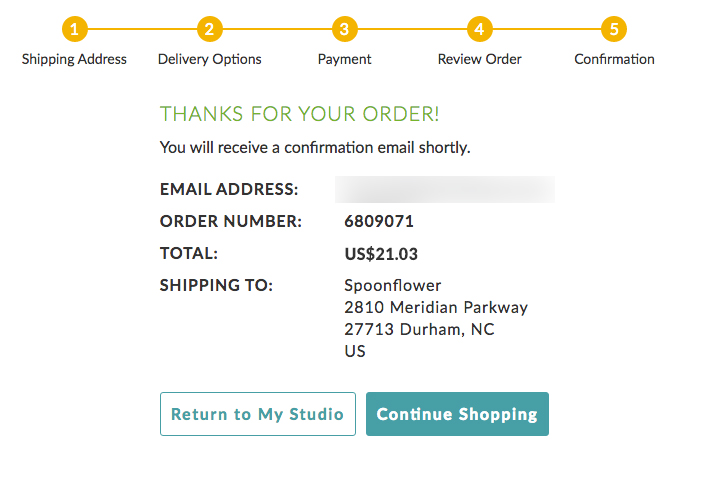 See also: Shipping Rates and Delivery Options
See also: Order Status and History
See also: How long will it take to get my order?