Ordering Home Decor With Marketplace Designs
Ordering Home Decor With Your Own Designs
For all fabric and size options available for each of our Home Decor products, please check out our Home Decor Specifications and Details article.
Please note: All of our Home Decor products are made with repeating design patterns in mind. There is not a way for us to create these items with a centered repeat or engineered design.
Ordering Home Decor With Marketplace Designs
There are two options when it comes to browsing designs for Home Decor products.
Option 1: Searching With a Product Type
You may utilize the Home Decor sections at the top of our home page: Living & Decor, Dining, and Bedding. As you hover your cursor over each option, you will see a drop-down menu appear with items specific to those categories.
For example, hovering over Bedding will display results as: All Bedding, Duvet Covers, Sheet Sets, Standard Pillow Shams, Euro Pillow Shams and Extra Long Lumbar Throw Pillow.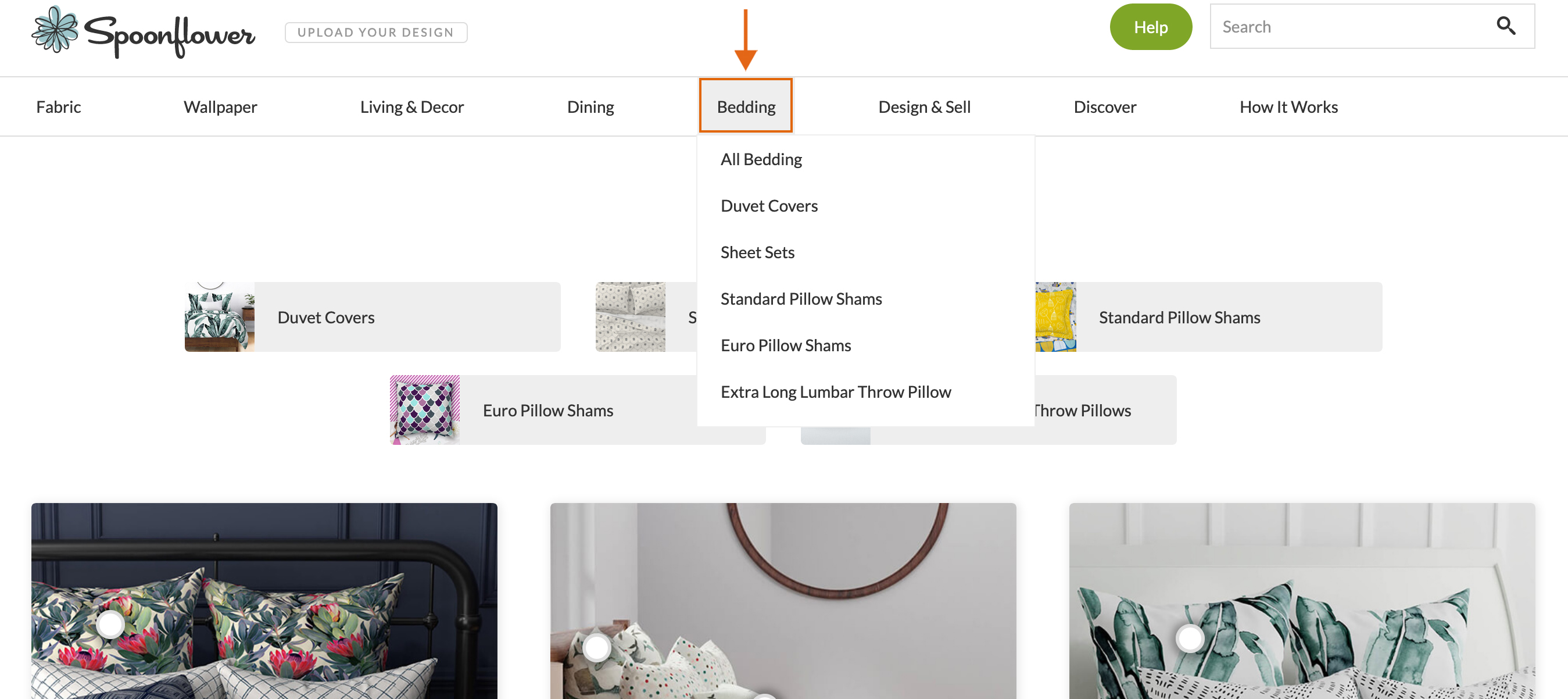 Once you have selected the item you are searching for, Sheet Sets for example, you will be guided to a page which will display some currently trending designs for Sheet Sets. You may browse and select any of these designs to view it on a Sheet Set preview page with further options to order.
Option 2: Searching For More Products From a Design Page
When browsing designs in the Marketplace, you may come across a design you love and might want to see if it is also available on a Home Decor item. When viewing the design preview page, scroll down to Also available in to locate the other options for Wallpaper, Home Decor & Face Masks.
Please keep in mind, some designers may have chosen to not make their designs available on other items. If a design is centered you will not see Home Decor as an option due to these items working best with repeating designs.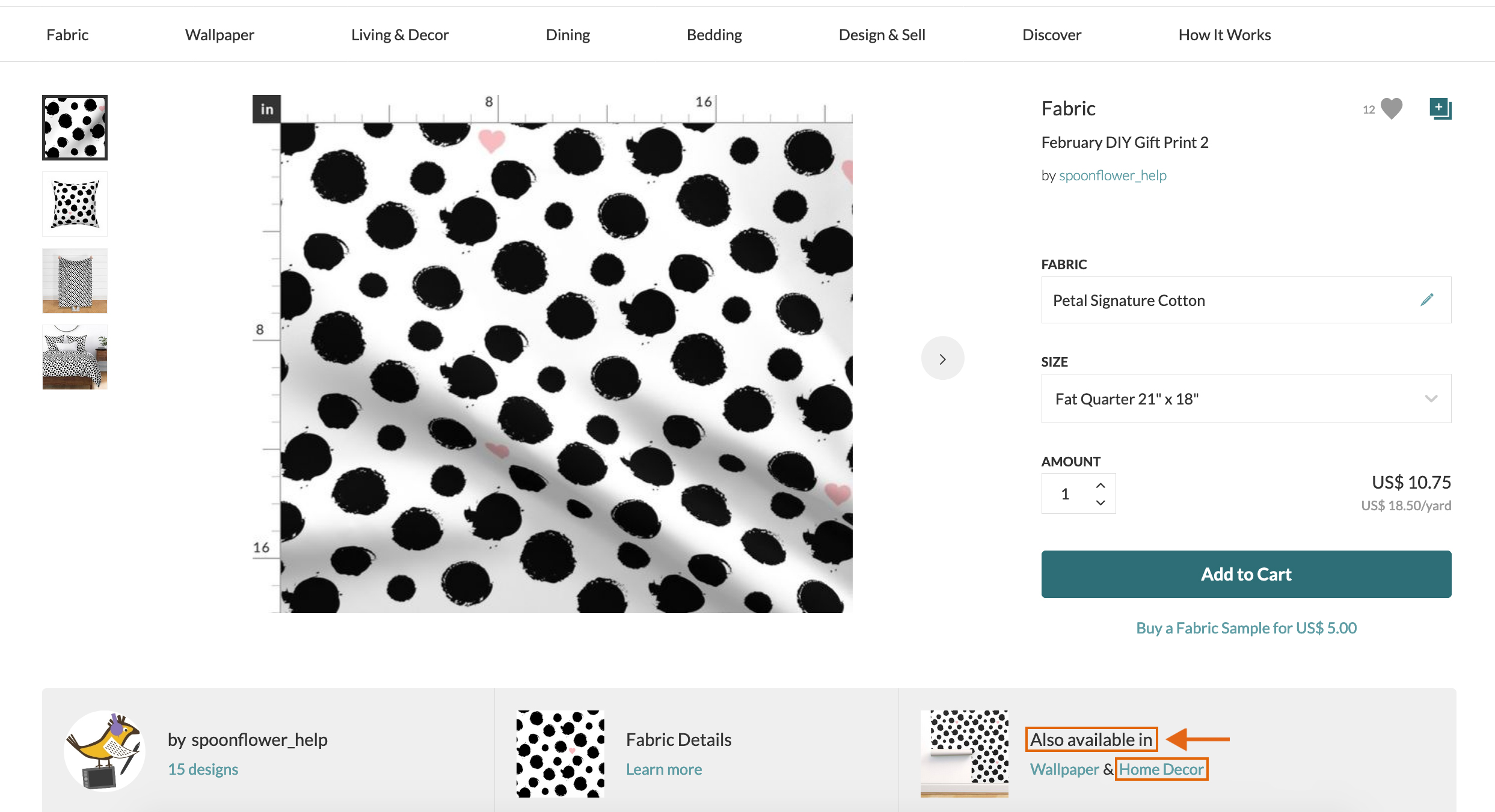 Once you have selected Home Decor, you will then be directed a page in which you can view all of the available products with this design.
Ordering Home Decor With Your Own Designs
Ordering Home Decor items with your private designs will work and look slightly different. Once you have a design prepared, you will want to start by uploading your design here.
Upon uploading, you will automatically be directed to the design preview page. To view your design on all available Home Decor items, you will want to select View All Products to the left of the design preview page.
Once you have selected View All Products, you will be able to preview your design on a variety of finished, hand-sewn items. The Living & Decor section is provided as an example below.
After previewing your design on any given item, you will be able to add the item to your cart.
Please keep in mind, some items will have different fabric options to choose from prior to adding to your cart.
When ordering a Curtain Panel for example, you can choose from Cypress Cotton Canvas or Linen Cotton Canvas in the (1.) Fabric drop-down menu. Then, you can select the preferred curtain length in the (2.) Size drop-down menu. Other products may only have one option, for example Sheet Sets are only available on Perennial Sateen Grand.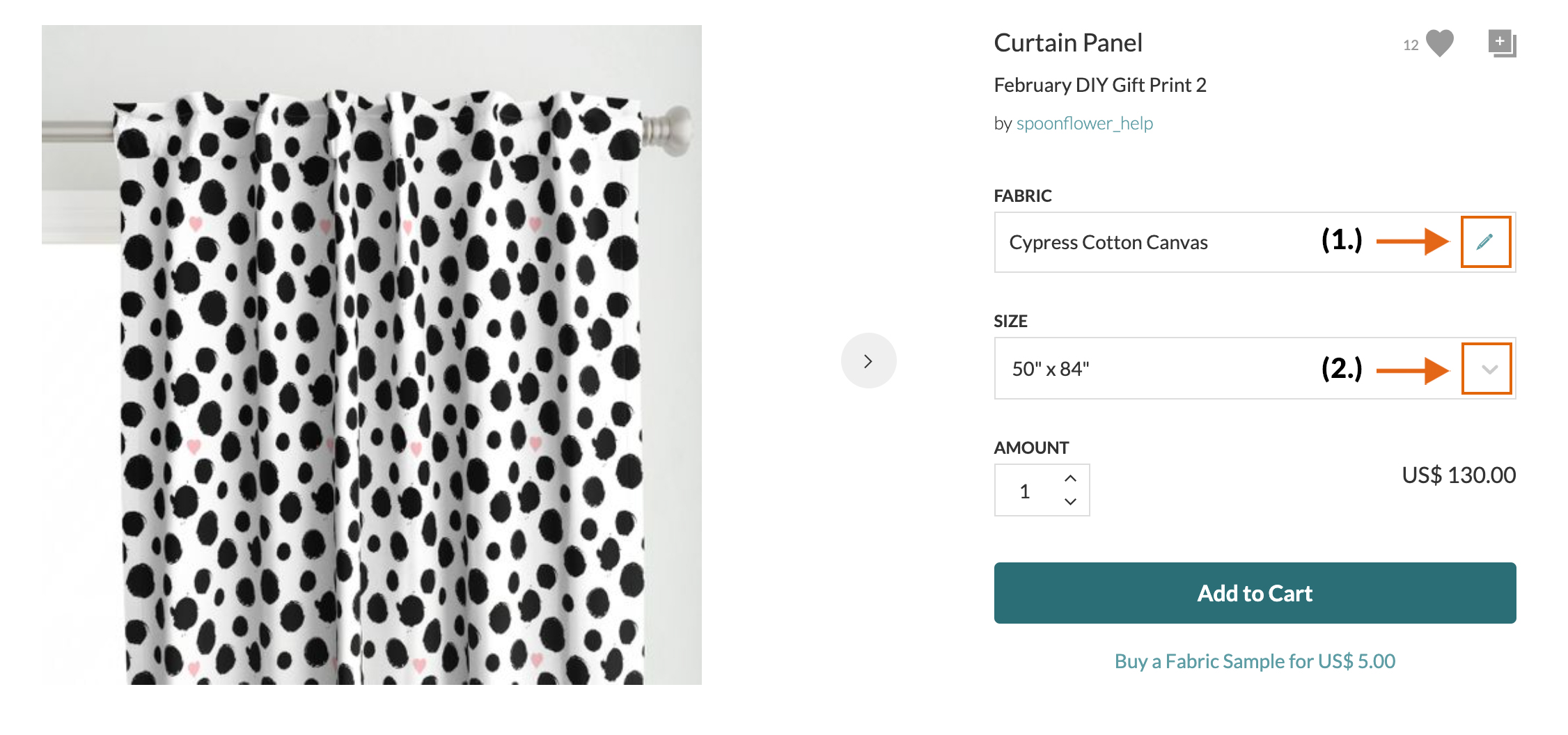 Once an item is added to your cart, you can go on to complete your purchase or continue shopping.
See also: How long will it take to get my order?
See also: Shipping Rates and Delivery Options
See also: How to Place an Order