Spoonflower PRO is an annual service that offers special benefits to customers. The annual service is only $249 USD/Yr. Once you purchase a PRO membership, the following benefits will be automatically applied to your next purchase.
Shipping
If you select the Standard shipping option in the cart, shipping is free, world-wide. Guaranteed and Rush delivery options are always half-price with Spoonflower PRO. See a quick example below.
For (1.) you'll see where your order will ship from. With (2.) the Standard shipping option is priced at $0.00 for the PRO membership. For (3.) it's also possible to see the half-price expedited shipping options (Rush and Guaranteed) on the same page.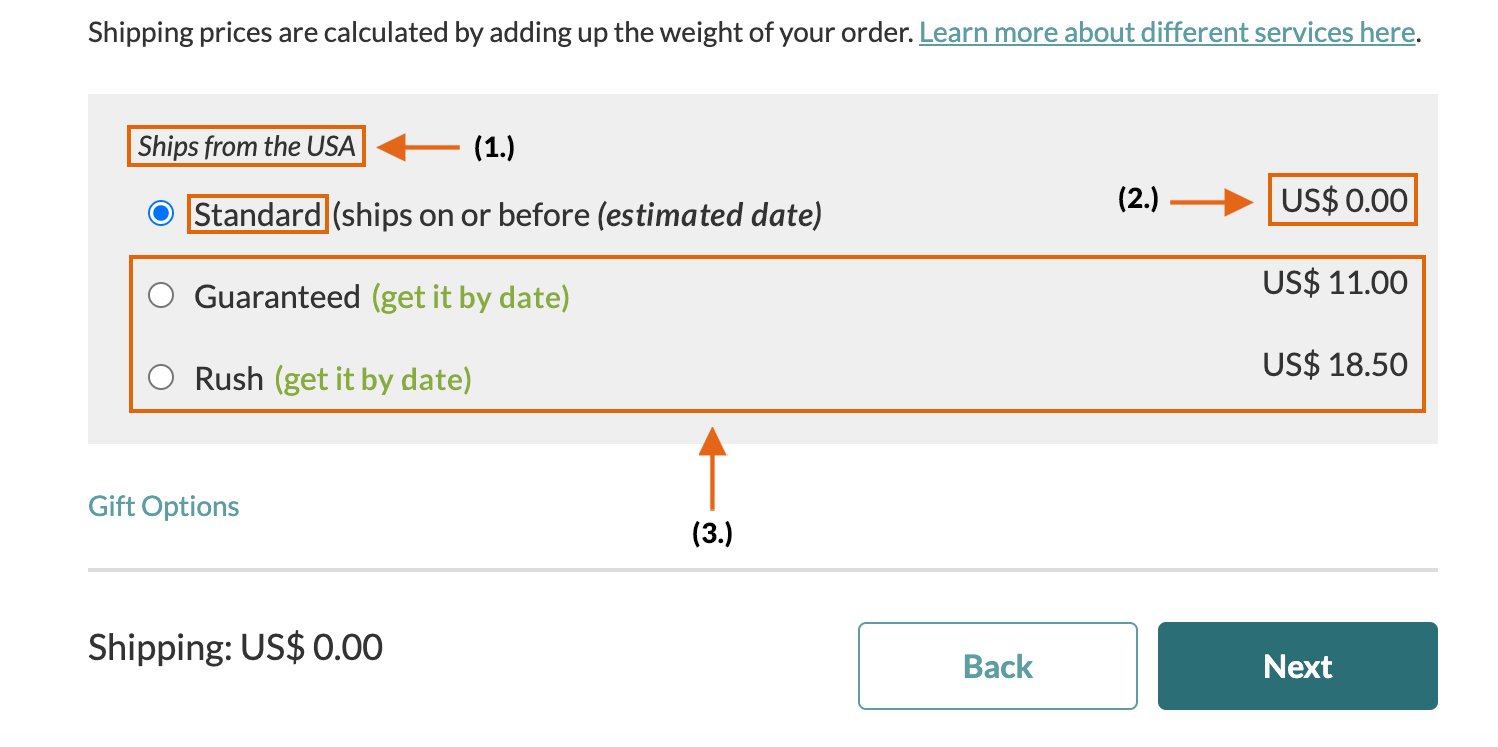 NOTE: If you have a tight deadline, we recommend ordering with our Guaranteed or Rush services. Those orders have a "guaranteed-by" delivery date in the shopping cart as shown above.
Shipping Options Breakdown
The Standard shipping option guarantees orders (19 yards/meters or less) ship within 1 week (5 business days).
Orders for 20 or more yards/meters of fabric, or 180 feet or more of wallpaper require an extra 48 hours of processing time for Guaranteed and Rush delivery. Home decor orders require an additional 1-3 weeks production time and can't be shipped with Guaranteed or Rush delivery.

In the example above, the order was placed Monday before 12pm Eastern Time, allowing it to process on the same business day for shipping on Friday (the 5th business day).

In this image, the order was placed on Tuesday after 12pm Eastern Time, so the first business day to process this order would be Wednesday. The order would then ship out on Tuesday, the following week for the 5th business day.
*Note: Orders placed over weekend days (Saturday/Sunday) will begin processing for the 1st business day the following week. Holidays may also impact business days.
Guaranteed and Rush delivery options are always half-price with Spoonflower PRO. Guaranteed orders are processed on a faster turnaround time (shorter than the Standard shipping option for non-PRO turnaround times, but longer than Rush). Guaranteed orders include an expedited delivery service with FedEx. Rush orders are processed on a two-business day turnaround time and are also shipped via a priority option with FedEx.
Products
Unlimited half-price Swatches & Swatch Samplers.
A dedicated Help Team that is available to help answer questions and resolve queries ASAP.
Be among the first to know about new products, help us test new features, receive

extra discounts on select promotions

and more.
Access to two exclusive wide-format 116" Longleaf Sateen Grand™ and Perennial Sateen Grand™ fabrics.* Note: PRO exclusive fabrics are not currently available for customers served by our Berlin factory.
Common Questions
▶ Does this membership price include tax?

All customs fees and state or local taxes are the responsibility of the purchaser. This is not included in the $249 price.
▶ What payments are accepted for the purchase of the Pro Membership (without auto renew)?

We accept all major credit and debit cards (Visa, MasterCard, Discover, American Express and their counterparts), and PayPal.
▶ What payments are accepted for the auto renewal option?

For auto renew Pro Memberships, the membership must be purchased with a credit card in USD at the current exchange rate. PayPal is not an option for auto renewal memberships at this time.
▶ When will the Pro benefits start with the purchase of the membership? Will it include items in an order with the membership?

The benefits begin after the membership has been purchased for your next order. Any items included in the purchase with the membership will not receive any benefits.
▶ How does the 1 week turnaround time work?

The 1 week (5-business days) turnaround time begins depending on when your order is placed. If your order is placed before 12pm Eastern Time on a Monday for example, this will count as processing for the 1st business day. If your order is placed after 12pm on a Monday, it will begin processing for the 1st business day on Tuesday. For more examples of this, please refer to the above section.
▶ How could Spoonflower PRO help my ecommerce store?

With a membership, you are able to sell fabrics, wallpapers and finished home decor items directly to your customers and utilize the free Standard shipping option or ship items faster with half-price Rush and Guaranteed Delivery shipping. With the expedited order processing times, you'll know when your orders will ship and be able to provide approximate delivery times to your customers.
▶ Do you offer API integration?

We are not able to offer API integration at this time, so there is not a way to set up any sort of automated ordering processes. However, there are still a few options to offer custom-printed items to your customers.

Option 1 - Simply direct your customers to our site with your shop link and some general information to assist with the best options for your designs, or provide a direct link to the design for purchase in the Spoonflower Marketplace so they could proceed with the purchase themselves.
Option 2 - Offer a custom design option through your ecommerce shop or website, and place any orders on the customer's behalf.
▶ Why is the turnaround time longer for Home Decor orders with my membership? Is this time the same whether you have a PRO membership or not?

We would like to offer PRO turnaround times for Home Decor in the future, but at this time all finished items have the same turnaround time due to the manufacturing process. When an order is placed for a specific Home Decor item, we print just the quantity of fabric needed digitally and then cut the fabric down before it proceeds to our sewists who will finish the item(s) by hand. As a PRO member, your order will still ship for free with our Standard shipping option.
▶ I'm not able to receive the half-price swatches discount in my cart, why is that?

To receive the half-priced Swatches and Swatch Sampler discount provided in your membership, first make sure you are logged into your account and then check over if your cart is already receiving another promotion. If so, it's best to place a separate order for any other items needed. For a more in-depth example of this type of issue, look for Example 2 here.
See also: Terms and Conditions for Spoonflower PRO
See also: Maximize Spoonflower PRO
See also: Shipping Rates and Delivery Options