Spoonflower Design Challenges are a great opportunity to flex your creative muscles and join fellow designers in a friendly competition. We run one Design Challenge per week (winners announced Thursdays), and you can always check out the current and upcoming challenges so you can prepare your design! You can also check out our Instagram and Facebook for challenge announcements and details. Below, you'll find information regarding entering challenges.
Before Entering
Design Challenge themes are announced month by month. Themes for the following month are announced the first Friday of the current month. (For example, the May 2021 challenges were announced on Friday, April 2, 2021.) You can take a look at the upcoming challenges here.
All design challenges share the following rules:
All designs will be eligible for public voting, and the popular vote determines the top 50 winning designs. Those top 50 designs will be made available for sale without proofing, as long as the designer is already a verified seller.
Public designs previously uploaded on Spoonflower.com are

not

eligible for this contest.
Designs do not require printed proofing to enter the contest. However, once your design is entered into the challenge, you can purchase a proof of the design.
A designer may enter only

one

design in each challenge.
Moderation of each design will take place at the close of the contest entry deadline and before voting begins. For various reasons, we will occasionally need to withdraw designs from a challenge. We explain some of those reasons in this post from the Spoonflower Blog:
Stick to the Rules: Your Guide to Weekly Design Challenges
Before entering your design into the Design Challenge, please carefully read the Design Challenge rules, which you can find on each design challenge page. There are rules for every challenge, and they can change week to week. Be sure to read the stipulations for each challenge carefully.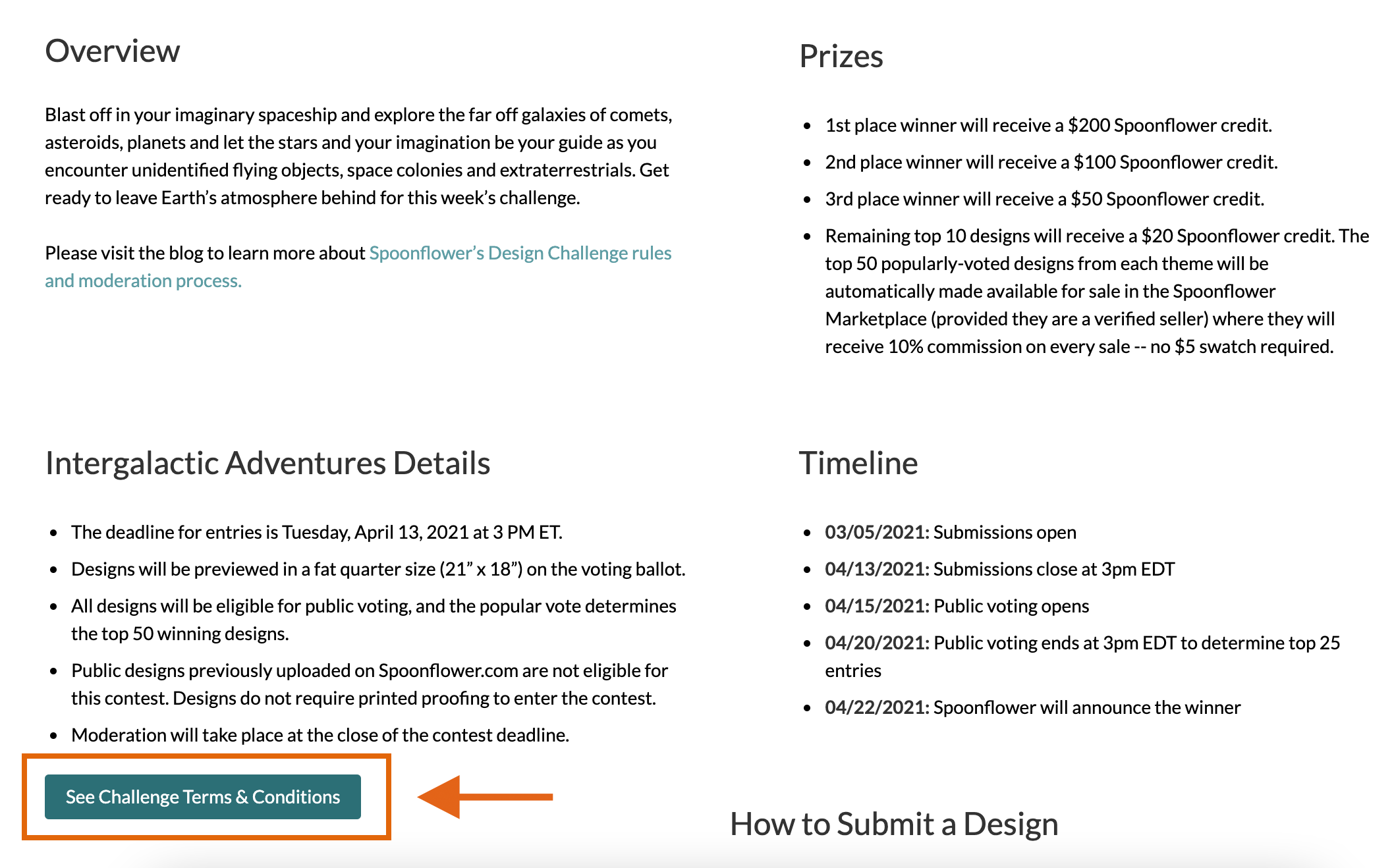 How to Enter
Submitting Your Design
Make sure your design fits the parameters and rules of the challenge you are entering.
Adjust the layout on the design's page and click "Save This Layout".
Use the challenge drop down menu on the left hand side of the page to choose the challenge you'd like to enter it in.

If you like how the design is previewing on the entry page, click submit. However, if you want to change it, return to the design page, adjust the settings, click save, and try again. Only one design may be submitted for each challenge. If you feel the need to upload a new design to enter into the challenge, you will need to withdraw the first design from the challenge! See below for how to withdraw a design from a challenge.
Submit your entry! Once entered, your design will be set to Public, so it can be seen during voting. If you change your challenge entry to Private after submitting or during voting, this will remove your design from challenge voting!
Confirming Your Entry
When you look at the design you've entered, if it says "Edit Challenge Entry" where the "Save this Layout" button normally lives, that means you've entered!

You are welcome to make any changes to this design

before the contest entry window closes!

However, please refrain from making any changes to your design after the submission deadline has passed. These changes will not be reflected in your entry and can impact how accurately the design may be represented in your design library and/or the challenge.
To withdraw a design from a challenge, click on "Edit Challenge Entry". Then, click the "Withdraw Entry" box.



Spoonflower is not able to make any changes on your behalf after the entry window has closed. If you choose to remove a design from voting, you can withdraw your design as noted above, or you can simply mark the design as "private".
After Entering
Be sure to vote in the challenge! You can go to our homepage to vote in any active challenges; hover over 'Discover' at the top of the homepage and click on 'Design Challenge' from the dropdown menu.
To ensure fairness during voting, design challenge entries are displayed in a random order each time the voting page is accessed. To find your own design, you'll need to scroll down through the entire field of entered designs; with so many entries, this can take some time! Then, you can search (ctrl + F) for your design title or studio name.
After the voting window for each design challenge closes, the votes are tabulated, and a ranked list of design votes for all entries is posted each week to the Spoonflower Blog. As a designer, the easiest way to find your vote total is to search the page (ctrl + F) for your studio name. Finalists will also be notified by email, via the current email address associated with the designer's Spoonflower account.
We love scrolling through the hundreds of new designs entered into the challenge each week and seeing the creativity and vibrancy of the Spoonflower community on display!
See also: Sizing Your Design
See also: Checking for repeat flaws in designs
See also: Tutorial: How To Create A Seamless Repeat For Spoonflower Using Adobe Illustrator & Photoshop