We always print fabric as long as we can, but the length you can receive will vary by fabric type. Variables such as color consistency and print alignment might limit the finished length.
Natural Fabrics
The print length of natural fabric is typically limited by the length of the blank roll we are printing on, but other considerations are important as well:
For example, if our cores are currently 50 yards in length, we will print a 75-yard order in two pieces, one 50-yard piece and one 25-yard piece
For color heavy designs, to ensure the best quality over the longer print, we may decide to split a 50-yard order into five 10-yard pieces, or some other increment.
As your fabric prints, we run initial quality assurance. For print flaws for shorter lengths, we usually reprint your item, but for longer runs over 10 yards, we often will print and send additional, separate yardage at no extra cost.
PRO TIP: If your project requires specific minimum lengths, add items to your cart in those specific increments. For example, if you want 25 meters of Linen Cotton Canvas, but no length can be less than five yards, place five 5-meter pieces to your cart.
See How to Order Fabric for ordering tips, and remember, we only print in full yard/meter increments. Please reach out before you order with questions.
Polyester Fabrics
The print length of polyester fabrics can be more challenging because of the sublimation process. For all orders of polyester for lengths over 8 yards/meters, our system will automatically prompt you with four options to choose from for desired lengths before you place the item(s) into your cart.
For example, the image below shows an order for 15 yards of Sport Lycra. The CUT field will automatically appear with options built around 1 yd, 2yd, 4 yd or 8 yd lengths. If you want different than those offered, such as 3 or 5 yards, we recommend introducing those lengths into your cart as separate items.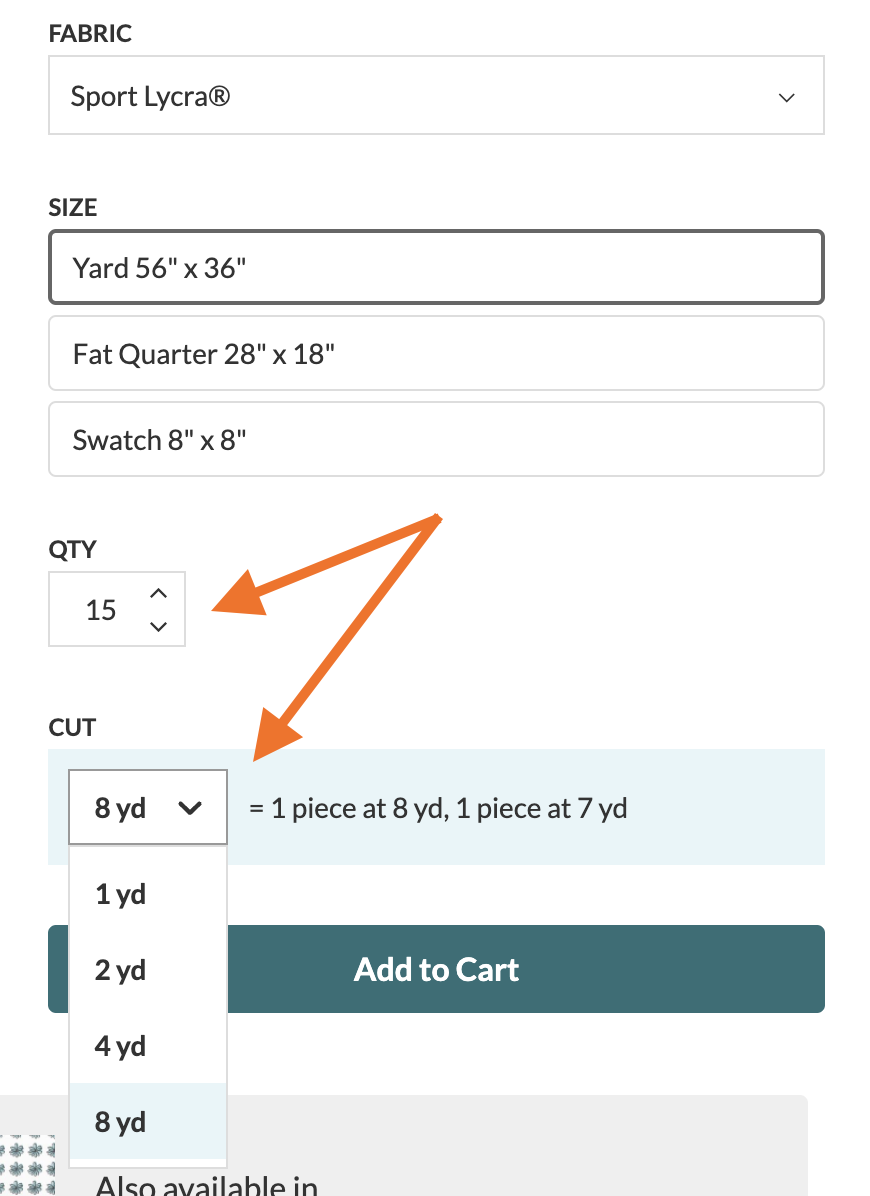 Additional Details
99 yards/meters is the longest length you can add to your cart. If you want to order more than 99 yards, we add the additional amount to your cart to your total length.
For example, if you need 150 yards of the same design, you can enter 99-yards and 51 yards, or three 50-yards pieces, into your cart.
To ensure that your fabric arrives in perfect condition, we may fold or spool your fabric, as we deem necessary based upon the specific details of your order, such as shipping address and ship method. We are not able to consider special requests for spooling.