Collections allow you to assemble and save designs into a related group. A collection may be comprised of your personal designs, Marketplace designs, or a combination of both. You must have a Spoonflower account to create a collection.
Blog: The Benefits of Designing in Collections
Please review the sections below for detailed information on the ways you might benefit from a Collection.
Customers, Influencers & Collections
Collection Basics
The utility of a collection will vary by the person who creates it. An artist may upload a series of designs to the Marketplace with similar colorways or pattern groups as a collection. A maker might create various collections to share available fabrics and designs their customers. A quilter might create a collection to save their favorite prints, or for use with a Fill-A-Yard® Project.
You must be logged in to your Spoonflower account to create a collection

Collections can hold up to 1000 designs

Included designs can be personal designs, Marketplace designs, or a selection of both

A design can be saved to more than one collection

Collections can be private to you, or available for public viewing

Each collection will have its own URL that can be easily shared

Personal designs must be set to public to be seen in a collection
IMPORTANT: You may make a personal design public in the Marketing & Selling section on the design layout page. However, making a design public does not make it immediately for sale. Review Proofing your Designs and Selling Your Designs at Spoonflower.
Creating a New Collection
To create a new Collection, go to the user drop down menu in the upper right corner of the site and click into Collections. You will see 3 different options across the top of the next page:
Designed

- Collections with your own designs

Collected

- Collections that can be a combination of your own designs and designs from the marketplace

Featured In

- Collections your own designs have been added to by other users
For this example, we're going to create a Collection with our own designs with the Designed option selected. To create a Collection, hover over the blank Collection box and then click directly on the + symbol or select Create a new collection. The same process can be used to create an empty collection within the Collected option as well.
Once the Collection pop-up menu appears, you can choose to make it public (hence searchable and viewable by others — great for collating a wish list!) or private (can only be viewed for your account). It is completely optional to make a Collection visible to the public. Once you're happy with either option, click on Create to finalize your new Collection!
If you would prefer to view Collections already available by other users, you can also search and favorite Collections by using the drop down menu in the search bar; you might be inspired!
Pro Tip: To favorite any Collections, be sure you're logged into your account and then click on the heart symbol similar to this image:

Read on for more specific use cases for Collections below.
Customers, Influencers & Collections
Adding Marketplace Designs to a Collection
When viewing designs in the Marketplace, there are two ways to add a design to a Collection. If you hover over a design thumbnail while searching, you will see a small box + icon.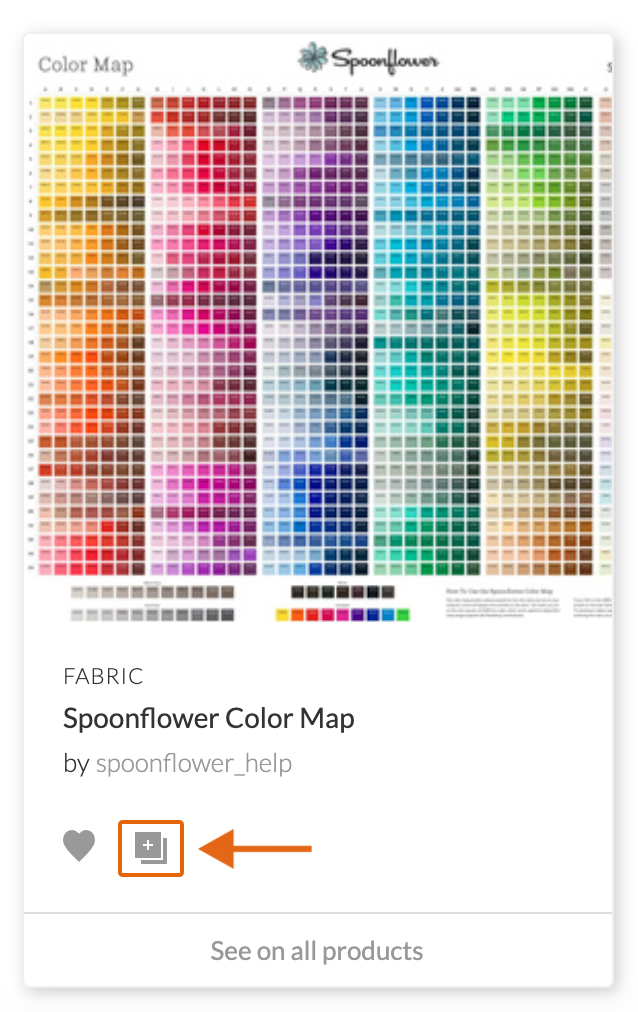 You can also add a design to a Collection directly from the design page for any product, using the same icon: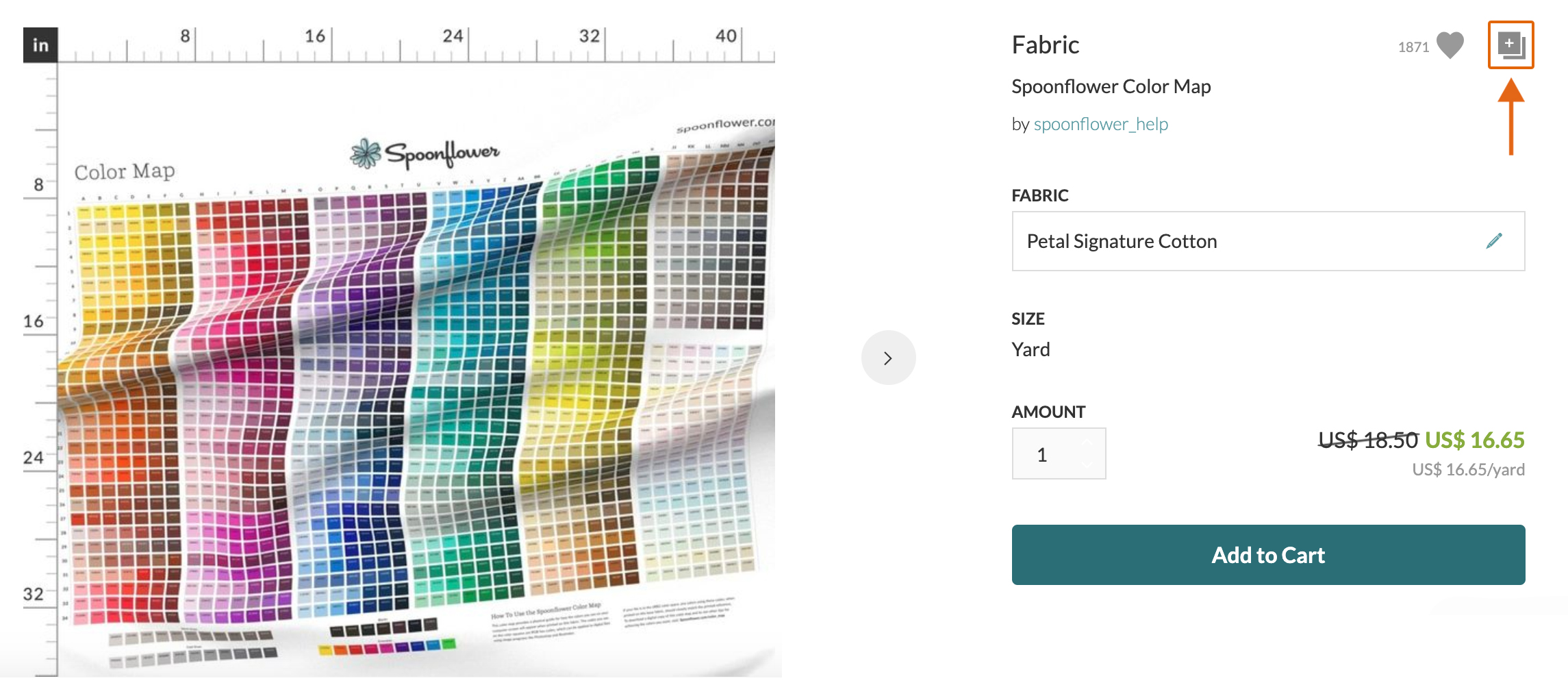 Once you click the Collection icon, the Collection pop-up menu will appear, where you can choose to create a new collection for this design, add to an existing Collection within Recent or All Others sections, or see if the design is already saved to a Collection for the Already In section. You can also use the quick-search bar if you already know the Collection name.
Once a design has been added to a Collection, the + box will update with a check mark. You will also see the Collection listed with the design under the Already In section. If you would like to remove a design from a Collection, you can click the same box again.
If a Collection is private, a grey padlock icon will indicate this and only you can view that Collection.
Once you have finished adding the design to a Collection, select the Done button at the bottom of the menu.
Access Saved Collections
To find and browse your saved Collections, simply hover over the profile menu in the top right corner of the site and choose Collections.
On your Collections page you will see three tabs: Designed, Collected and Featured In. The Designed tab will display any collections that are composed of only your original designs. The Collected tab will show collections you have curated that include Marketplace designs by other designers. The Featured In tab will show any collections you are included in. Click on a Collection to view all the designs within it! You can also select the first empty block to begin creating a new Collection from scratch.
If you may need a quick overview for this, jump back here.
Search for Coordinating Designs
Designers in our marketplace often create Collections to showcase their coordinating designs. Review Finding Coordinating Designs and Fabrics for some great information, but review these physical tips, as well.
To access any coordinating design options, link directly to any designer's shop to see their Collections by first clicking on the designer's name from any design page (left). Then, below the Shop Home section, click on All Collections (right).

Another option is to search for coordinating designs within Featured In on any design page. Once you have clicked on this, a new page will load with the Collection the design is featured within.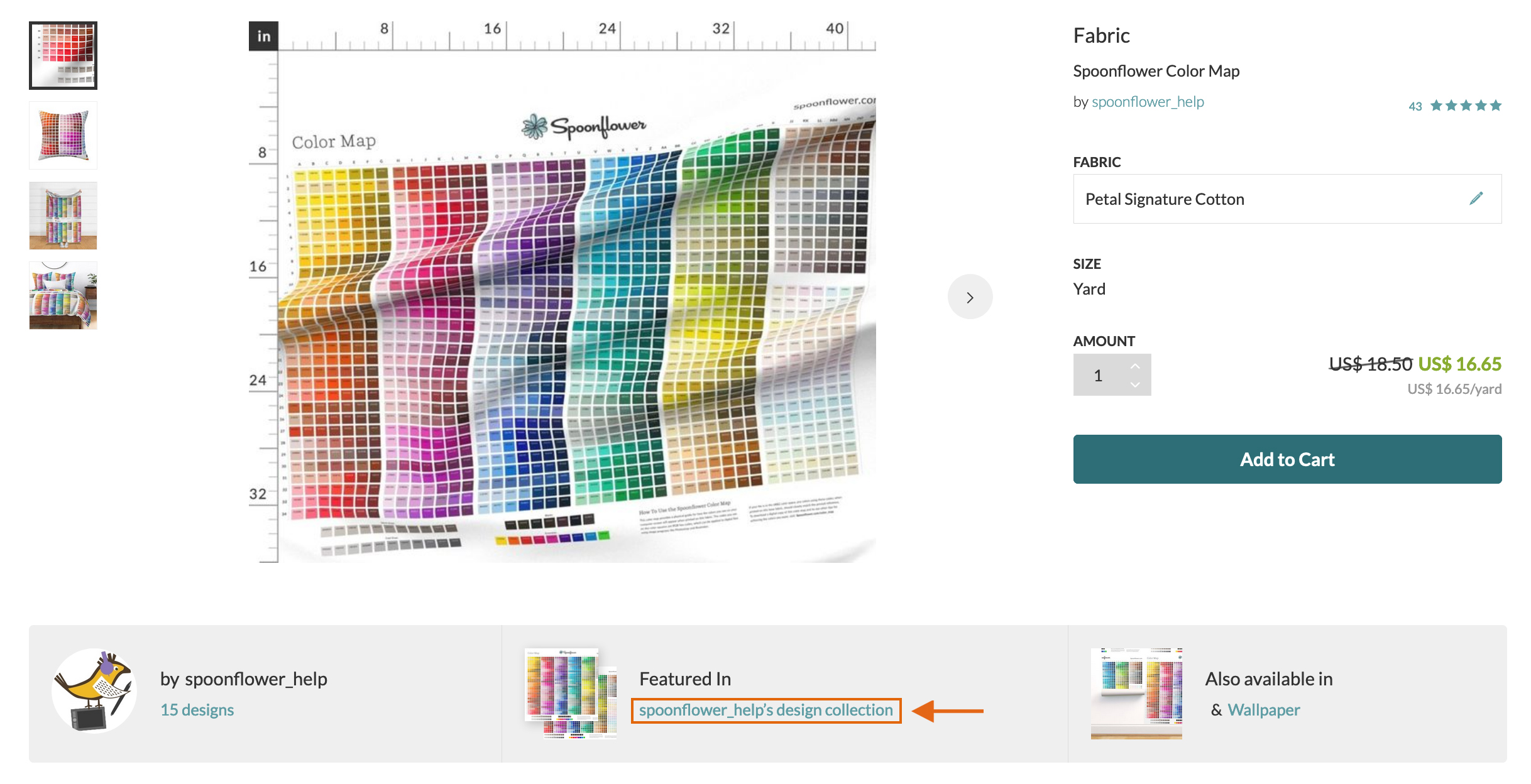 Editing or Deleting a Collection
To edit a Collection, click on the pen editing icon that appears when you hover over a collection block. A pop-up menu will appear where you can change the Collection title, add or edit a description. Be sure to click on Update to save your edits!
To change the designs shown in the Top 3 display fields of a Collection block, open the Collection page and hover over a design. You will be able to select 1, 2, or 3 to update the featured position of the design within the Collection block:
To delete a collection, click the Trash Can icon in the upper right of the opened collection page. Be careful, as deleted Collections cannot be recovered — they would need to be rebuilt manually.
Artists & Collections
Collecting Your Original Designs
In addition to collecting designs from search and design pages, you can collect your own designs directly within your Design Library.
On a design block in the Design Library, you can use the Select collections drop down menu to choose as many Collections as you'd like that design to appear in. To remove the design from a Collection, simply click on the X next to the Collection title.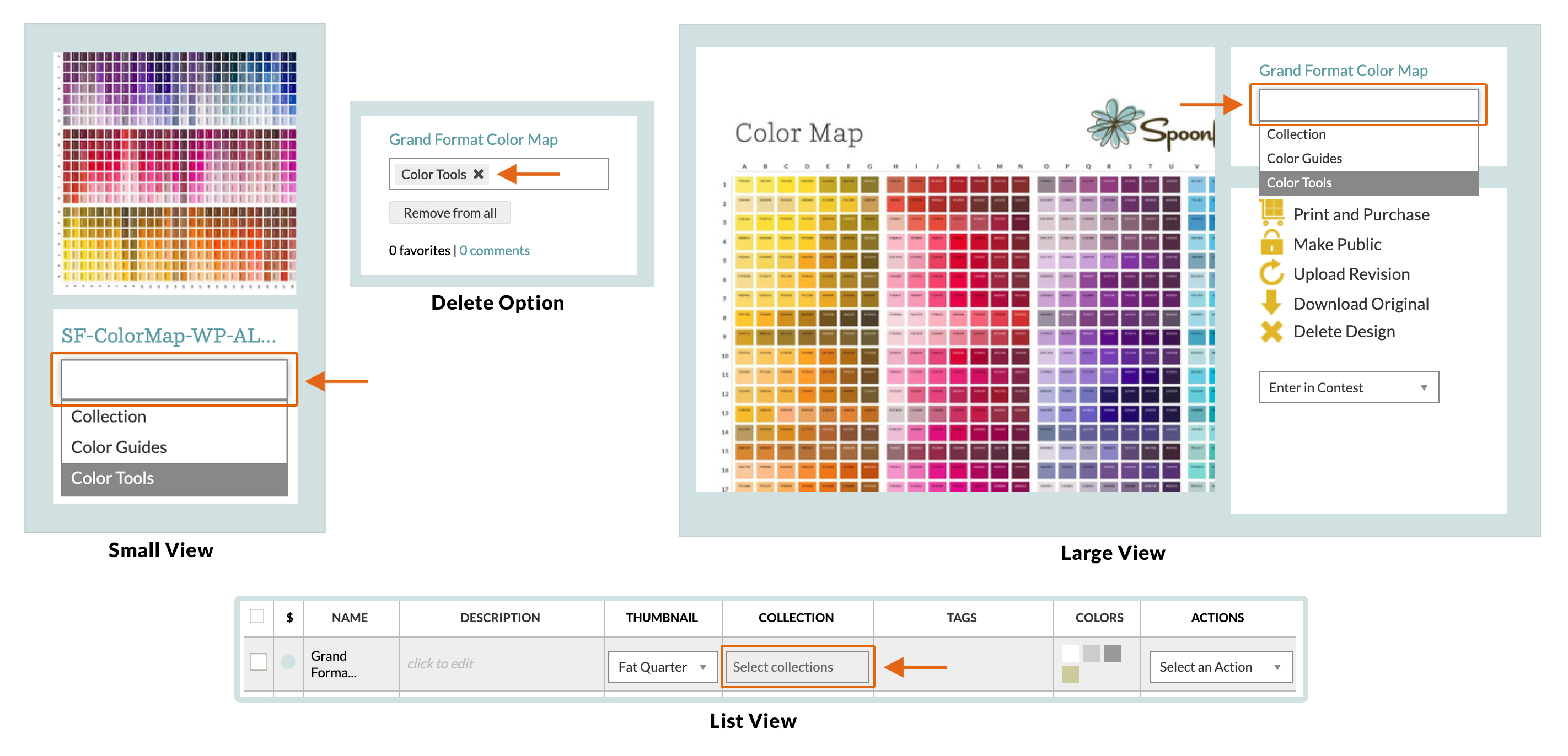 You can also batch-add multiple designs to the same Collection from your Design Library. First, choose the List view. Search for whichever tag you want to collect (if you'd like to filter the designs). Click the small checkboxes on the left hand side of the list, and use the edit selected designs drop down menu to add all the checked designs to the same collection.
Collection Locations and Display
To access your stored Collections, you can also locate them in your Design Library and on your Shop page. If a public Collection contains one or more of your private designs, those design blocks will display as grey squares. Should you make that Collection private, the design blocks will display the designs to only you, and a grey padlock will appear on the Collection to indicate it is private.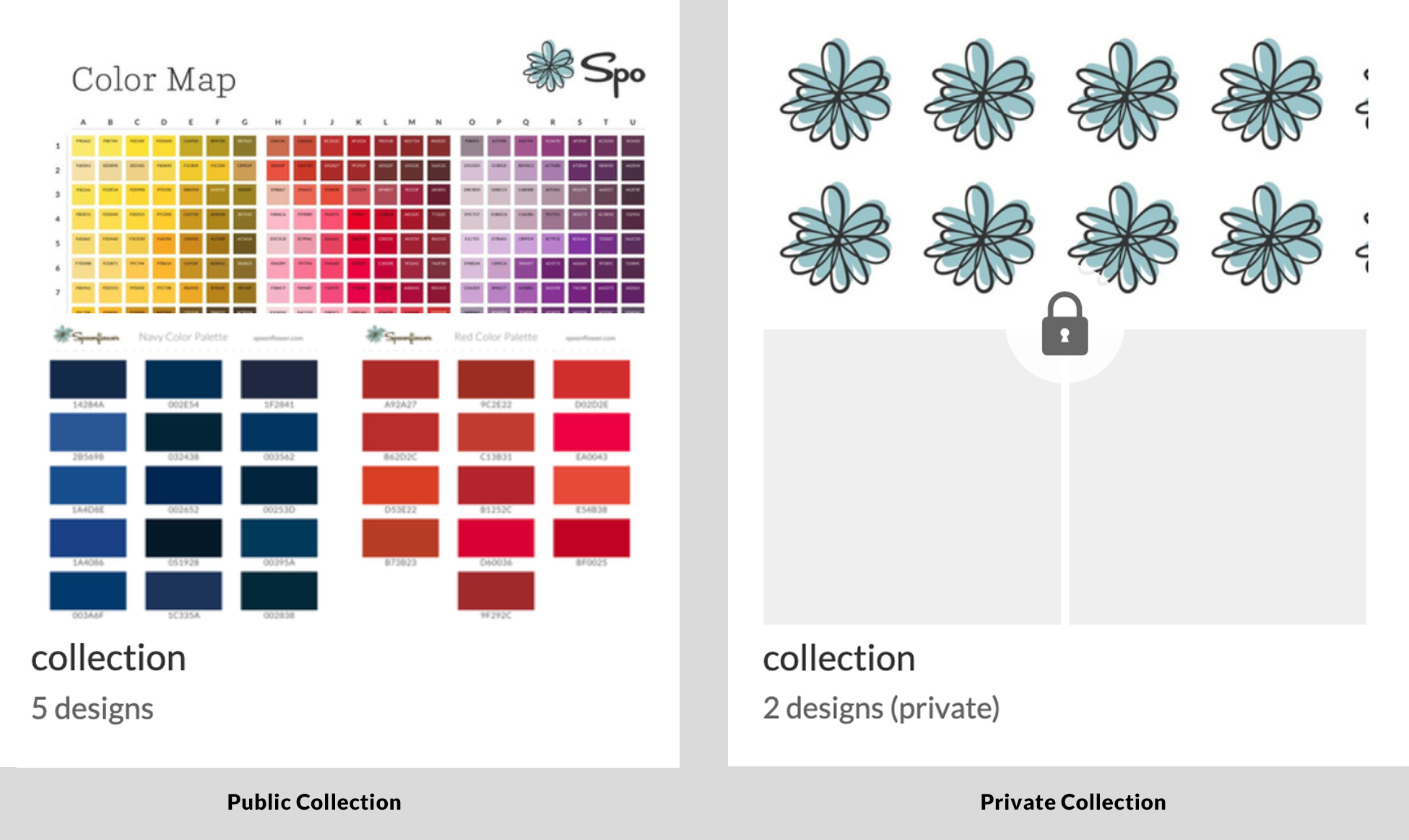 The Shop View will only show collections of your own designs. The Design Library View will show all Collections that have any of your original designs in them (even if the collection also includes Marketplace designs), but will only allow you to access your designs. To view your Collections that include Marketplace designs, go to My Dashboard Home → Collections or directly to Collections from the profile drop-down menu.
A Note about Swatch Samplers
While you can add up to 1000 designs to a Collection, Swatch Samplers are limited to thirty designs. More, every design in a swatch sampler must be your own design. When you order a swatch sampler of a collection with over thirty designs, only the first thirty will be printed and charged.
Common Issues & FAQ
▶

Why is my Collection still private?

If a grey padlock appears over your Collection thumbnail, it is saved to be private. To make it available for your public gallery, check the box for "Make this Collection visible to the public?" in the edit menu. Be sure to double check all designs included are available for your public gallery as well.
▶

Why are some areas of my Collection thumbnail blank?

All designs included in the Collection must have "I would like to include this design in my public gallery" checked within the box on the design page. Once the box is checked, the design can be viewed by all and the thumbnail image will appear for the Collection preview.
See also: How can I get swatches at a reduced price?
See also: Fill-A-Yard® Guide