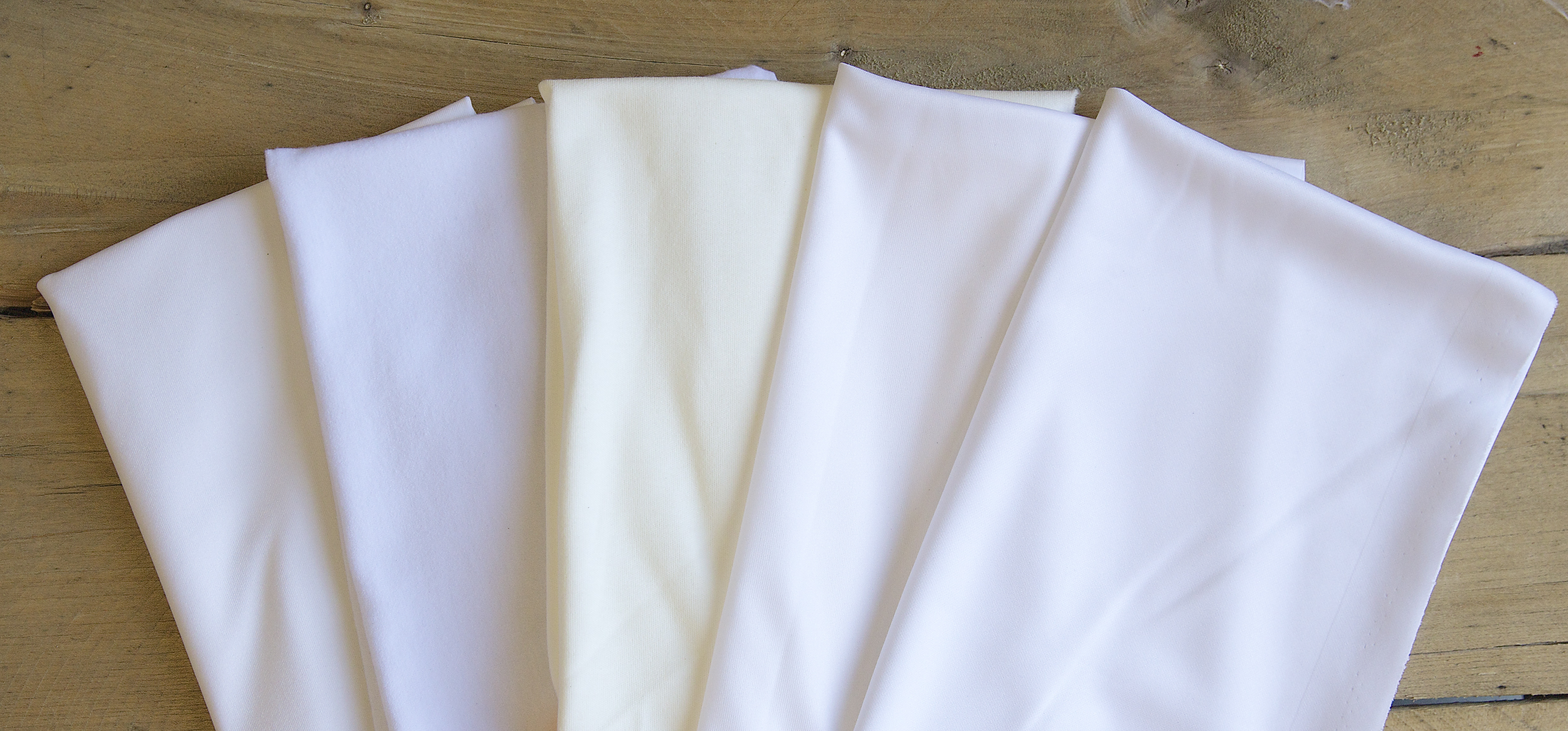 Looking for a fabric with a little flexibility? Spoonflower offers multiple stretch knit fabrics, each with their own personalities.
Our Organic Cotton Interlock Knit is a great choice if you're looking for natural fibers or organic fabric. It's a heavyweight interlock fabric that's a bit like a t-shirt knit, but thicker. For a lighter option, Modern Jersey is a polyester knit with a cottony feel and matte finish that's perfect for projects that need a delicate, airy knit. Our Cotton Spandex Jersey is super stretchy, with great recovery, and is between Modern Jersey and Organic Cotton Knit in weight. All three fabrics are great for kids and infant clothes and blankets that need to be extra soft and snuggly.
For a knit that has vibrant colors that hold up wonderfully to repeated washings, you'll want to check out our Performance Piqué, Performance Knit, Sport Lycra or Modern Jersey. The Performance Piqué even has a soil-release finish that makes laundering a breeze.
For athletic apparel, leggings, and other projects that need a breathable fabric--Performance Piqué and Performance Knit both have moisture-wicking properties to keep you cool and dry. The Performance Piqué has a gentle diamond-like texture, while Performance Knit has a bit more sheen to it. Sport Lycra stretches to fit your body and is perfect for leotards, yoga tights and other form-fitting pieces.
If you're looking for a 4-way stretch, our Modern Jersey and Sport Lycra both stretch 75% in width and 50% in length. Our Cotton Spandex Jersey stretches 65% in length and 50% in width.
Our stretchiest 2-way knit is our Performance Piqué, which stretches 50% from selvage to selvage. Our Performance Knit and Organic Cotton Knit stretch about 25%.
With 5 great knit options, there's something for every project. For even more knitty-gritty details, check the chart below:
Fabric
Fiber content
Weight per sq. yard
Stretch
Special features
Great for:
Organic Cotton Interlock Knit
100% cotton
5.8 oz
25% width
Certified organic
Baby clothes
Dresses
Blankets
Modern Jersey
96% polyester 4% spandex
6.8 oz
75% width
50% length
4-way stretch
Maxi skirts
T-shirts
Scarves
Performance Knit
100% polyester
7.25 oz
25% width
Moisture-wicking
finish
Dresses
Athletic apparel
Headbands
Performance Piqué
100% polyester
7.25 oz
50% width
Moisture-wicking
and soil-release finish
Yoga tops
Polo shirts
Athletic apparel
Sport Lycra
88% polyester 12% Lycra®
8.4 oz
75% width
50% length
4-way stretch
Leotards
Dance costumes
Athletic apparel
Cotton Spandex Jersey
95% cotton
5% Spandex
5.5 oz
50% width
65% length
4-way stretch
Kids and infant clothing
T-shirts