After navigating to your Shop through the user icon, click Edit Your Shop. Learn how to update the following:
Once you've completed these steps, make your shop public so the community can find it. You can also share the URL of your shop with friends and post the link on external channels.
Shop Image
Click Choose File
Locate the image on your computer.

The file must be less than 500k

Be a JPG or PNG

Images with dimensions over 250 pixels will be cropped and resized

Click Upload and the image will be saved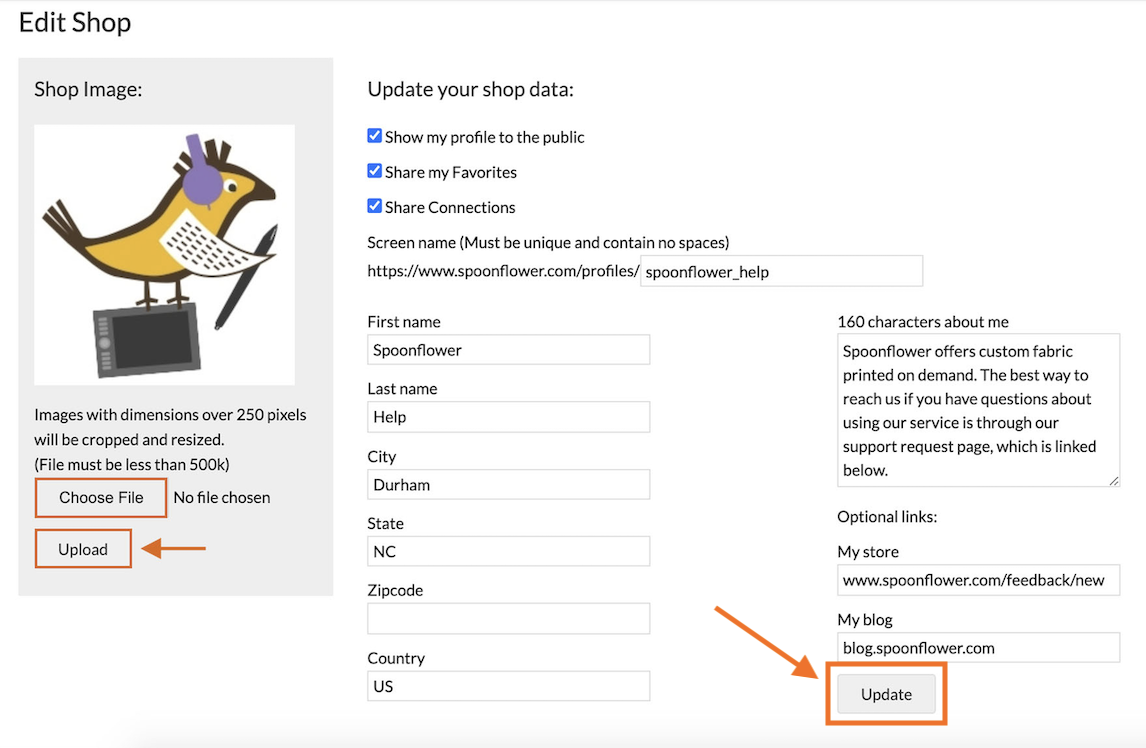 Shop Data
After updating your Shop Data, save these changes by clicking Update (see image above).
Screenname
The name of your Shop is determined by the screenname that you selected when signing up for an account, but you can change it here. Your screenname:
cannot have capital letters or spaces
Use an underscore - _ - to create a visual space between words
While you can change your screenname at anytime, it is not recommended for established artists. It may become difficult for established customers to locate you again.
Personal Information
Here you can:
change your name
add your city/country
share up to 160 character about you and/or your designs
add urls and links to social media
Shop Banner
Click Choose File
Locate the image on your computer.

The file must be:

less than 2MB

868 pixels x 117 pixels to fit properly and without stretching

Be a JPG or PNG

Images with dimensions over 250 pixels will be cropped and resized

Click Upload and the image will be saved