Anyone can sell their designs at Spoonflower. There are just three easy steps:
1. Create and upload your design.
Your design can be any digital image: a simple stripe, dancing dachshunds, or a flouncy floral--your imagination is the limit!
2. Order your design and make it for sale.
To ensure your design prints just as you intended, you'll need to order any amount of it on any material--fabric, gift wrap, or wallpaper. This will enable the option to make your design for sale on any media you choose.
3. Earn your 10% commission!
Your work is done--your designs will appear in your Spoonflower shop and if someone purchases items printed with your design, Spoonflower takes care of the rest: we print and ship the items and pay you 10% of of any purchase of your design.
Here's a step-by-step guide to the process in more detail:
Proofing Your Design
In order to make a design for sale, you must have ordered it before. We call this "proofing" your design. To proof, you can order any quantity of it on any of our products--fabric, gift wrap, or wallpaper. This is to ensure that your design prints precisely the way you envision it. Colors can look very different on fabric than they do on your computer monitor. For example, our digital printers and inks often print saturated colors and true blacks lighter than you might expect on our fabrics with natural fibers.
Ordering your design before making it for sale allows you to check the color of your design, as well as the size, layout and repeat. There's no substitute for seeing your design in person.
We offer reduced-price testing, if you have more than 3 designs you'd like to proof at one time. You can read more about that option on this page: http://help.spoonflower.com/customer/portal/articles/993629-reduced-price-testing
If you find, after receiving your proof, that you need to tweak some aspect of your design, you don't have to order another proof--just upload your new, corrected file as a revision. Your revised design will still retain all its original comments, favorites, and order history.
To upload a revision, just click "upload revision" to the right of your design and select your new file.
However, do note that if you use Spoonflower's tools to edit your design (such as the color-changer or PicMonkey), a brand new design will be generated. If you do choose to edit your proofed design this way, just click "download the original" and upload the file to your proofed design slot.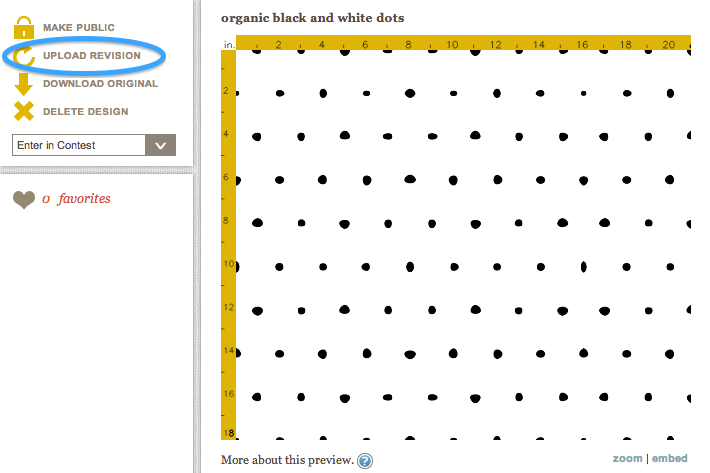 Making Your Design for Sale on Fabric, Wallpaper, or Gift Wrap
Once your design has been proofed, you can enable it for sale on any of Spoonflower's products, even if you didn't order a proof on that product. Just check the box next to each substrate on which you'd like to make your design available.
You must set the layout and size of your design on each substrate individually. So, once you check the box, click the link that says "see your design sold as ______" to edit the dpi and repeat options. Make sure to review your design and click "save this layout" for every product it's available on to ensure that the size and layout is as you intend it.
You can also fill in the title, description, searchable colors and tags for your design. Including this information helps shoppers find your designs. You can read more on this page about tagging your designs and marketing them so they're easily found: Tagging Designs
Getting Paid
When your design is purchased, you'll see a notification on your My Studio page, and receive an email if you've opted into this notification. Spoonflower will print and prepare the customer's order, and you'll receive a 10% commission on the sale in the form of a credit in your Spoonflower account called "Spoondollars".
Your Spoondollars will be credited to your account one month after the sale was made to allow for any issues or returns associated with the order to be finalized. You can view the details of your Spoondollar commissions by clicking on 'my account' at the upper left of any Spoonflower page, and then clicking on the 'Spoondollars' tab.
You can read more about Spoondollars and transferring your Spoondollars to a PayPal accout on this page: Spoondollars and Getting Paid