CREATE AND UPLOAD YOUR DESIGNS
You can only sell fabric, wallpaper, and gift wrap on Spoonflower once you have uploaded designs. If you are curious about that process, you can start here.
1. ORDER PROOFS AND UPLOAD REVISIONS
Any fabric, wallpaper or gift wrap you have ordered qualifies as a proof of that design. If you have already ordered a product with the design you want to sell and you are happy with how they look, you can skip ahead to step 3. If you've worked with printed products before, you know that the colors you see on your computer screen may come out differently when printed. Checking color, image resolution and repeat size are all important parts of the proofing process. Before a shopper buys your design you will want to make sure the product represents your vision in a way that satisfies you.
Once you receive your fabric, wallpaper or gift wrap, if you need to tweak some aspect of your design you can do so and then upload the revision. We do not require that you order a second proof. You can upload a revised file at any time, even after your design is available for sale. Your revised design will retain all its original comments, favorites, and order history. Here's how to upload a revision:
a. Go to your design library and find your design.
b. Under the 'Select an Action' dropdown, select 'Upload a Revision.
c. A form will appear with an upload prompt. Select your file, and then click the 'upload revision' button.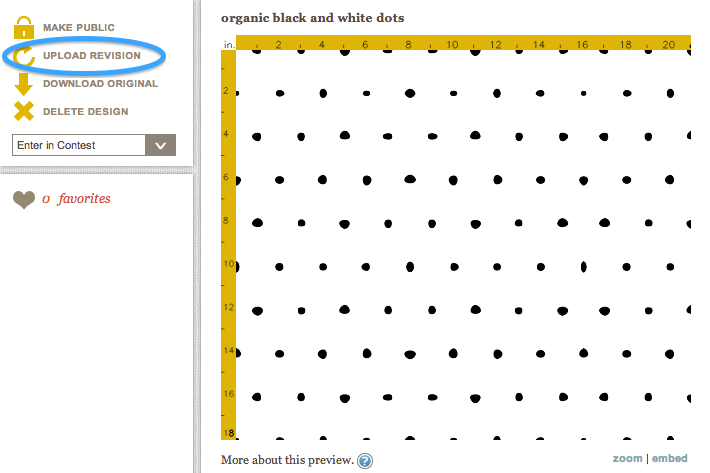 Note: Uploading a revision will replace the original design file in your account. Spoonflower makes a press-ready copy of the design file each time a design is ordered. Orders placed from the moment you upload a revision forward will be printed from the new file. Orders that were already in processing when you uploaded the revision will NOT be printed from your revised file. Once you place an order the only way to change the file that will be printed is to write to help@spoonflower.com and request that the order be cancelled, then to start over.
2. COMPLETE YOUR TAX INFORMATION
To access your My Account page and complete the tax information required to become a seller, click on your username, which is visible in the upper right corner of the screen after you log in to Spoonflower. Go to the tab titled Tax Information and complete the requested form, which allows Spoonflower to comply with income reporting requirements established by the IRS. See this page for a more detailed FAQ on this topic.
3. MAKE YOUR DESIGNS AVAILABLE FOR SALE
Once you've completed your tax information, received your proofs, reviewed colors and layout, and feel happy with the result, you can make each design available for sale. Here's how:
a. Navigate to your design.
b. Note the repeat style and size (dpi) that appear; this is how your design will appear to Marketplace browsers. You can update these and save your changes by clicking 'Save this view' for each product. Navigate to each product via the folder tabs above the controls.
c. Write a description. Use the additional details section if you have links or instructions to add.
d. Add keywords separated by commas. Keywords are a great way to 'categorize' a design into a category not listed, like 'hedgehogs' or 'Halloween.'  Keywords are one of the main ways that a design is found through search, both on Spoonflower and through Google and other search engines, so it is in your best interest to think about how shoppers might find your design. Remember that your keywords are displayed and using too many will make your fabric listing cluttered. As a general rule, do not use more than five keywords. Avoid trademarked terms when placing keywords.
e. Check the box next to each product you would like your design to be sold as.
f. Click on the 'Update' button.
4. GET NOTIFIED WHEN DESIGNS SELL
You will automatically receive a notification on your home page (the page you see after you log in to Spoonflower) under 'recent activity' whenever one of your designs sells. If it sells to a registered Spoonflower member, the notification will show the design that sold and a message like, 'ColorCat purchased fabric with this design about 1 day ago. Send a thank you?' The thank you link opens up a message box where you can write and send a quick thank you note through the Spoonflower message system if you'd like to do so.
5. EARN A 10% SPOONDOLLAR COMMISSION ON FABRIC, WALLPAPER AND GIFT WRAP SOLD WITH YOUR DESIGNS
You earn a 10% commission on sales of your designs. You can view the details of your Spoondollar commissions by clicking on 'My Account' at the upper left of any Spoonflower page, and then clicking on the 'Spoondollars' tab. Your Spoondollar earnings become available in your account one month after the transaction date to allow for any issues or returns associated with the order to be finalized. When required to do so by the IRS, Spoonflower may withhold up to 30% of Spoondollar commissions for tax purposes.
6. SPEND SPOONDOLLARS ON SPOONFLOWER
If you would like to use your Spoondollar balance as credit against a purchase, simply place items in your shopping cart. When you are in your shopping cart, you will see a box at the top of the page informing you of your available balance and enabling you to apply some or all of it to your purchase.
7. REDEEM SPOONDOLLARS INTO YOUR PAYPAL ACCOUNT
If you want to receive your Spoondollar balance as a payment, you can supply your Paypal account information to us by clicking on 'my account' at the upper left of the screen, and then clicking on the 'Spoondollars' tab. Once a month, we will pay the balance into your account as long as the amount is above $20. You can read more about Spoondollars and transferring your Spoondollars to a PayPal account on this page: Spoondollars and Getting Paid